🚗 CVNA Shares are Rocketing: Time to Buy or Pump the Brakes?
We've all been on that roller coaster ride – the one that starts with a slow, tension-filled climb, only to drop suddenly, taking our breath away.
Carvana's stock trajectory this year feels like the tension-building part of that ride, climbing higher by a jaw-dropping 1,000% and propelled by a debt exchange that will buy it more time to execute its growth plan and improve profitability.
It's the kind of ascent that makes you grip the safety bar a little tighter, wondering what comes next.
Is it another exhilarating rise or a stomach-churning drop?
Before we decide whether to keep our hands up or brace for impact, let's turn to LikeFolio's data to understand the tracks ahead.
The Earnings Surprise
Carvana's Q2 FY23 earnings were a mixed bag. While the company reported a YoY sales decline of -23.6% to $2.97 billion, it outperformed consensus estimates and posted gains in adjusted gross profit and EBITDA. The adjusted gross profit rose by 24.2% to $538 million, and the adjusted EBITDA hit $155 million, a dramatic turnaround from last year's loss of $(216) million.
While its promising the company is making strides to improve profitability, we can't help but notice another key metric: retail units sold plummeted by 35% YoY.
And LikeFolio metrics alongside macro headwinds aren't painting a promising picture.
Web Traffic Woes
LikeFolio's web traffic data reveals a concerning trend. On a 90-day moving average, visits to Carvana's site are down by -15% YoY.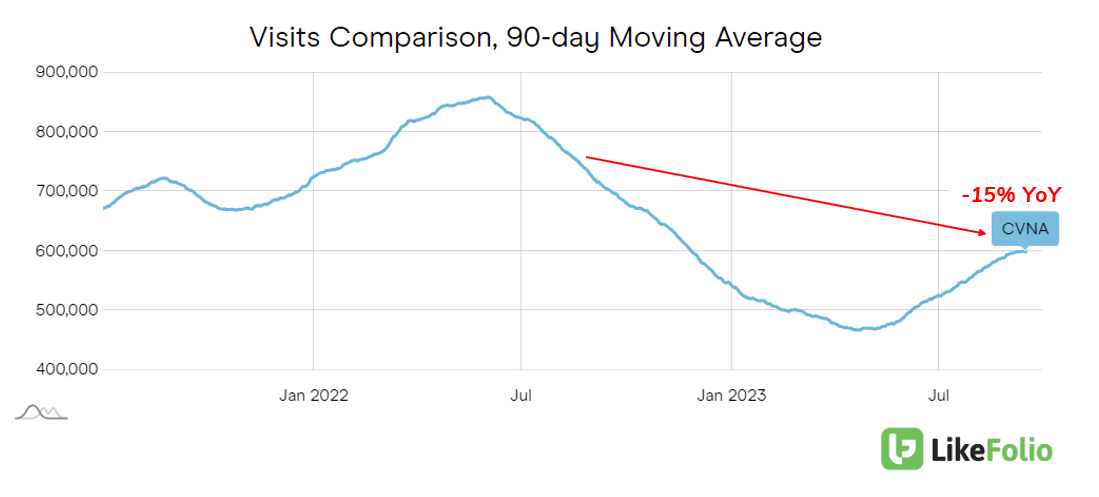 While a tighter 30-day MA shows a less grim -7% YoY, it's still a far cry from the surges seen by competitors CarMax and AutoNation, who posted YoY web traffic growth of +27% and +81%, respectively.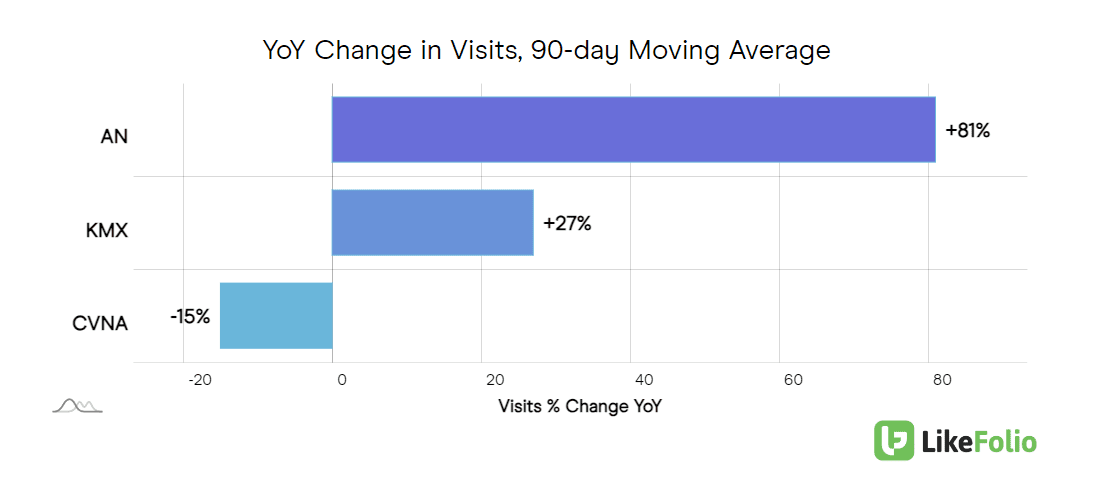 Consumer Sentiment Stumbles
When it comes to consumer happiness, Carvana is lagging, registering just 55% positive on LikeFolio's metric, hindered by sub-par customer service and a lack of convenience features that dealerships boast, including repairs and tune-ups.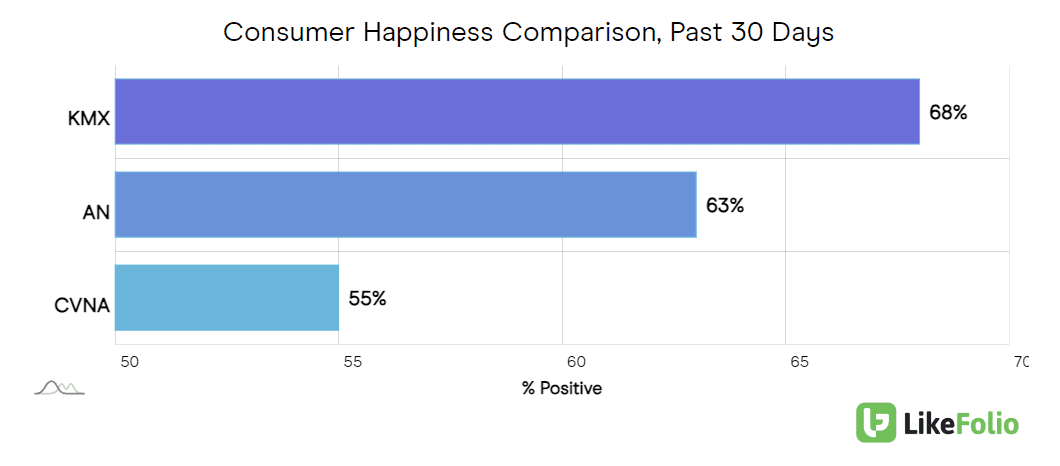 In contrast, AutoNation and CarMax are cruising at 63% and 68% positive, respectively.
That 13-point gap from leader to loser is a significant chasm in the LikeFolio universe.
The Used-Car Market Headwinds
The used-vehicle market is navigating through choppy waters.
As new vehicle inventories improve and used car loan rates soar (higher than new car loan rates), the forecast for 2023 calls for a -2% decline in total used sales compared to 2022.
Bottom Line
While Carvana's stock might be on a tear, LikeFolio's data suggests caution. The company is struggling to gain traction with consumers, and its performance metrics are trailing behind peers. For now, we're holding off on any bullish bets and keeping a close eye on potential downside plays.