3 Reasons CROX could QUADRUPLE by 2024
I'll admit, it's interesting to be known as "the Crocs guy" in much of the financial industry.

Part of it may be because I wore ugly Crocs shoes every time I was on stage for the better part of a year…
… but I like to think it was just as much because LikeFolio's consumer demand data was pounding the table on Crocs (CROX) stock back when it was under $13. 

BEFORE its meteoric rise to over $180/share late last year. 

In any event… here I am… "The Crocs guy"… with a major update on the company, and the outlook for the stock. 

3 Reasons CROX could QUADRUPLE by 2024 

Like many growth stocks, CROX has been "thrown out with the bathwater" of the market over the past 9 months. 

In fact, it's pulled back over 60% this year alone and is now trading just north of $50/share. 

But just like when CROX was $12/share a couple of years ago, LikeFolio's consumer data is telling us Wall Street has this company very wrong… again. 

Here are three reasons we think Crocs will dominate over the next two years and could reach new all-time highs above $200/share in the process: 

1. Favorable Macro Consumer Trends ALL Line Up for Crocs
Despite economic problems and inflation, the consumer shoe game is stronger than ever.

And as you can see from the chart above, consumers are really interested in the exact kind of shoes Crocs specializes in: Slip-on, comfortable and clunky shoes with a retro vibe.

It's good to have those kinds of macro tailwinds at your back…

2. Hey Dude – CROX Has a New Secret Weapon 

When Crocs acquired Hey Dude Shoes earlier this year, Wall Street was skeptical, to say the least.
But at LikeFolio, we're not interested in what suits on Wall Street think about a trend… we go straight to the consumer.

And in this case, it looks like Crocs may have picked up a secret weapon in Hey Dude Shoes.

Just look at this consumer buzz chart for the brand: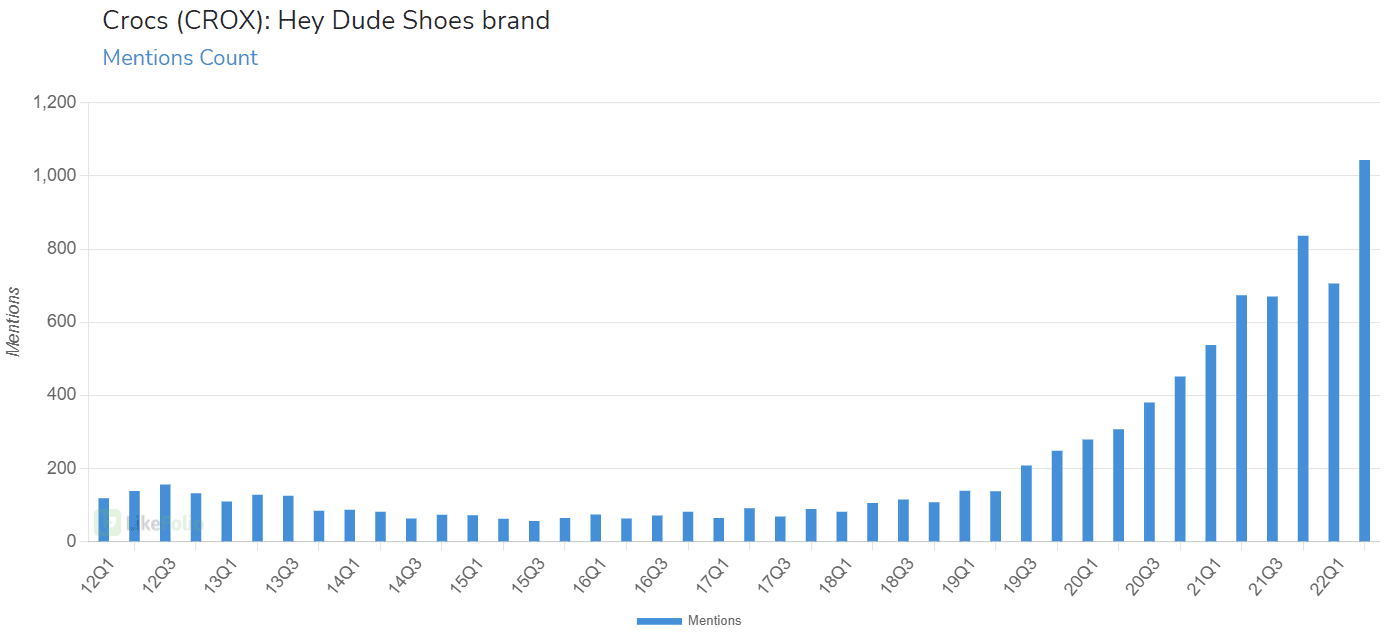 That's not just a growing trend – that's an acceleration of adoption.

This acquisition gives Crocs two distinct advantages moving forward:
A second "comfort shoe" brand to differentiate products from their signature rubber clogs.
A fast-growing unit that could be pushing cash to the bottom line much faster, and in much greater numbers than Wall Street currently expects.
But consumer buzz isn't all that CROX has going for it…

3. CROX Consistently Delivers On Earnings 

Wall Street currently has little patience for companies that aren't making their numbers. That's a hallmark of bear markets.

But Crocs has a history of delivering earnings beats.
The above data from Estimize shows that CROX has exceeded Wall Street earnings estimates in every quarter but one since the beginning of 2019.

That's consistent over-performance from a company that knows how to execute.

Bottom Line: CROX has consumer tailwinds behind it, a secret weapon in its new acquisition of Hey Dude, and a history of outperforming Wall Street expectations.

This is a wild stock with big, volatile swings – but as history has shown us at LikeFolio, that volatility can create big opportunities for savvy investors with powerful consumer data on their side.