5 Stocks to Watch This Week ($ABNB, $SBUX, $AN, $META, $YUM)
Here are 5 names that LikeFolio is watching this trading week:
Consumer travel intent remains strong as summer winds down, with mentions of taking a trip +20% higher right now vs. last fall. Airline executives echoed LikeFolio data, "It does not appear that summer has come to an end. It's that strong."
Airbnb finds itself in the middle of the travel playing field regarding consumer happiness: sentiment levels are higher vs. travel aggregators like Expedia and Booking, but lower vs. traditional hotel chains with superior guest service.
ABNB demand mentions are still pushing higher vs. last year exactly in line with travel trends (+20% YoY) but this growth is slowing down. A quarter ago, Airbnb posted mention growth levels +33% higher on a YoY basis.
Due to this slowdown in demand growth, Airbnb's current earnings score is -6 (technically neutral). Long-term, Airbnb is outperforming non-traditional lodging names like VRBO, whose demand is only pacing +5% higher vs. last year. We'll be watching for developments ahead of ABNB's next earnings event anticipated at the beginning of November.
Starbucks is gaining steam ahead of its annual Investor Day on Tuesday, Sept. 13. Listeners are hoping to gain clarity regarding the company's plans for a massive overhaul, including café redesigns and staffing investments.
Earlier this month Starbucks announced a new CEO: Laxman Narasimhan, previously CEO of Reckitt Benckiser Group, the owner of brands like Air Wick, Lysol, Enfamil, and Durex.
LikeFolio featured Starbucks in the August MegaTrends report due to its outstanding level of perceived brand value in the eyes of consumers.
The company is handily outperforming coffee competitor, Dunkin' in consumer demand growth (+20% YoY vs. -13% YoY) and is neck-and-neck in consumer happiness, despite boasting a much larger volume of mentions.
AutoNation touts itself as a "provider of personalized transportation services" but it is most well known as an automotive retailer of new and used vehicles. Its long-term target is to retail more than 1 million units/year.
In FY2021, it touted a broad selection of auto brands, from BWM to Honda. Strength in premium luxury (39% of income) vs. Import (33%) and Domestic (28%) vehicles resulted in a greater profit mix.
AutoNation has ambitious plans to expand within the United States and capture used vehicle market share. It opened its 12th store in Georgia in September, and expects to have more than 130 stores in operation by the end of 2026.
AutoNation will not report 22Q3 results until October after the quarter ends, but LikeFolio's current Earnings Score is Bullish: +20, driven by sustained consumer demand growth.
META's happiness slipped to multi-year lows in November of 2021 as the company completed a major rebrand from Facebook (FB) to Meta Platforms (META) in an attempt to clean its slate.
Last year, META was plagued with organizational issues ranging from whistleblower activity prompting investigations into deceptive conduct to overall distrust in its leadership. Since its rebrand, Consumer Happiness has improved by +6 points.
In addition to obstacles from consumer perception, META has also faced advertising hurdles. Marketers have pulled back on ad spending amid macro uncertainty, adding to the pain already felt from Apple's iOS privacy update limiting targeted ad capabilities.
However, Instagram appears well positioned to recapture advertising dollars when spend resumes. Consumer mentions of purchasing a brand or product from Instagram is currently pacing +19% higher YoY.
The current pullback in share value may present opportunity for long-term investors. We'll be monitoring social commerce mentions into the Holiday season and consumer response to its newest mixed reality headset, "Project Cambria."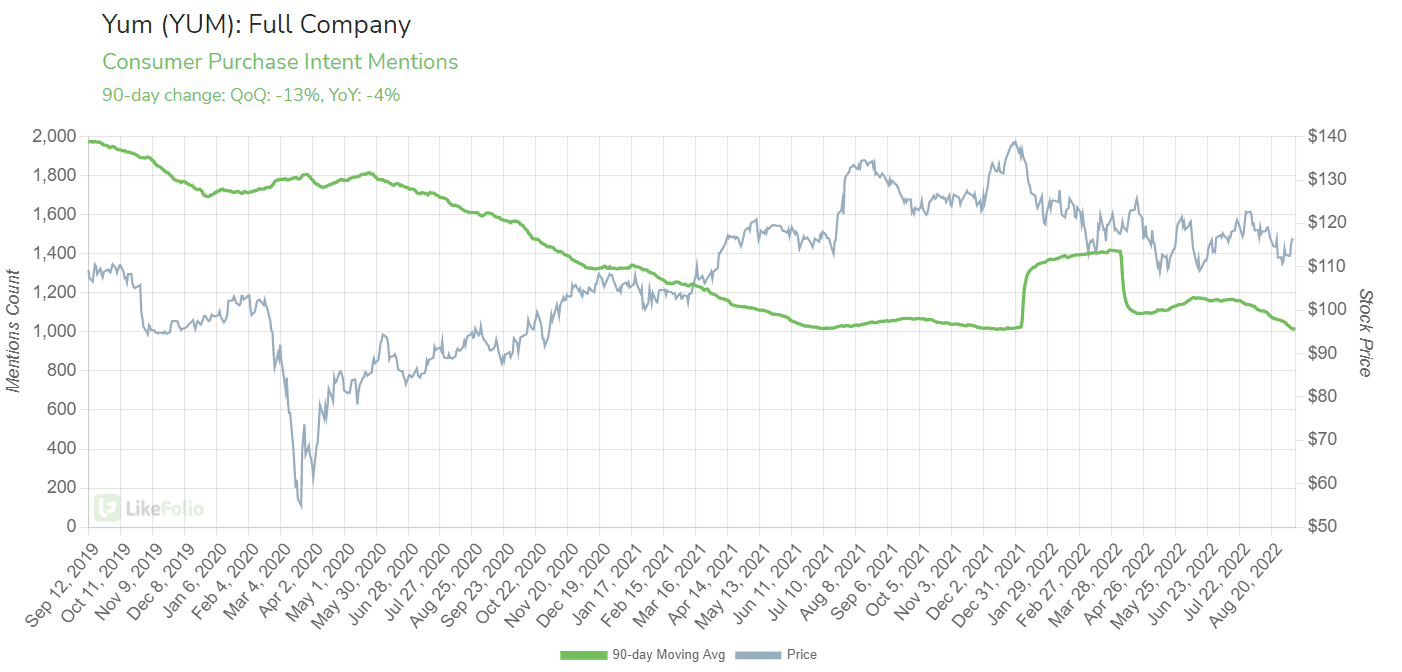 Consumer mentions of dining with a brand under YUM's umbrella are slipping, currently pacing -4% lower YoY.
This demand slow-down is driven by weakness in KFC and Taco Bell, with demand trending -4% YoY and -10% YoY respectively on a 30-day Moving Average.
In contrast, Pizza Hut is receiving a near-term bump in demand alongside the resumption of football season. Pizza Hut lost its NFL sponsorship to Little Caesars for the 2022 season.
Taco Bell, a long-time favorite of non-meat eaters thanks to its customizable menu, is testing a Crispy Melt Taco with its own proprietary plant-based meat blend of soy and pea protein. This plant-based protein can be added to any menu item.
YUM's next earnings release is expected in early November, and LikeFolio's current earnings score is trending slightly bearish alongside its demand cool down: -14. Two months ago, this score was +32.