5 Stocks to Watch This Week (AZO, LULU, SPOT, CHWY, COST)
Here are some stocks that LikeFolio is watching this trading week:
AutoZone (AZO)
Economic macro trends (like higher interest rates and maxed out credit) are weighing on consumer decisions to purchase a new vehicle. New car purchases have clipped by -3% YoY while used vehicle demand remains relatively stable, and DIY auto mentions rise.
Aging vehicles serve as a tailwind for auto maintenance retailers like AutoZone. On its last earnings call, the company reported: "On a macro basis, the market is experiencing a growing and aging car park and a challenging new and used car sales market for our customers, which continue to provide a tailwind for our business."
LikeFolio data confirms AutoZone is the clear market leader when it comes to DIY auto, commanding more than 80% of DIY mentions vs. peers Genuine Parts (GPC), O'Reilly Auto (ORLY), and Advance Auto (AAP). However, the company lags in overall levels of consumer happiness and demand momentum, suggesting competitors are chipping away at market share.
AZO shares are currently trading at all-time highs, indicating a high bar has been set for company performance, and current data doesn't support a bet to the upside.
Lululemon (LULU)
Lululemon's eCommerce efforts are off to a very strong start in the 2022 holiday season. Consumer visits to shop.lululemon.com have increased by +49% YoY (30-day Moving Average).
Google Trend results mirror digital strength, with Lululemon easily dominating all athleisure competition in web searches, image searches, and Google Shopping activity.
LikeFolio Purchase Intent mentions (tilting toward in-person shopping) increased +18% YoY in 22Q3, keeping pace with prior growth. However, demand has tempered in the 4th quarter comparatively.
Strong demand may translate to inventory issues for Lululemon. While the company reported it remained "well-positioned for the fall season" on its last earnings call, consumer mentions of out-of-stock items increased significantly.
LULU shares have popped following the last 3 earnings releases, and shares are trading +23% higher vs. 6 months ago. Expectations are high.
Spotify (SPOT)

Spotify demand is surging in the 4th quarter following the company's annual Wrapped campaign, highlighting personalized user listening activity. Mentions grew at an even steeper clip thanks to the platform's viral feature, placing the 4th quarter volume on pace for the highest on record.
Last week the company echoed criticism of Apple initiated by Elon Musk, calling the company "a bully." The most recent jab from Spotify is related to Apple policies that prevent in-app purchasing of Audiobooks (users instead are directed to complete Spotify audiobook purchases on a web browser).
Spotify continues to dominate the podcast space, comprising more than 70% of podcast listening mentions in the LikeFolio universe. Apple is in second place, with 21% of mentions.
Despite continued growth of premium subscribers(195 million at the end of the 3rd quarter), SPOT shares have shed 66% in value over the last year. Spotify's next earnings release isn't expected until January, but LikeFolio data looks increasingly bullish.
Chewy (CHWY)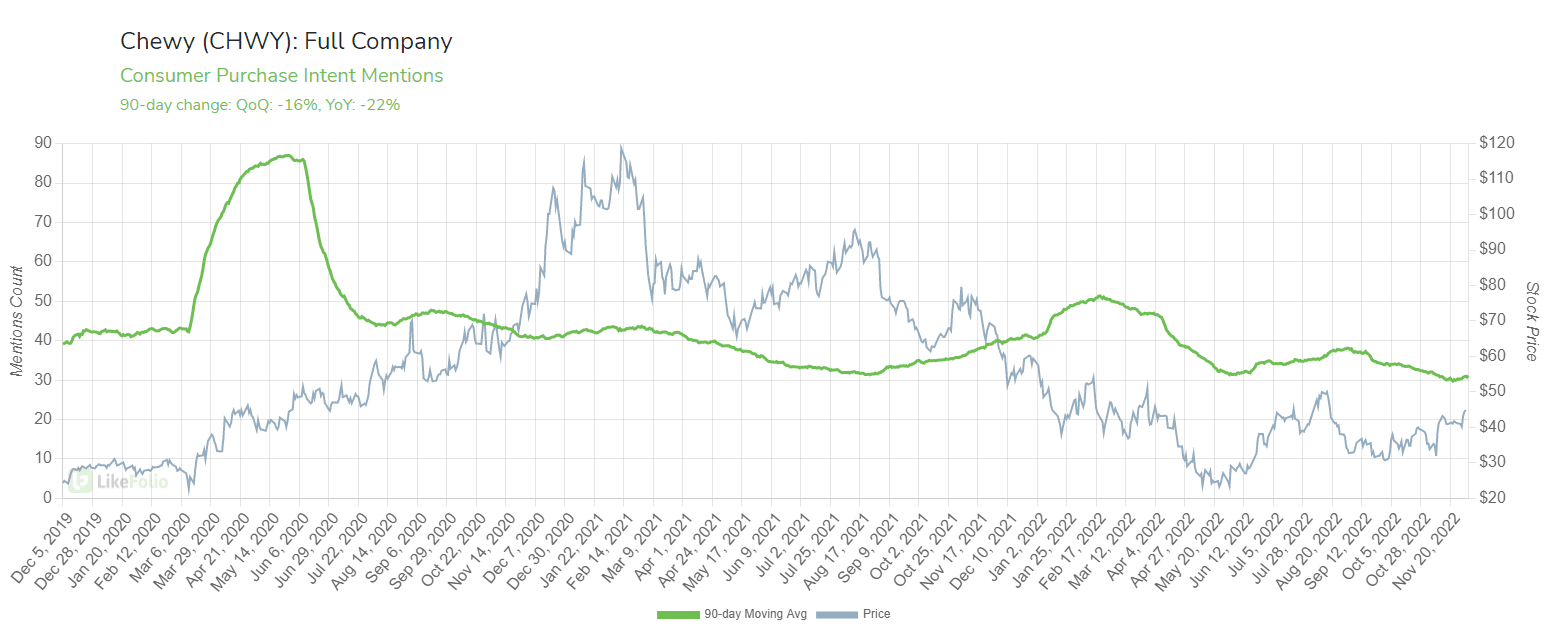 Chewy Purchase Intent mentions are losing momentum, currently registering at the lowest level since before the start of the pandemic: -16% lower QoQ and -22% lower YoY.
A shift in consumer shopping habits is favoring in-store shopping, hindering eCommerce growth. Mentions of ordering pet supplies online have decreased -5% QoQ, and new pet owner mentions have fallen -7% QoQ, though both trends DO remain elevated YoY. LikeFolio data shows a decline in new and returning web users.
While Wall Street expectations are looking to the upside on revenue. Even though the company touts a cult-like user base (consumer happiness mentions have increased +4% YoY, to 84% positive), web data suggests a slowdown in new users, hindering long-term growth.
Chewy Reports on Thursday after market close.
Costco (COST)
Costco's new membership mentions are rising early in the Holiday season as consumers hunt for value and savings. Membership mentions, which include upgrade mentions like this, have increased by +9% YoY.
However, data suggests consumers are making fewer trips to Costco vs. last year. Costco Purchase Intent mentions have declined -17% in 23Q1 and continue to slide in the current quarter. Investor fear related to a slow-down in retail traffic has sent shares lower in the last week.
Costco releases monthly sales data, so much of the company's quarterly performance is already known. November sales increased +6% YoY, which is a slowdown vs. the 12-week average of +9.3%. eCommerce sales worsened significantly, dropping -10.1% YoY.
COST reports earnings on Thursday, December 8 after the bell.