5 Stocks to Watch This Week (COIN, NFLX, TSLA, AXP, F)
Happy earnings season!  

Here are some stocks that we're watching this trading week: 

Coinbase (COIN)

Last quarter Coinbase posted a $1 billion loss and revenue decline of -64% YoY, sending shares lower. Coinbase did maintain a larger user base than expected, counting 9 million monthly transacting users in the quarter (down from 9.2 million in Q1). COIN shares have plunged more than -77% YoY.
COIN's big miss was reflective of weakness in cryptocurrency as a whole and institutional behavior. The company noted that most net outflows were attributable to institutional clients "de-risking and selling crypto for fiat as opposed to withdrawing their crypto to another platform." Long-term, institutional adoption could be a growth driver.
Looking ahead, LikeFolio data suggests Coinbase may be nearing an inflection point. Demand mentions reflective of new user signups and usage appear to have bottomed out in early September, though they do remain -55% lower on a YoY basis.
Consumer mentions of trading and investing in cryptocurrency are showing signs of renewed interest, rising +32% and +24% YoY respectively. We'll be monitoring for continued improvement in Coinbase metrics alongside positive momentum in cryptocurrency engagement ahead of earnings in November.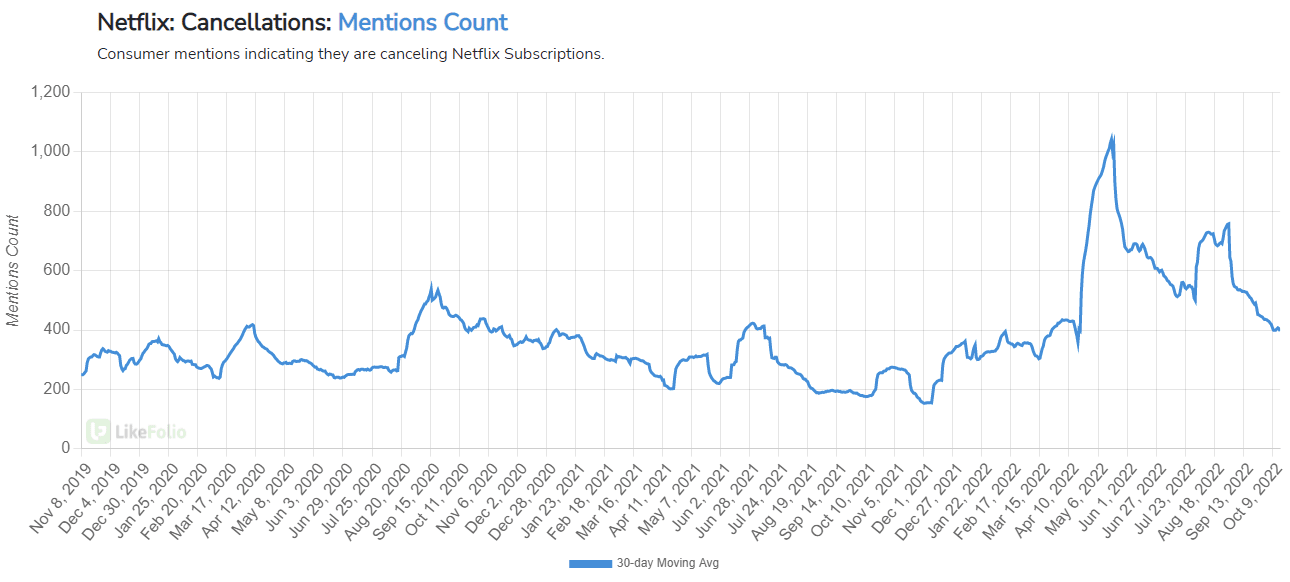 Netflix cancellation mentions peaked in April as the streaming giant reported a loss of subscribers for the first time in more than a decade. Cancellation mentions remain higher on a YoY basis but have tempered from levels recorded earlier this year.
Last quarter Netflix posted a subscriber loss of 1 million users, better than the 2 million loss of subscribers the market expected. Cancellation mentions have dropped -22% from last quarter, thanks in part to new content.
Netflix's leadership acknowledged the company's "less bad" results and mixed in some hints of optimism related to monetization and macro growth in streaming.
Reed Hastings, Netflix Co-Chief Executive Officer stated, "But looking forward, streaming is working everywhere. Everyone is pouring in. It's definitely the end of linear TV over the next five, 10 years. So very bullish on streaming. And then our core drivers are just continuing to improve. And then, of course, we'll talk later in the call about monetization and how that's improving. So tough, in some ways, losing 1 million and calling it success. But really, we're set up very well for the next year."
Netflix is experimenting with its binge model. The company split Ozark Season 4 and Stranger Things Season 4 into multiple parts, encouraging viewer retention and bucking a pattern of full-season drops.
Netflix officially announced its new ad-supported tier will launch in the U.S. on Nov. 3 for $6.99/mo, a dollar below the cost of Disney+ and Hulu.
Heading into earnings, LikeFolio data doesn't show major traction in new subscriber growth among English speakers (-14% YoY) but did record modest improvements in viewership (+7%) and cancellation mentions. 
Caveat: The market MAY be more forgiving considering Netflix's business model improvements. We explored the Bullish case for Netflix in our September MegaTrends.

Tesla will report 22Q3 earnings on Wednesday, Oct. 19 after the bell. Earlier this month, Tesla announced third-quarter production and delivery numbers that missed expectations and sent shares lower. (Tesla reported 343,83 deliveries in Q3 vs. 364,660 deliveries expected).
Production levels significantly exceeded deliveries, signaling logistical challenges despite expanded output. Tesla opened plants in Berlin and Austin earlier this year and is slowly ramping up production at both sites. Capacity upgrades in Shanghai temporarily limited production in July and Early August.
LikeFolio data shows continued robust consumer demand for electric vehicles alongside increasing concerns of rising gas prices. EV demand has increased +196% YoY and gas price concerns have risen +128% in the same time frame, supporting a bullish long-term outlook for the electric vehicle space.
A positive report from Chinese rival BYD suggests the Chinese EV market is recovering. In 2021, China accounted for 26% of Tesla sales.
Near-term, TSLA demand is still rising, albeit slower vs. prior quarters. Long-term, the company continues to harness significant macro tailwinds.

American Express received a downgrade last week from analysts claiming that even the rich spend less during a recession. American Express caters to wealthier consumers (comparatively) with annual fees between $250-$700.
LikeFolio data shows American Express usage mentions continued to rise in 22Q3, +57% on a YoY basis. However, this growth rate is tapering, dipping to +27% YoY in the current quarter.
Consumer macro trends suggest consumer spending on business and travel continues to grow, with taking a trip mentions +16% YoY, and traveling for work mentions +43% YoY – both of which could serve as positive tailwinds for AXP.
Consumer demand growth for Ford's electric products (F-150 lightning and hybrid models) continues to soar. The F-150 lightning is garnering the highest rate of demand momentum in Ford's universe, with Purchase Intent rising +114% higher on a YoY basis.
Ford shares have dropped -20% in October following analyst downgrades stemming from weakening demand and growing inventories.
In contrast, LikeFolio data suggests a more positive long-term outlook. Consumer happiness levels remain consistently high, near 68% positive. In addition, comprehensive Ford demand remains +6% higher YoY on a 30-day Moving Average.
Ford will report Earnings Wednesday, Oct. 2