5 Stocks to Watch this Week -- $WING, $RIVN, $ADBE, $SOFI, $MO
Here are some stocks that the LikeFolio team is watching closely this week:
Wingstop (WING)
Wingstop (WING) doesn't report earnings until late October, but it is already gaining momentum among consumers. If its earnings were today, its score would be +53 -- one of the highest current scores in our coverage universe.
Wingstop demand rocketed higher in 22Q3 (+51% YoY), driven by a new product launch met with consumer enthusiasm. Wingstop added a sandwich featuring a chicken patty dipped in one of its 12 signature sauces to its menu. The company sold a month's supply (more than a million sandwiches) in days.
LikeFolio data shows that this momentum is continuing into the 4th quarter. Consumer buzz is pressing higher, currently pacing +90% above 2021 levels.
Rivian (RIVN)
Electric vehicle chatter is buzzing today. TSLA shares dropped by more than -8% today after the company posted weaker-than-expected Q3 delivery numbers. Some analysts worry about wavering demand in China.
LikeFolio data shows that another player in the EV market is besting TSLA, at least in regard to demand growth: Rivian. Rivian demand has increased by +115% YoY, significantly outpacing other auto manufacturers producing electric vehicles.
An uptick in Rivian delivery mentions suggest that the company is getting more vehicles on the road. Rivian has manufactured ~8,000 vehicles since last September, with goals to hit 25,000 this year.
Adobe (ADBE)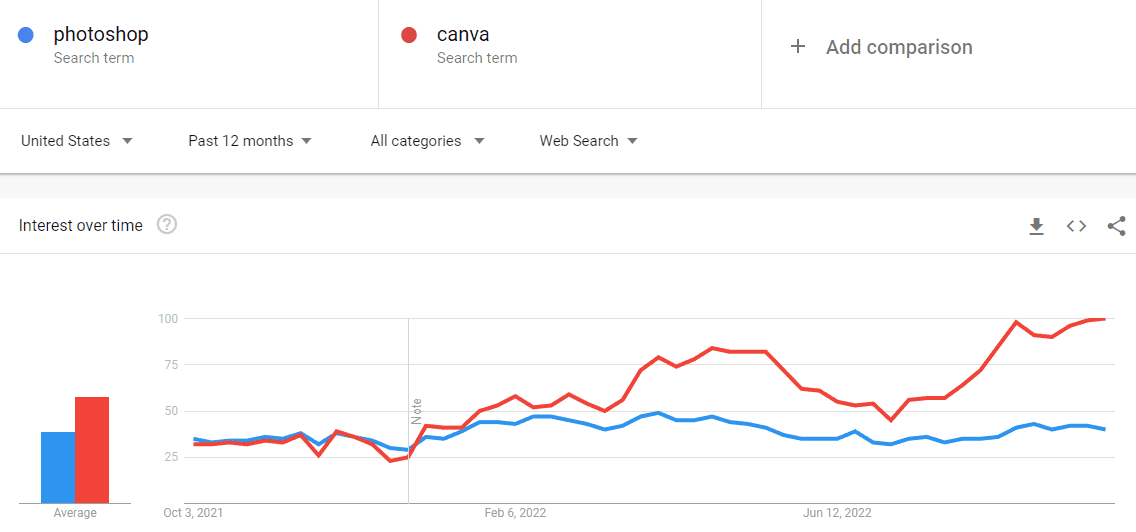 Adobe has real competition. Even though its software solutions dominate the creative industry, the company is losing the battle when it comes to NEW designers. Consumer searches for Canva, an easy-to-use photo editing software have taken the lead over historical powerhouse, Photoshop.
Last week, Adobe announced its own plans to curb this market share steal: Adobe Photoshop and Premiere Elements.
This move is big for 2 reasons. First, Adobe is ditching its subscription model for these products, lowering the barrier to entry for new users. Second, Adobe is leveraging AI features to lower the learning curve, creating instant creative professionals. We'll be monitoring both new products for consumer adoption.
SoFi (SOFI)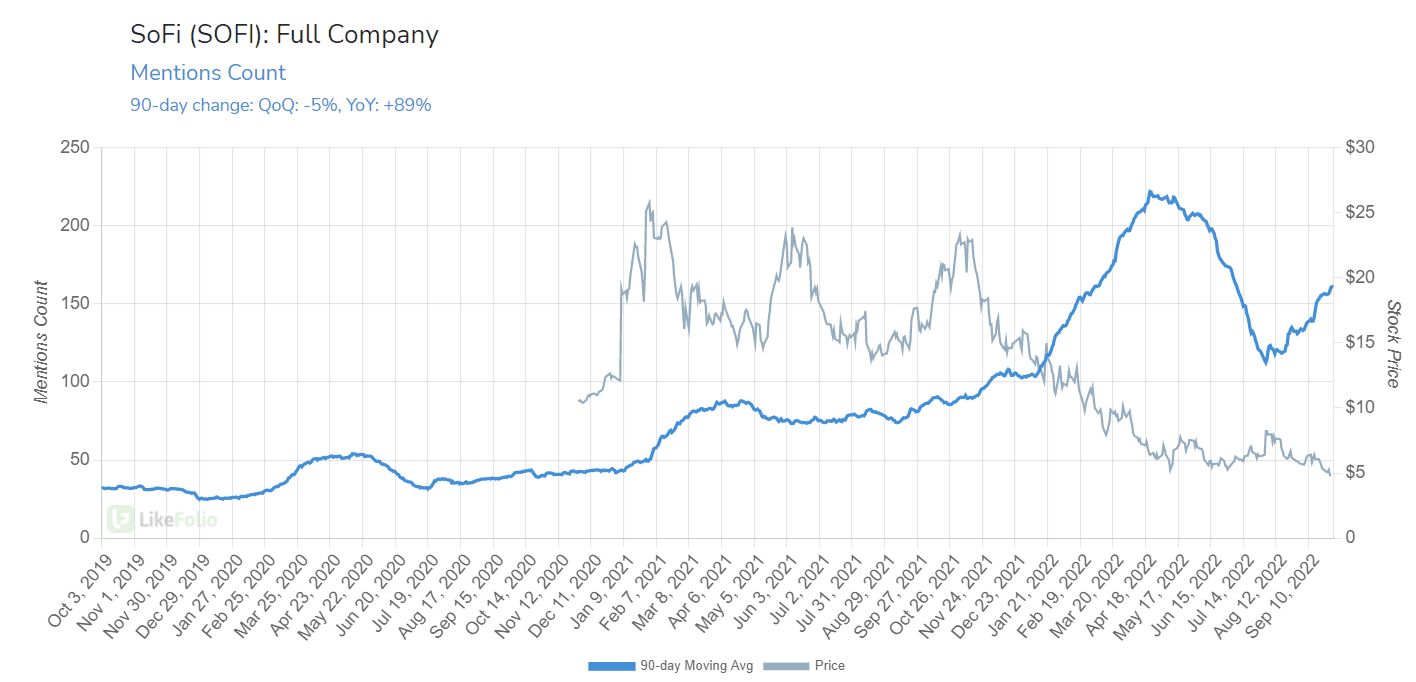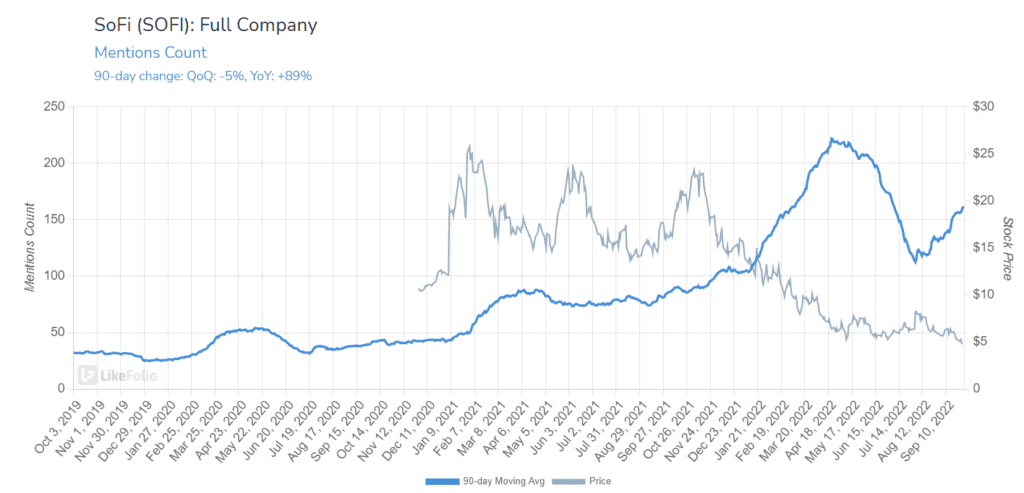 SOFI shares are trading at some of the lowest levels since the company's 2020 IPO, and -67% lower year-to-date.
As shares sell off, consumer mentions discussing SoFi's product suite including consumer banking, auto loans, and credit cards are on the rise, trending +89% higher YoY.
The company has a strong history of innovation in both product development (crypto integration) and marketing (exclusive access to Rivian IPO). The company also raised guidance on revenue and earnings on its last earnings call.
We believe the negative impact of rising interest rates is already more than priced in.
Altria (MO)
Early signs suggest Altria just capped off a nice third quarter. Consumer demand for Altria products increased +37% YoY, driven by noted strength in its Marlboro brand.
Last week Altria announced it was looking to end its noncompete agreement with Juul (in which it holds a stake in), thus opening the door for it to spin up its own vaping brand/product.
MO is currently trading on the lower end of its stock range despite an uptick in LikeFolio consumer demand. This could present a defensive play option for investors amid market uncertainty.
Caveat: If Altria is forced to decrease its dividend, investors may flee