A Safe Bet $DKNG $PDYPF
Black Friday was full of action, and not just for holiday shoppers.

The USA squared off vs. England in the group stage of the World Cup and drew an enormous audience….admit it, you at least followed the score.

The game ended up being the most-watched men's soccer game on U.S. television, peaking at 19.64 million viewers.

This viewership has implications beyond brand sponsors and advertisers. I'm talking about sports betting.

LikeFolio data confirms that World Cup action is driving Sports Betting Mentions to the highest level we've ever organically recorded. (Mentions surged in the spring of 2018 when the Supreme Court ruled that states were free to authorize sports betting in anticipation of betting opportunities.)

And we're talking big money.

During the 2018 World Cup, gamblers wagered nearly $160 billion (with a B)….and the USA didn't even make it into the tournament.

Since then, 29 states have legalized sports betting…and the USA has drastically improved its odds of winning, landing in the middle of the betting pack.
U.S. sports enthusiasts are taking note. According to the American Gaming Association's World Cup Wagering survey:
3 out of every 10 Americans who plan on watching the World Cup intend to bet on the tournament, and 48% plan to bet online.
"As the first World Cup with widespread availability of legal sports betting, this will certainly be the most bet-upon soccer event ever in the U.S.," said AGA Senior Vice President Casey Clark. "With more than half of all American adults having access to legal betting options in their home market, legal sports betting will deepen American fan engagement in the most-watched sporting event in the world."
So…here's the real tea. WHERE are consumers placing these online bets?
At LikeFolio, we track 3 consumer-favorite sports betting platforms:
FanDuel (PDYPF)
DraftKings (DKNG)
Barstool Sportsbook (PENN)
And the data surprised us.
FanDuel is emerging as the clear leader in online sports betting
A year ago, DraftKings touted the highest market share of consumer demand mentions – or mentions from consumers actually using a betting platform.

FanDuel has since stolen the lead, convincingly.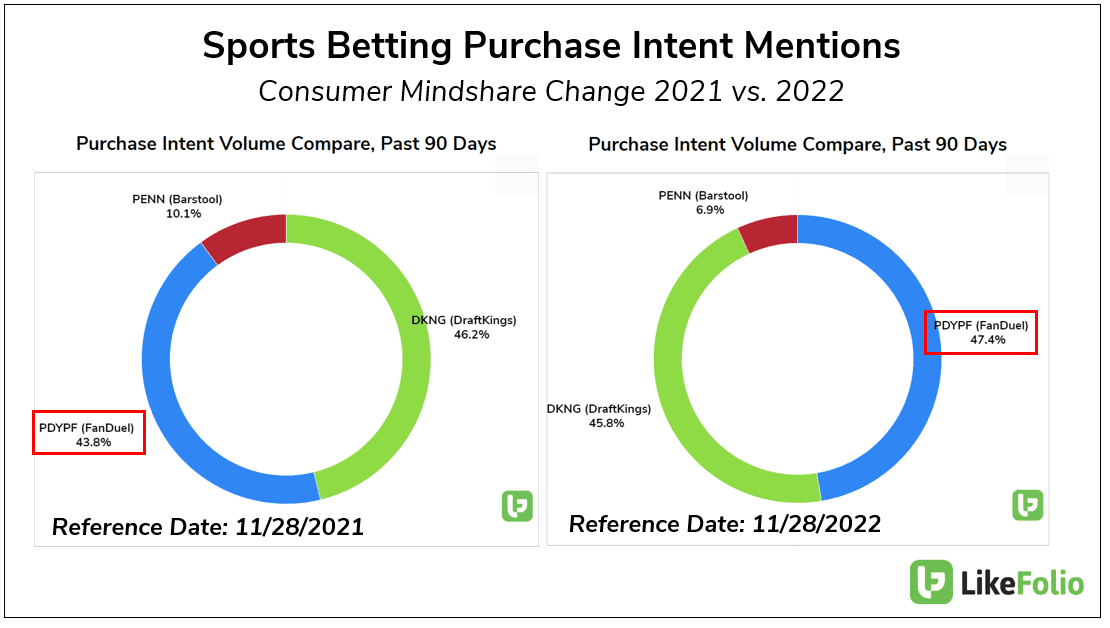 Barstool Sportsbook is falling behind
While the Barstool media brand is still flourishing (mentions of listening/engaging with personalities have increased by +65% YoY), the betting action just isn't there.

Barstool Sportsbook-specific mentions have dropped by -45% YoY.
In contrast, DraftKings and FanDuel usage mentions have rocketed by +47% and +61% respectively.

User experience is driving consumer preferences for platforms.

For example, consumers often report glitches and freezing on Barstool Sports:
In contrast, FanDuel and DraftKings are considered superior options:
Another phenomenon is emerging across the betting board…
Multi-sport activity is driving engagement
We've seen this scenario play out in other "ecosystem"-based app experiences.

For example, when Cash App expanded its functionality and users adopted 1 of its services, they were more likely to adopt another, stick around, and ultimately conduct more transactions.

In a similar effect, the World Cup activity is spurring increased online betting behavior in other sports, like the NFL.
Consumer mentions of placing bets on NFL events have exploded this fall, currently pacing +87% higher YoY.
Some of this can be attributed to a maturing betting market.
But the gambling ecosystem effect is real… and makes sense.
Looking ahead, we'll be monitoring sports betting activity through the end of the world cup…especially if the USA makes it past Iran today!
But for now, FanDuel and DraftKings are clear favorites.