Apple (AAPL) Keynote Report: Year of The Watch
Can you guess the single most predictive day of the year for AAPL stock well into the next year?
It's not Christmas. And it's not Black Friday.
It's the company's annual keynote event…a bona fide LikeFolio holiday.
Because every year consumers tip their hand, revealing which upcoming products they love, which ones they could live without, and most importantly, which ones they plan to buy.
On Wednesday, Sept. 7, Apple announced updates to three of its major product lines:
iPhone: 14, 14 Plus, 14 Pro, 14 Pro Max
Apple Watch: SE, Series 8, Ultra
Airpods: New Airpods Pro
Since we listen to consumer reactions in real-time, the results are already in!
Here are our major takeaways from Apple's big reveal:
2022 is the Year of the Apple Watch
Consumer Buzz related to Apple's new watch lineup was the highest LikeFolio has recorded in more than 4 years.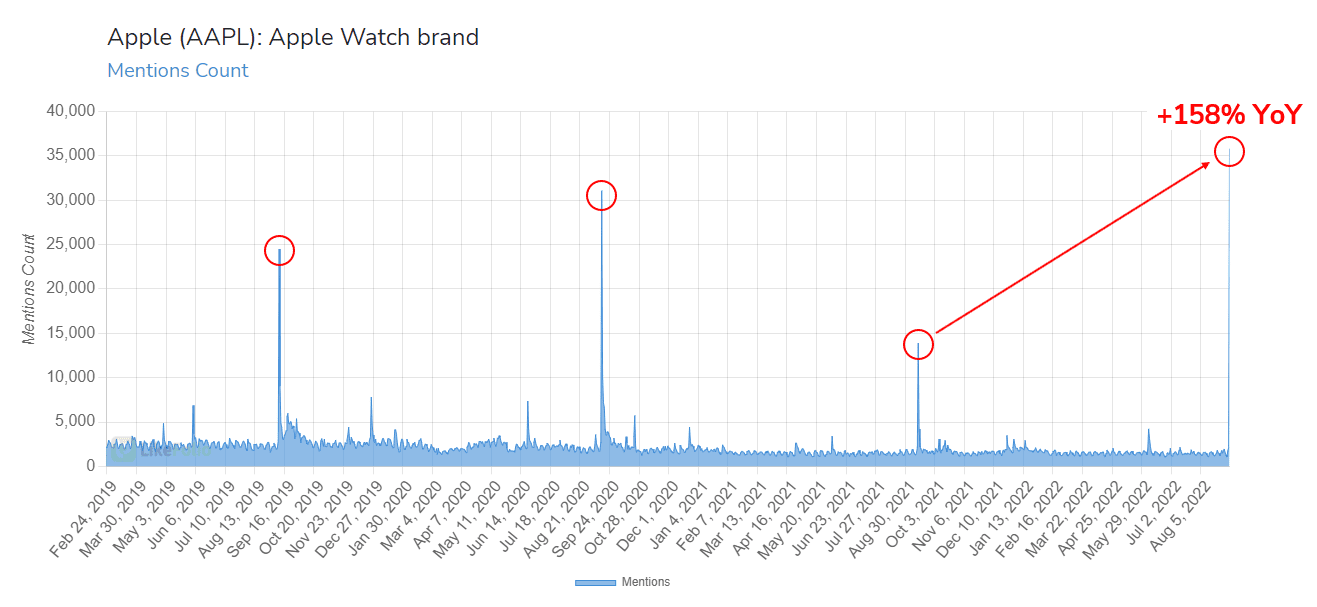 The last time buzz for Apple Watch was this high was in 2018 when Apple released its Apple Watch Series 4, the first Apple Watch to come equipped with an electrical heart rate sensor capable of taking an electrocardiogram (ECG).
The Buzz for Apple's New Watch Lineup is Extremely Positive, Favors High-End Model
Consumer happiness for the Apple Watch jumped +9% higher on announcement day, exceeding 74% positive.
What is everyone gushing about?
Overwhelmingly, the Apple Watch Ultra.
We analyzed a sample of +1,700 tweets containing an Apple Watch and positive sentiment mention…Like the one below.
The Apple Watch Ultra accounted for 78% of total mention volume, followed by the Series 8 at 16% and the SE at 6%.
If you're Apple, this is great news.
Because the Ultra carries the heftiest price tag of the bunch at a whopping $799.
This positive reception has bigger implications as well.
Apple (AAPL) is Coming for Garmin (GRMN)
What was the first clue for our team that Apple was stirring the pot?
LikeFolio's internal spike meter triggered while the Keynote even was still underway -- for AAPL, and at an even higher threshold for GRMN.
Garmin sentiment plunged by -9% on Wednesday. Consumers immediately saw the writing on the wall.
This marks Apple's first REAL offensive move into the previously cozy market Garmin carved out: adventurers.
The Apple Watch Ultra design appeals to distance athletes, backcountry explorers, divers, and really any consumer who spends time in non-standard environments.
And I can speak to this from personal experience.
As a regular backpacker (and Apple enthusiast), I know first-hand the shortcomings of prior Apple Watch iterations.
When you're hiking in the backcountry, you need a watch that can hold battery for longer than a day…something the Ultra will now be able to accomplish with its promised 60-hr battery life in a soon-to-launch low-power mode.
In addition, Apple's incorporation of a wayfinding compass with backtracking capabilities is a major safety upgrade. I've been turned around a time or two on an unmarked trail far from service, this feature is a Godsend.
Lastly, Apple has granted attention to small details that matter to power users…as the company always seems to do. Something some users unfamiliar with backcountry hiking may not understand is that a red-light night mode is standard practice. And Apple has added this feature to the Ultra. Even hiking headlamps utilize red lights to preserve night vision.
All of the features above sent my backpacking group chat flying on Wednesday.
Comments like:
"Dear Santa, I know what I want for Christmas…"
"I mean, that's a steep price but like…I'm not not thinking about it…"
"Reading about it now…this sounds legit!"
It's clear the Watch stole the show. But how did the iPhone and Airpods stack up?
New AirPod Pro Demand Receives Needed Bump
Consumer demand for Apple AirPods has slid for the past 3 years.
However, mentions from Wednesday's keynote helped to elevate consumer demand above 2022 levels.
The AirPods Pro (2nd Generation) are priced at $249, and many consumers are already noting the giftability of the in-ear headphones.
Keep an eye on Purchase Intent through the holiday shopping season…if current mentions hold true, it could be a strong showing for Apple.
Apple iPhone 14 Enthusiasm Tops 2021 Levels (Slightly)
The iPhone 14 lineup was met with consumer demand chatter that was +6% above the levels generated last year.
This continues a positive demand streak for Apple, with iPhone demand +44% higher vs. last year on a 30-day moving average.
Although no major iPhone changes were announced, a qualitative review showed a positive response to Apple's new 'Dynamic Island' feature.
Looking ahead, we'll be tracking model-specific order mentions to see if consumers splurge for higher or lower-end models.

Bottom line: All three major product lines featured in Apple's keynote received MORE consumer enthusiasm vs. last year.

While LikeFolio CAN'T speak to macro headwinds Apple may face, including the rising cost of supplies and product availability, the company received a green light from the consumer.

Members can expect an update as products land in consumer hands…and on their wrists!