BREAKING: Amazon's Biggest Prime Day Ever -- here's why
Amazon's manifestation of "Prime Day" is remarkable.

Over the past 7 years, Prime Day has transformed from a company-manufactured event into an annual patriotic holiday celebrating what Americans truly love to do most: consume.

Since its inception, Prime Day has generated more revenue than the prior year, in 2021 topping $11 billion.
But this year HAS to be different, right? 

Consumers are telling us they are stressed.

Mentions of inflation fears (+481%), food price concerns (+245%), and gas price concerns (+659%) are SOARING on a year-over-year basis.

But according to LikeFolio data, Amazon's Prime Day event just had a blockbuster year.

Amazon Prime Day Sales Soared in 2022

Despite the economic pressure squeezing in on consumers, 2022 Prime Day activity made 2021 look like a blip on the chart.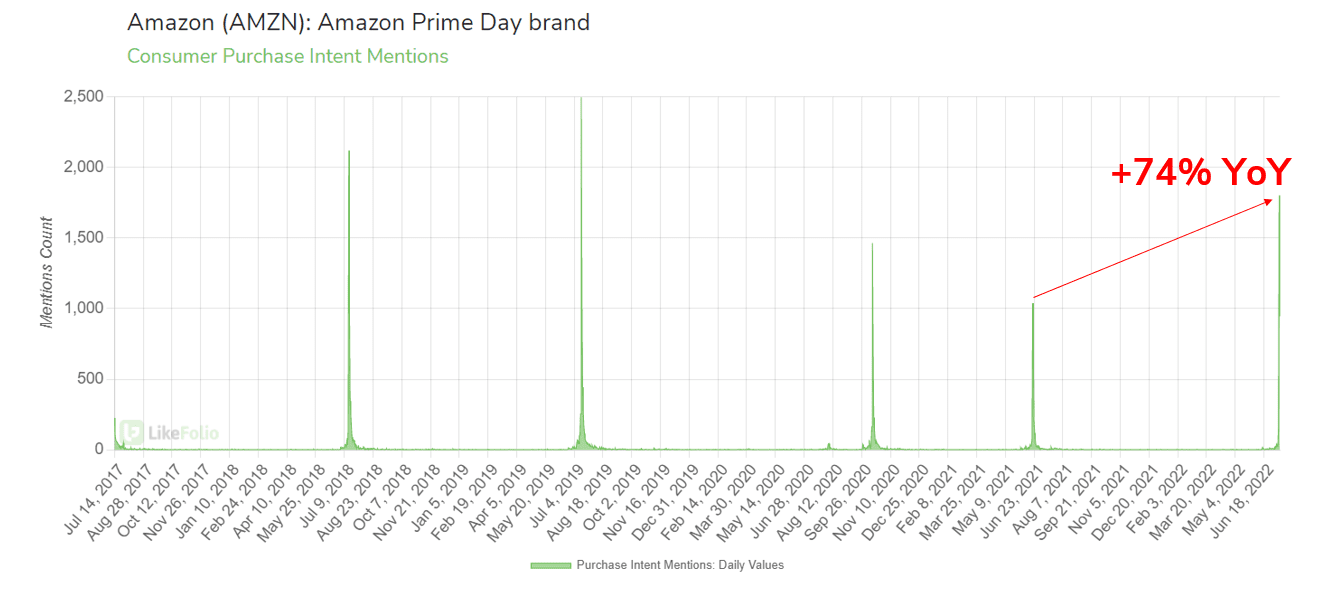 Mentions from consumers indicating they shopped a Prime Day deal surged +74% higher YoY.

Amazon confirmed what LikeFolio data was capturing in real-time: 2022 was its 'biggest' ever, with more than 300 million items purchased.

What's going on here? How can consumers, strapped for cash, increase consumption?

This is where LikeFolio data can offer some unique insight.

Deal Discovery is Driving Consumer Spending

Amazon is tapping into the psychological reward system involved with bargain hunting.

Consumers are addicted to the "thrill of feeling like they scored a big victory" according to researchers.

Pair this win with a weakened economic state, and you've got a perfect storm.
It's no surprise that deal discovery mentions are near all-time highs.
And it also makes sense when you consider HOW Amazon reported Prime Day results. Note, the company didn't disclose total sales – it disclosed # of items sold.

Perhaps the bargain-hunting consumer really did win. 

But consumers (and Amazon) weren't the only winners on Prime Day.

At LikeFolio, we're also listening for which products were flying off eCommerce shelves.

Prime Day Winners: Electronics, Appliances, and a LikeFolio Favorite…

By utilizing a short-term lens (7-day moving average), we can quantify the impact of Prime Day sales on a company's typical demand growth. These were the biggest winners among consumers:
Garmin (GRMN): Big discounts on wearables resulted in a big demand spike for this company, adding to recent strength. Fenix Brand Mentions up +177% on a 7-day moving average.
Whirlpool (WHR): Prime Day deals on KitchenAid appliances are driving a big uptick in Purchase Intent volume.
iRobot (IRBT): Perennial Prime Day favorite enjoying a year-over-year demand boost.
Crocs (CROX): Purchase Intent volume is relatively in line with last year's prime day sale but building on broader strength for the Company.
Levi Strauss (LEVI): Denim classics from Levi were available as much as -40% below traditional retail value…and consumers gobbled them up.
This data is incredible.

Because we can see in real-time exactly when and where consumers are spending (increasingly precious) money.

While this report zooms in on a single event, we're also zooming out. WAY out.

To see how consumer spending is shifting in the big picture over time.

And it's certainly shifting.

We're expanding on the drivers and beneficiaries of consumer spending in our July edition of MegaTrends – members can expect this hot off the presses on Monday morning.

The report will feature 5 major retailers who are gaining the upper hand on key competitors.

We can't wait.