Critical S&P Level approaching—how I'm playing it.
The S&P 500 (SPY) is retesting the 200-day moving average, this time from above.
A break of this level could shift investor mindsets (and media narratives) from "dip" to "drop", and shift the money flows of momentum-based strategies.
Threats to the markets will come in the form of earnings reports this week, with a few key names on the docket:
Retailers Macy's (M), American Eagle (AEO), and Nordstrom (JWN) report this week, and all show significant demand destruction on a year-over-year basis, according to LikeFolio data.
Will inventory controls and price hikes be enough to salvage reports that meet Wall Street's low expectations? We're skeptical.
Lowe's (LOW) reports Wednesday before the market opens, following in the footsteps of rival Home Depot (HD)'s first miss of revenue expectations in over three years.
The main problem? No real pulse for home renovation demand.
On the bright side, Light & Wonder (LNW) is looking for its fourth straight earnings beat on Wednesday, having produced stock gains of 6-9% in each of its last three reporting weeks.
I've always been intrigued by this company, which makes innovative and entertaining casino games like Monopoly Slots and Ultimate Texas Holdem.
LikeFolio data on this name is naturally limited, but what we do have paints a strong picture of growth: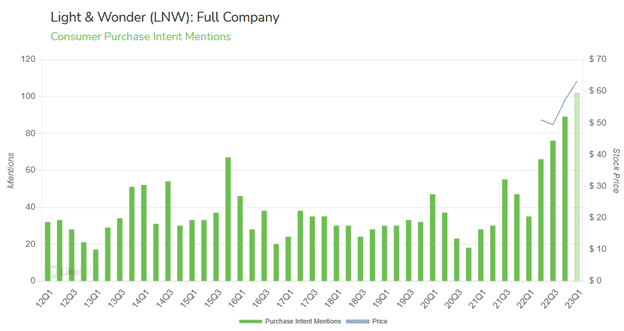 We expect the company to have an optimistic message in its outlook and conference call.

Bottom line – earnings will be in focus for most of the week as the deluge of Fed-watch data drama slows to a trickle.

We are keeping our eye out for great long-term stocks to buy on dips while hedging against short-term pullbacks via defined-risk earnings strategies on select companies.
Tags:
$JWN, $LOW, $SPY, AEO, American Eagle Outfitters, HD, Light & Wonder, LNW, Lowe's, M, macy's, Nordstrom, S&P 500, The Home Depot