From the Research Desk: Top 5 Consumer Wellness Trends Driving Explosive Brand Growth
Research Desk weekend notes are back! You can expect these monthly.
The topics, brands, and trends featured in these drops have been flagged by our team due to explosiveness, staying power, high member interest, and the potential for long-term ramifications.
This month, it's all about wellness.
Personally, wellness is my favorite segment to track.
Probably because this segment is why LikeFolio started tracking trends in the first place. One of our very first corporate clients wanted to understand the major drivers of CPG (Consumer Packaged Goods) demand. And we realized we were sitting on some extremely powerful insights.
Since then, several brand teams have leveraged LikeFolio data to finetune marketing efforts and prioritize research & development.
By understanding how consumption priorities are changing, brands can get ahead of shifts in consumer health priorities and increase the likelihood that products will fly off shelves.
Here are the most significant trends emerging in the CPG space that we're watching now:
5 Major Trends Driving Consumption in 2022
1. Digestive/Gut Health: +134% YoY
Consumer mentions of taking actions to improve digestive health are at all-time highs.
This trend has risen steadily for nearly a decade, but the rate of acceleration in mention volume in the last year is significant. Enough to catch our attention.
The global market size of digestive health products is expected to exceed $57 billion by 2025 (nearly doubling the market valuation in less than a decade).
But the ramp-up in consumer demand for products that improve gut health suggests this market growth could be much larger.
In addition, qualitative review of mentions suggests an education gap exists on the consumer front. Consumers want to improve their digestive health, but they're not sure how to accomplish this.
An enormous opportunity is present for relevant brands to connect with consumers, provide educational value, and fill an unmet need.
2. Greens: +137% YoY
The chart below shows demand mentions for greens (as a supplement) have rocketed in the past year.
Meanwhile, generic vitamin/supplement demand mentions have only increased by +25% in the same time frame.
Translation: Greens are a segment outlier in an already growing category.
Digging deeper, qualitative review indicates many consumers are replacing traditional smoothies with greens powder due to convenience.
Those who are sticking with smoothies rely on greens for added nutritional value.
Both consumption drivers are valuable info if you are marketing a green supplement-based brand.
3. Nootropics: +45% YoY
Nootropics are substances that are consumed to boost brain power, optimizing functions like memory, attention span, and even creativity.
These substances can be consumed in supplement form or through food and beverage products.
The most common example of a nootropic that you've definitely heard of (but may not have realized) is caffeine.
Others include L-Theanine, Ginkgo Biloba, and Ashwagandha.
This summer, consumer demand for nootropics is on pace for the highest level ever recorded.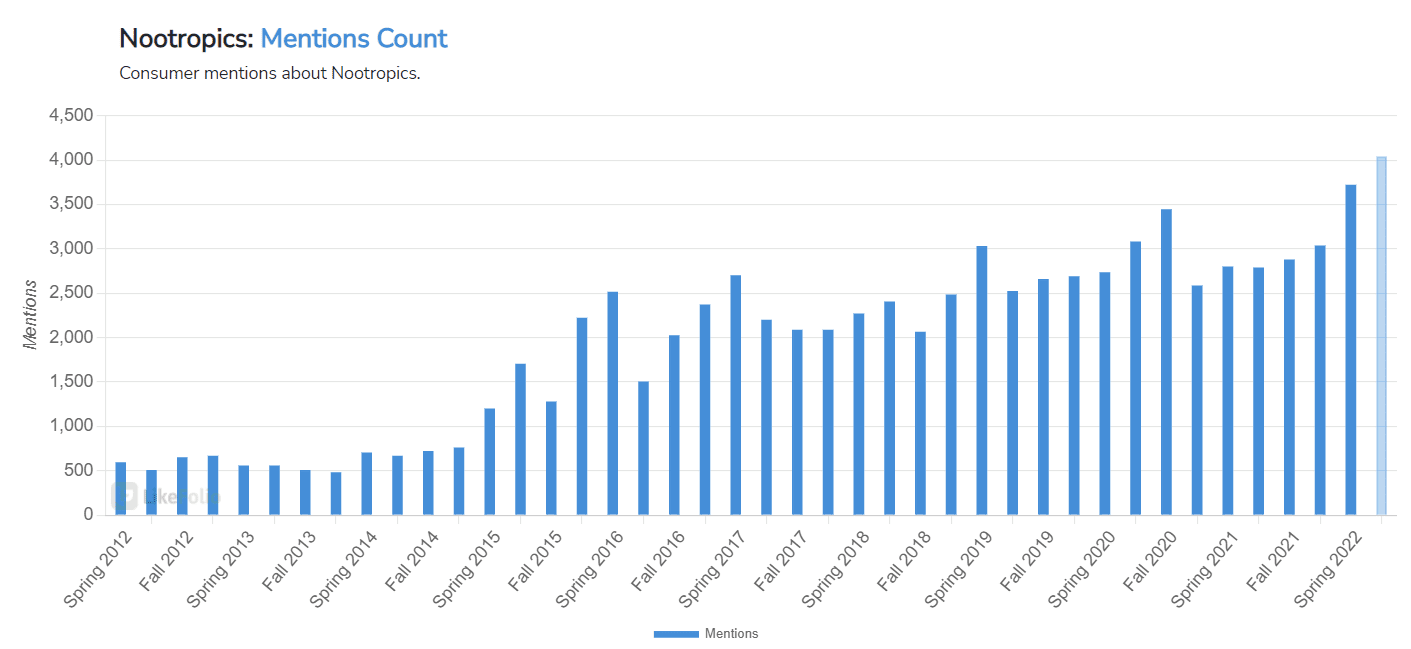 Ashwagandha and L-Theanine show significant near-term strength, with demand for each substance rising +36% YoY and +8% YoY respectively.
Keep an eye out for the addition of these nootropics in mainstream foods and beverages, and for the marketing of products based on nootropic benefits.
4. Adaptogens: +31% YoY
Consumer demand for adaptogens peaked in 2020…and this makes sense.
Adaptogens are plants and mushrooms that help our bodies respond to stress, anxiety, and fatigue.
But the chart above shows that even after a stressful outlier event – like a global pandemic – the trendline for adaptogen demand is continuing higher.
Consumers appear to be latching onto the power of mushrooms, specifically.
You can see consumer searches incrementally rising for 3 of the top adaptogenic mushrooms below:
Products that leverage the ingredients and promote related functional benefits are likely to resonate with consumers.
5. Non-Alcoholic Drinks: +13% YoY
An interesting phenomenon is unfolding in the last year: many consumers are opting to drink less.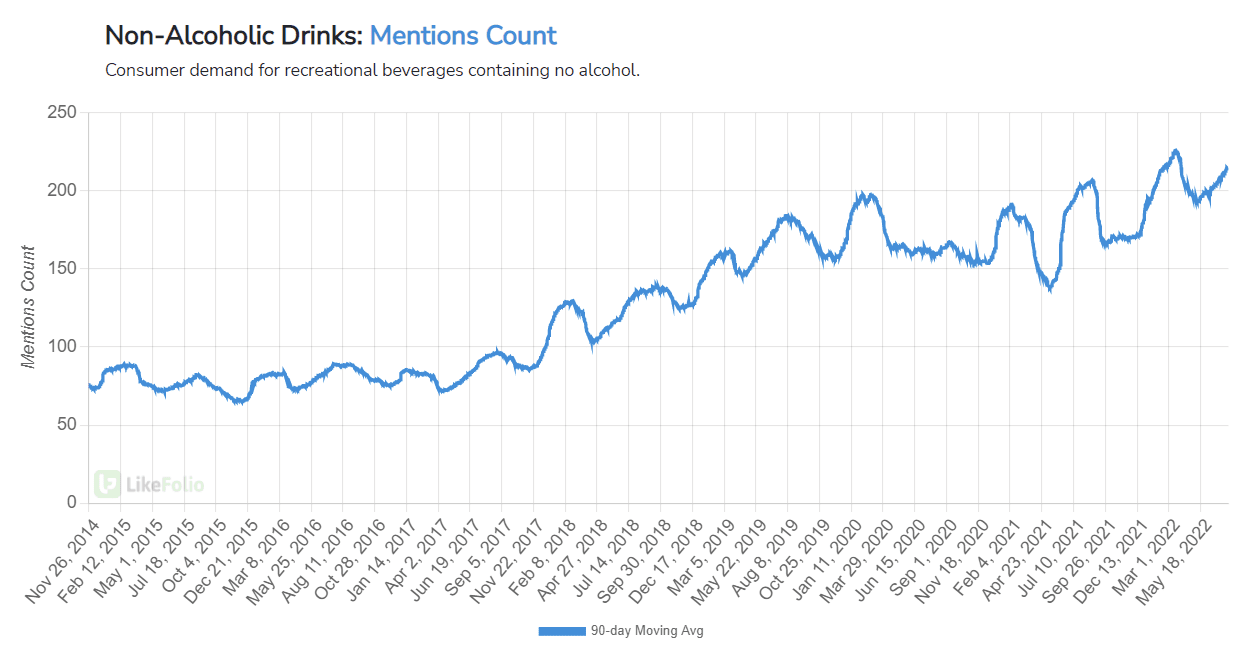 Consumer demand for non-alcoholic beverages that mimic traditional favorites is at all-time highs.
Alcohol delivery company, Drizly, noted that 9/10 of its retail partners carry at least one non-alcoholic beverage option. And that these sales grew significantly in 2021:
Non-alcoholic spirits: +600% YoY
Non-alcoholic wine: +300% YoY
Non-alcoholic beer: +200% YoY
And based on generation studies of alcohol habits, this trend-line is likely to continue.
Millennials are less likely to drink vs. Gen Xers. And Gen Z is less likely to drink vs. Millennials.
Is alcohol on its way out? Definitely not. But this segment is ripe for product development.
Macro Trend Application in the Real World
Each of the trends previously highlighted presents major growth opportunities within the CPG space.
And brands that successfully make the connection between trend and product are the real winners.
Five brands are showcasing exactly how to leverage the power of a trend tailwind to generate record levels of consumer demand.
The chart below features 5 of the hottest brands we're watching right now – each of which is harnessing a major consumer macro trend.
Athletic Greens is capitalizing on consumer demand for convenient "greens" supplements.
MUD\WTR is marketing itself as a "coffee replacement", promising all of the nootropic and adaptogenic benefits without the caffeine.
Celsius (a LikeFolio favorite) is carving its niche as a "healthy" energy drink, chock full of nootropic substances like ginger root and guarana extract.
Olipop is a gut-healthy soda alternative containing prebiotics, plant fiber, and less sugar.
HOP WTR is an alcohol-free beer alternative that is popping up at music festivals all over. Its growth was significant enough to prompt a minority stake from Constellation Brands (STZ).
Bottom line: by listening to what matters to consumers, it's possible to spot major growth areas…in trends AND brands.
And we're adding new trends daily.
If you're a brand or agency and want to learn how to tap into LikeFolio's powerful consumer insights, reach out to schedule a demo.