Happy Feet: The World's Most Satisfied Shoe Shoppers
Like the investment performance disclaimer, happy consumers don't guarantee future results, but they're a heck of a place to start! 

Especially in the footwear space. 

When it comes to what goes on our feet, word spreads often and fast and in social media circles. It just might be the most influential consumer chatter in the apparel industry. 

People take shoe shopping seriously these days because footwear has evolved into a big-ticket item. Shoot, a nice pair of sneaks can cost more than a steak dinner for two! 

From a hard-core athlete to a professional on their feet all day, finding the right fit, style, and performance is essential. And oh, how we love to show off new shoes on social media… 

'Check out my new kicks!' 

'OMG these sneakers are sooo comfy!' 

Posts like this create the digital brand awareness that footwear companies crave.Makes sense – greater awareness should translate to higher sales.

Lately, however, growth has been hard to come by in the industry. Supply chain disruption, inventory issues, and higher material and wage costs have hurt like bunions. A slowdown in discretionary spending isn't helping.

A recent Footwear Distributors & Retailers of America survey showed that 87% of shoe executives expect the shoe shopping environment to weaken in the coming months.

Why bother shopping for shoe stocks now?

LikeFolio data suggests that having happy, loyal consumers goes a long way in apparel and footwear.

So when the economic backdrop improves, shoe manufacturers and retailers with the happiest customer bases will be better positioned to capture a surge in demand.

On Holding, Wolverine World Wide, and Allbirds are a few of the names on our radar. As the chart below shows, they have some of the industry's strongest consumer sentiment—and stock prices that are down significantly in 2022.
But why do these shoe shoppers have such happy feet?

Let's step a little closer…

1. On Holding AG (ONON) YTD Return: -40% Happiness: 85% 

The Swiss running shoe specialist is out to change the way running feels. Its CloudTec adaptive technology is designed to make you feel like you're 'running on clouds'…and many agree.

On's rapidly growing global fanbase raves about the lightweight experience—and its peer-to-peer recommendations that power the brand.

Running is an activity we saw take off during the pandemic and interest has persisted. Consumer mentions of going for a run or jog are consistent with where they were a year ago.

Along the way, On's consumer happiness has consistently floated above 80%. The current 85% reading is the best in our footwear universe.
Already in more than 60 countries, On caters to runners of all ages and skill levels. It sells direct-to-consumer and wholesale which combined for 68% sales growth in Q1.

Its signature Cloud Collection includes dozens of men's and women's sneakers priced in the $140 to $170 range. Review after review mentions how the product has amazing cushioning without the "squish".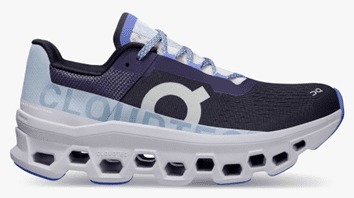 Check out what one long-distance runner had to say about the recently launched Cloudmonster:

"These are the best shoes I've used to date…The cushioning is firm with lots of return energy for me. I'm a convert – almost ready to get a second pair."

Favorable reviews are just part of On's high-powered marketing machine.

Promo tweets such as one by British Olympic sprinter Katharine Merry generate buzz and add credibility to the brand. So too does the company's hookup with tennis great Roger Federer for the 'The Roger Collection'.

On has an expanding lineup of pro athletes and well-known marathoners. This along with a heavy dose of educational and inspirational online content has helped it amass a loyal following of happy runners.

On's September 2021 NYSE debut has proven ill-timed with the broader market running mostly downhill since. Yet even with the stock being down more than 30% from opening day, the fundamentals look pretty darn good.

The company's innovative running tech is a differentiator and brand awareness is on the rise. At the current pace, we think the share price is bound to catch up to consumer strength.
2. Wolverine World Wide (WWW) YTD Return: -20% Happiness: 81%
Wolverine owns an extensive portfolio of casual, active, work, and athletic shoe brands. Despite the diverse audience, there's been one constant—consumers are happy.

We have seen remarkably consistent sentiment around the company with mentions hovering around 80% positive for long stretches.

Since shoes can be such a finicky product, so we think this speaks to the quality of the brand lineup.
Merrell, the biggest revenue contributor, is on pace for record sales this year, thanks to demand for high-quality trail shoes and new product rollouts. The recent Hyped by Haters campaign about the polarizing nature of the brand went viral and drove higher sales and attention.

What a brilliant way to capitalize on consumer emotions!

As a result, one of the best sellers is the Hydro Moc, Merrell's amphibious take on Crocs' clogs.
One customer's 5-star review says:

"Incredible shoe. Beautiful design, has people staring…Works as well for land as it dries from water."

Meanwhile, the running crowd is big on Wolverine's Saucony brand. Our data confirms that Purchase Intention (PI) mentions of the brand are up +33% YoY.

Like the Swan bros, Sperry shoes are popular with the ladies. PI mentions are up +20%. Not bad for a slowing economy!

Wolverine's all-terrain, all-occasion lineup puts several footwear trends in its favor.
Mentions of work boots (+131%), lace-up boots (+36%), and waterproof shoes (+21%) are all up significantly YoY.
You wouldn't know it by the stock's year-to-date return, but Wolverine is off to a great start in 2022. Q1 revenue jumped +20% YoY on e-commerce strength.

We think as consumer confidence recovers, spending on Wolverine footwear will only get better.
3. Allbirds (BIRD) YTD Return: -65% Happiness: 80%
Not all consumers love Allbirds, but 4 out of 5 do.

And with the company's social media following growing, that's a nice flock to build from. It is a following that was kickstarted by Eva Longoria's Allbirds tag in a promo tweet soon after the IPO.

When you make shoes out of New Zealand merino wool, eucalyptus tree fiber, and sugarcane-based foam, you're really sticking your beak out in the market. But that's Allbirds.

The environmentally friendly approach is resonating with a passionate group of consumers. They like that the products are kind to the planet and kind to the feet.
Our consumer happiness data says it all:
Allbirds' wheelhouse is the 'casual everyday shoe'. The Tree Runner and Tree Piper sneakers are the core products here along with the Tree Lounger slip-on.
Why do women pay $100 for a Tree Lounger slip-on when there appears to be nothing to it?

Well, as one recent buyer put it:

"These shoes are amazing! This might be the most comfortable pair of shoes I have ever owned! I want more!!!!"

Yeah, the four exclamation points were a bit much, but that's the kind of passionate consumer base we are dealing with here.

Allbirds also offers running shoes and summer sandals, and just brought back a lineup of toddlers' shoes. Baby birds?

Alright, alright, we admit it.

When we saw that Lindsay Lohan teamed up with Allbirds on the Lux Pink Tree Flyer, we were intrigued—and inspired to rethink that half-marathon.

With Allbirds it's all about comfort and sustainability. Both tenants of the business are on trend.

Slip-on sneakers and comfortable work shoe mentions are up +43% and +24% YoY, respectively. Sustainability chatter is up +55% YoY.

We think Allbirds' could be relevant for a long time. Especially among Millennials and Gen Zers who are big on buying products that check both the comfort and ESG-friendly boxes.

Like ONON, the stock is down sharply from its poorly timed IPO. But it has a highly satisfied consumer base that could eventually get it flapping higher. Allbirds is building a nest of younger, environmentally conscious footwear shoppers that could drive sustained multi-year growth...