Holiday shopping kicks off strong for Walmart, Target
Retail EPS: Walmart (WMT), Target (TGT)
Consumer behavior shifts during the pandemic have proven to be a revenue boon for essential retailers like Walmart and Target.
Last quarter, ecommerce helped bolster Walmart comp sales +9.3% YoY and propelled Target comps to "highest the company ever recorded" levels.
LikeFolio noted overall softening in demand in WMT and TGT in the third quarter:
WMT 21Q3 Purchase Intent: -23% QoQ, -7% YoY
TGT 20Q3 Purchase Intent: -11% QoQ, -13% YoY
*Important to note this does not capture the potential impact of changing ticket size, if present.
In the current quarter, digital transaction mentions are soaring driven mostly by early Holiday shopping of month-long Black Friday sales alongside some increased stockpiling activity.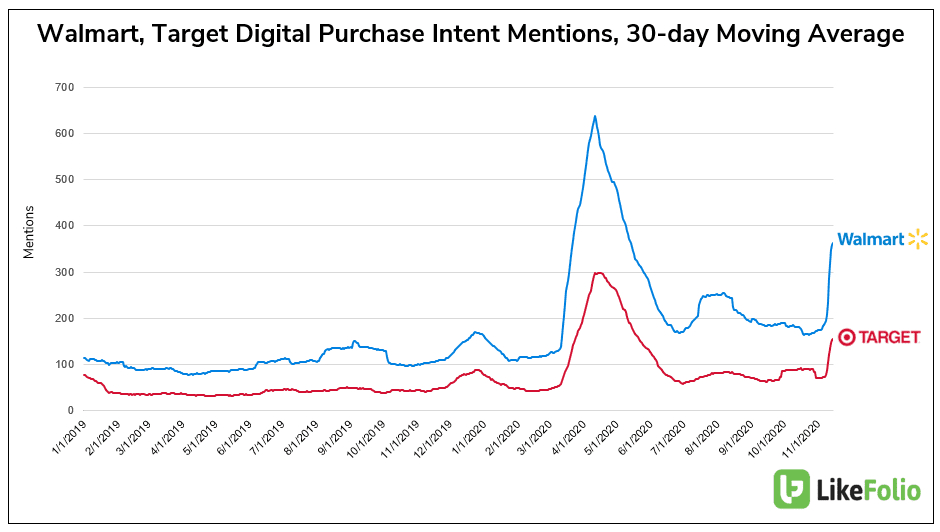 We've got a close eye on digital execution through the end of the year.
Landon talked about this today on the TD Ameritrade Network.
IPO Watch: Roblox
The gaming company Roblox is expected to go public sometime before the year's end, and the underlying data looks incredibly promising...
LikeFolio Mentions of playing 'Roblox' have skyrocketed in 2020, currently +158% YoY in the past 90 days. Be on the lookout for...