Monday Preview $ULTA $TSLA $RIVN
Is ULTA Overbought?
ULTA shares cruised through 52-week highs as the company remains resilient vs. tightening economic conditions.
A "lipstick effect" is present throughout the beauty industry, powered by the notion that when consumers can't splurge on large items, a smaller cosmetic purchase (like a tube of lipstick) serves as an acceptable substitute and treat yourself moment.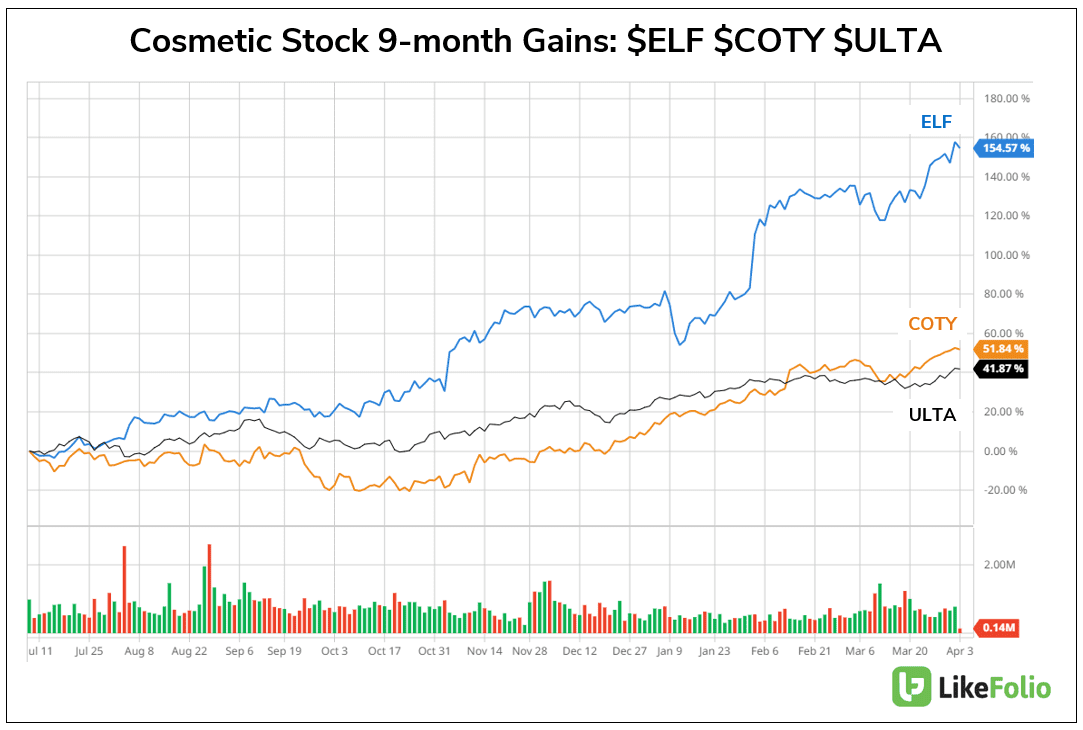 Can Ulta continue its streak of outperformance?
LikeFolio metrics reveal a mixed bag.
Makeup demand remains significantly higher YoY (+23%), a nice macro tailwind for companies like Ulta. However, this rate of growth is slowing down – measuring +13% YoY on a 30-day Moving Average.
Ulta digital demand is also recording double digit YoY growth: +13% YoY. However, prestige retail peer Sephora is recording higher levels of growth (+25% YoY) and showing signs of closing the traffic gap.
Ulta mentions are cooling down as the stock races higher. Mentions are elevated on a YoY basis, but divergence is beginning to form.
This may soon be an instance of a stock going too far, too fast. Members can stay tuned for actionable updates.
Tesla Posts Record Q1 Deliveries
Yesterday TSLA announced production and delivery numbers that set quarterly records:
Vehicles Produced: 440,808 in Q1 vs. 439,701 in Q4
Vehicles Delivered: 422,875 in Q1 vs. 405,278 in Q4
Investors are looking for strong execution to support stock gains in the first quarter – shares are trading nearly +80% higher YTD.
LikeFolio data shows some tempering in TSLA consumer buzz as price reductions settle in, but volume remains more than +11% higher on a YoY basis.

Bottom line: Tesla price reductions served as an effective spark for consumer demand, and the company is proving it can execute better than anyone else in the business.
Notably better than electric peer, Rivian, who just posted Q1 delivery numbers that slipped vs. the 4th quarter.
RIVN Battles with Execution, Keeps Guidance In-Line
Rivian produced 9,395 units and delivered nearly 8,000 in the 1st quarter – in line with expectations but a dip vs. the prior quarter.
The company has struggled to boost production and incurred higher than expected costs over the last year, but management affirms it is on track to meet full-year production goals of 50,000 vehicles.
LikeFolio data shows that consumer demand for Rivian electric trucks and SUVs is growing – if the company can deliver.