PYPL Earnings tonight--- the good and the ugly
Last quarter on earnings, PayPal (PYPL) disappointed Wall Street with lighter-than-expected revenue guidance.
While we are officially neutral on PYPL into its earnings report after the bell today, I did notice two key trends that could have a significant impact on the company's performance over the coming years:
Peer-to-peer payments looking good for PYPL
PayPal's peer-to-peer payments system, Venmo, is outperforming Block (SQ)'s Cash App brand in a meaningful way.
As you can see from LikeFolio data, Venmo has grown in consumer mention volume by 42%, while Cash App has actually fallen off.
This is great news for the company as it moves to the next level of functionality: a partnership with Apple Pay that will allow PayPal/Venmo users to add their cards to Apple Wallet.
Paypal's Crypto initiatives are falling short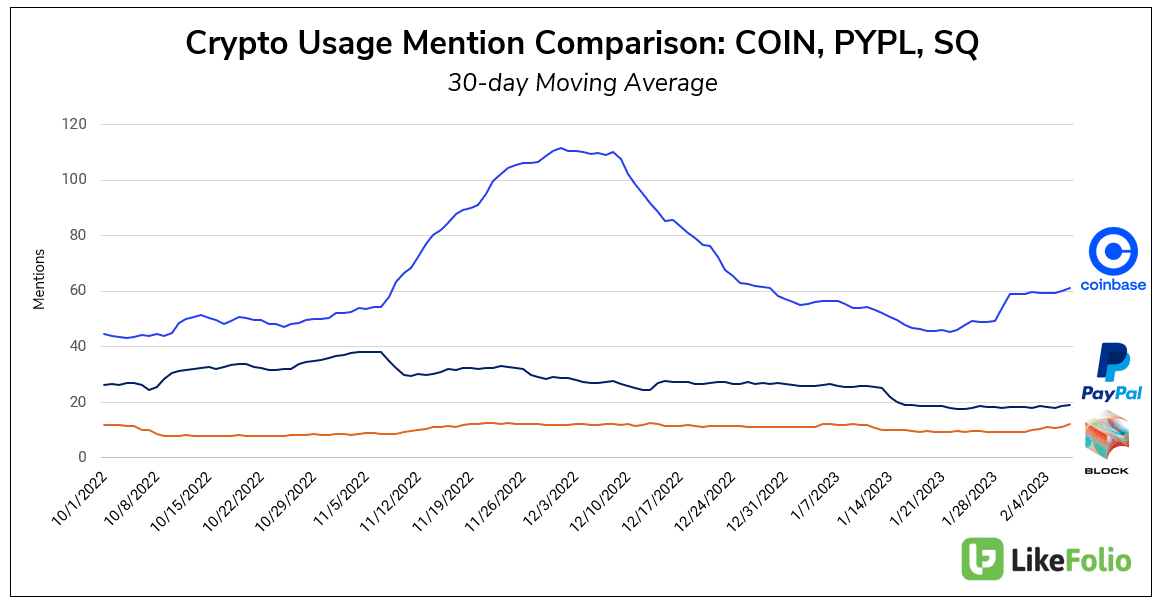 Bitcoin's resurgence (bounce?) off of the $16,000 level to $23k has brought more interest and attention to crypto payments and investing.
Obviously, this has been a boon for pure exchanges like Coinbase (COIN), whose stock has rocketed higher by nearly 90% in the first six weeks of 2023.

Unfortunately for PayPal, this rising crypto tide does not seem to have had the same effect on its offerings.

As you can see in the chart above, PayPal has seen nothing but deterioration in user interest for its cryptocurrency features, even as core coins like Bitcoin and Ethereum have rallied by 50% or more.

Did PayPal abandon its crypto ambitions at exactly the wrong time?

Bottom line:
We like PYPL long-term, but see no rush to get in, as I discussed on the TD Ameritrade Network earlier today.