Snapchat is (finally) gaining steam with consumers
Social media platforms have rapidly evolved over the last 2 years, driven by a newcomer who exploded onto the scene: TikTok.

User-generated scrollable videos have permeated nearly every medium, including Snapchat's Spotlight and Meta's Reels feature on Facebook and Instagram.

In fact, Facebook and Instagram users spend half of their time on both platforms watching video content.

This rapid adoption and rising consumption of social video content has implications for investors.

Why?

The social commerce industry is surging, and predictions suggest the industry will reach $1.2 trillion in purchases by 2025.

Platforms that can effectively engage their audience and integrate social commerce features are poised for growth.

One company appears to be particularly well-positioned to tap into this growing industry.
Could Snap Be An Unexpected Winner?
For the first time in many years, Snapchat download mentions are growing again among English speakers.

Purchase Intent mentions (in this case, downloading, installing, and switching to Snapchat) are currently pacing +6% higher on a YoY basis.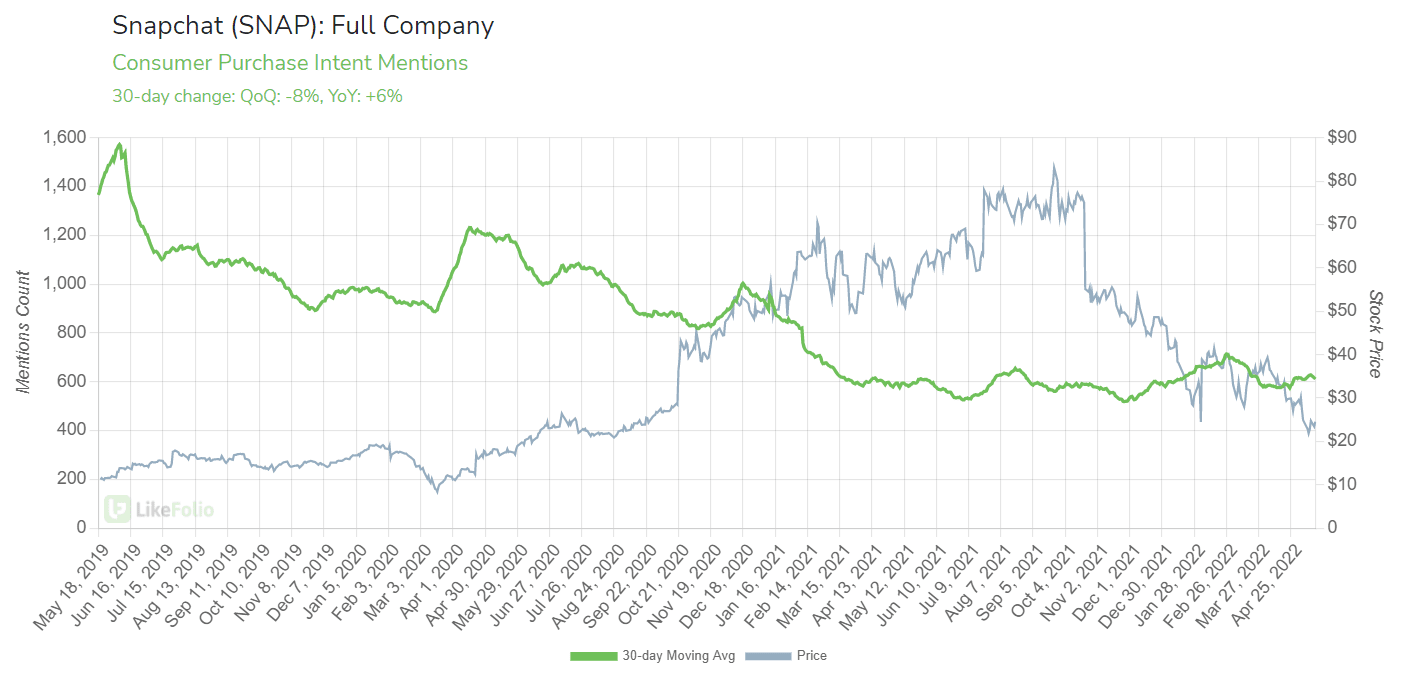 Reports confirm Snapchat is growing faster than competitors Facebook (now Meta) and Twitter.
The company's Daily Active Users (DAUs) are now at 332 million, larger than Twitter's 229 million monetizable DAUs.

Snapchat is also powering ahead in the augmented reality space.

A reported 250 million users on its platform engage with AR features on a daily basis. Not too shabby.

We previously highlighted Meta's troubles in keeping users engaged in its virtual reality platform.

But Snapchat's augmented reality applications (think filters) differ greatly from Facebook's integrations (think gaming).

In fact, Snapchat's robust filter options are the top driver of consumer happiness: up nearly 11% on a YoY basis.
This shift in happiness has elevated Snapchat's overall happiness levels above all other social peers – even TikTok.
And LikeFolio members know consumer happiness is perhaps the most predictive metric of long-term growth and retention.

In fact, if Earnings were this week, SNAP would boast a score of +57.

But the key moving forward in the near term: can Snapchat continue to effectively monetize users?

It appears so.
Consumer mentions of purchasing an item from Snapchat, or discovering a brand or item for purchase on the platform have increased by +27% YoY.

The only platform Snapchat trails in this regard, is Meta's Instagram.
We'll be monitoring Snapchat moving ahead for Happiness retention, continued platform expansion, and advertising efficacy.