Spotify (SPOT): Are Neil Young loyalists all bark and no bite?
Politically-motivated tweeters may seem the loudest, but LikeFolio history shows that these types of events rarely move the needle long-term.
In fact, LikeFolio has logged more than 320 politically-motivated high volume dates for companies that we cover…
This is good news for a company like Spotify, which finds itself in the middle of a battle between… Joe Rogan and Neil Young.
We didn't see that one coming.
Spotify sentiment has dipped by 20 points since the company reaffirmed it would keep Joe Rogan's podcast, thus prompting Neil Young to remove his music from the service.

But as you can see circled above, this is far from the largest negative sentiment spike recorded by Spotify.

And qualitative analysis reveals a mixed bag of consumer responses, not all at the detriment of the platform itself.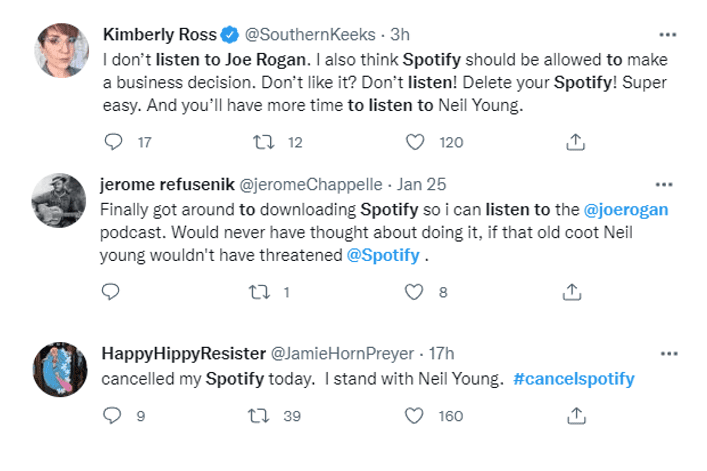 Bottom line: keep an eye on consumer demand long-term to understand any lasting ramifications of Spotify's content decision. Typically politically motivated events turn out to be flashes in the pan. But we'll be watching to confirm.