Tesla, Apple, and Amazon Sitting in a Tree...
Tesla joined Apple and Amazon in a dubious club of mega caps hitting new 52-week lows to close out an already dismal 2022.
Don't be fooled by the -65% YTD plunge.
LikeFolio data confirms consumers still love Tesla vehicles.
The post-split selloff has likely been accelerated by tax loss harvesting. Barring a holiday miracle, the EV maker will close out the year on its first ever 5-month losing streak.
There's good news, though:
Tesla's LikeFolio data is strengthening into 2023
The stock will begin the new year roughly $300 below its split-adjusted peak of November 2021.
Over the past decade TSLA has traded upwards of 100x to 200x earnings. At 22x the next 12 months EPS estimate, it is finally starting to attract buyers.
P/E ratios aside, we figured it was only a matter of time.
But now, you can drive a Cybertruck through Tesla's current demand-stock divergence.
Divergence Alert: TSLA Buzz, Stock Heading in Opposite Directions
Our proprietary consumer metrics for TSLA products have been trending upward. Since Q4 began, social media buzz is up more than +80% on a 30-day moving average.
Meanwhile, the stock has continued to sink.
Yes, some of the buzz is around Elon Musk's Twitter saga:
Musk selling billions in TSLA to finance the TWTR buy.
Twitter employees fluttering away to new jobs.
Threats to make an alternative phone if Twitter was booted from the Apple and Google app stores.
A chiding reply to President Biden's EV infrastructure buildout…
Safety recalls on the Model Y and Model 3 were also not a good look.
But a lot of the buzz is actually about Tesla itself.
A strong Q3 report that included 56% higher sales and a 69% jump in profits.
China sales smashing their previous monthly record.
And most importantly, the sleek look, technology, and performance of Tesla EVs
Regardless of the reasons, TSLA is generating more buzz than ever. This supports brand recognition and should ultimately lead to the company selling more EVs.
Bottom line: TSLA social media chatter has reached new heights since the TWTR takeover. For Musk, it's an early indication of 'mission accomplished'.
TSLA Buzz is Still Linked to Car Buying
This year's trading action in TSLA is a helpful reminder of two things:
Near term noise can drag a stock away from its fundamentals.
At the end of the day, sales and profitability drive equity value—and are rooted in consumer demand.
Despite a wave of competition, Tesla is expected to maintain its #1 ranking in global EV sales for the 5th straight year (and the first to cross the 1-million-unit mark) in 2022.
Through Q3, it holds a dominant 65% share of new U.S. EV registrations.
How does this compare to Purchase Intent volume?
Quite well.
Over the past 90 days, consumer mentions of purchasing a Tesla are well ahead of other top global EV players.
In Q4 TSLA PI Mentions are pacing +37% QoQ and on track for the second-best quarter ever. This coincides with an uptick in consumer happiness which is also approaching all-time highs.
This tells us that rising EV demand is still a big part of overall buzz.
It also suggests the market could be in for a positive Q4 earnings surprise.
With demand growing, cost inflation moderating, and semiconductor shortages improving, Tesla appears to be entering 2023 with the wind at its back.
And let's remember Tesla has only released 4 models. More are forthcoming.
In fact, a lot of the recent hype is around Tesla EVs that have yet to hit the roads.
Cybertruck mentions are up +68% YoY.
The new-age looking EV is expected to go head-to-head with the Ford F-150 Lighting and priced similarly at around $40k. Production won't start until late-2023 but consumers appear to be lining up for the long-awaited pickup truck teased back in 2019.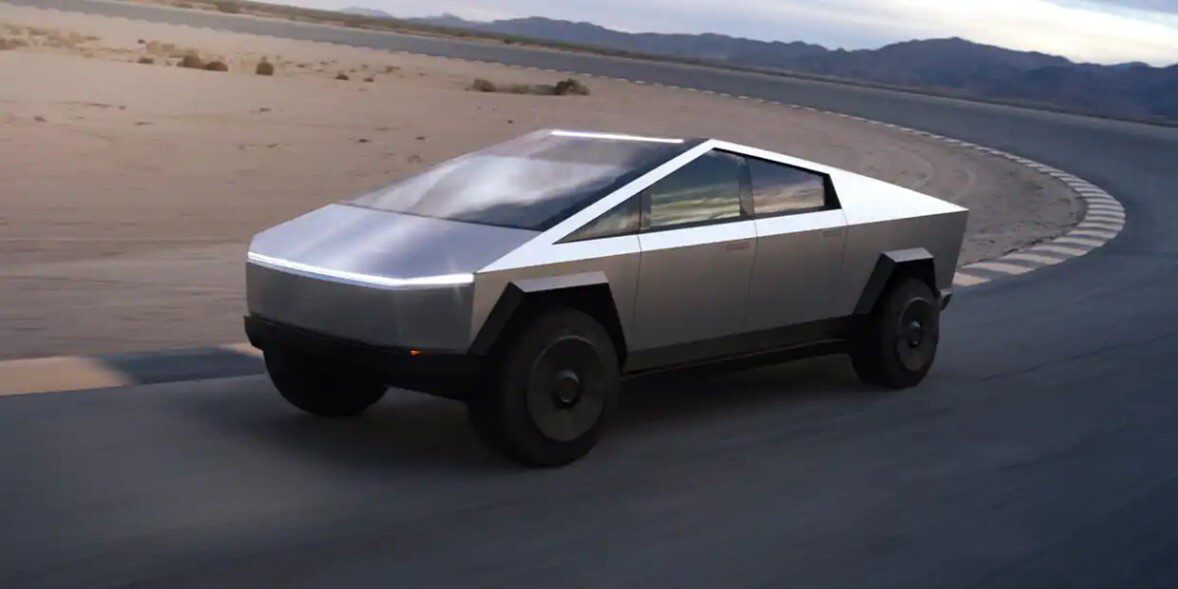 Then there's the Tesla Semi for commercial transport. Mentions are through the roof, up +600% YoY!
Pepsi's inaugural rig has been spotted on the highways and plenty more companies are lined up to take delivery—Walmart, Anheuser-Busch, Sysco, and UPS to name a few.
Tesla's push into pickups and semis is not only helping to drive stronger LikeFolio data but could be an underappreciated next wave of growth.
Management is projecting 50% average annual growth in vehicle production over the next several years kickstarted by record production Q4.
Tesla shares are as volatile as its fearless leader.
This alongside our data points to a big rebound in 2023.