The Lipstick Index is Poppin'
I didn't wake up this morning expecting to realize that Lil Mama's 2007 hit song "Lip Gloss" was an economic red flag… but here we are.
What you know bout me?
What you-what you know bout me?
What you know bout me?
What you-what you know?
They say my lip gloss is cool
My lip gloss be poppin'
I'm standin at my locker
And all the boys keep stopping
I know what you're thinking: Andy has lost his marbles… what's Lip Gloss have to do with the market?
Well… as it turns out… a lot.
The Lipstick Index was a term coined by Leonard Lauder (then chairman of Estee Lauder) during the recession in 2001.
Lauder stated that lipstick sales rose in the fall of that year, indicating that women who were facing economic uncertainty turned to beauty products as an affordable luxury.
As economic conditions worsen, beauty product sales get better.
This theory rang true once again in late 2007 and into 2008 when nail polish sales took off as the Great Recession began… just months after Lil Mama warned us.
In fact, the Lipstick Effect can be traced all the way back to the Great Depression in the 1930s, when cosmetic sales rose while industrial production was cut in half.
Why would makeup sales increase when economic activity decreases?
The going theory is that when consumers can't splurge large amounts on vacations, new cars, or high-end clothes… a tube of a new lipstick or a bottle of perfume can substitute in as a more affordable luxury.
Interesting.
So… what's LikeFolio data telling us about the Lipstick Index now?
Well… you know I have to say it…. It's Poppin'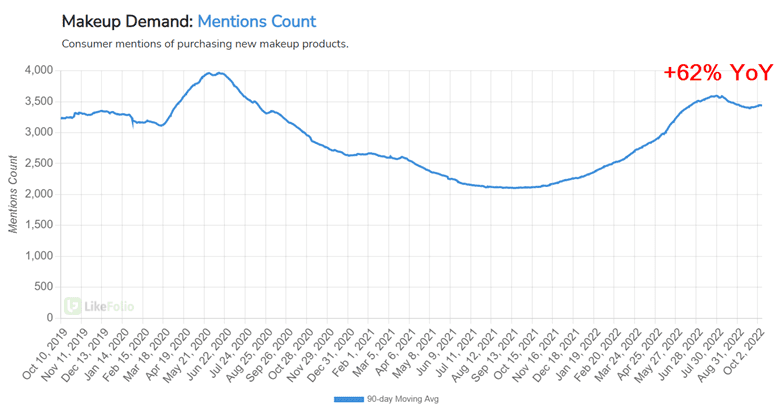 Demand for cosmetic products is up a whopping 62% year over year, despite inflationary pressures and uncertainty in the economic outlook. Just as the Lipstick Index predicts.

Which companies are benefitting most?

Revlon (REV) products are being mentioned 71% more than this time last year, while e.l.f Cosmetics (ELF) is showing growth that backs up its status as a hot 2022 stock.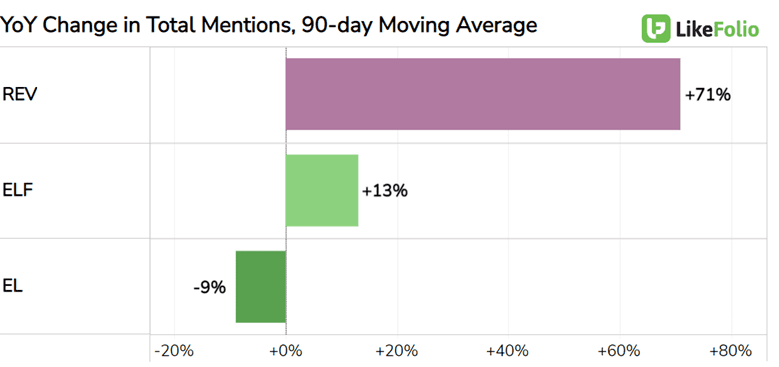 Not shown on the chart above are Sephora (LVMH) and Ulta Beauty (ULTA), which are each showing modest consumer demand growth as well.

Bottom line: The Lipstick Index seems to work. So next time you hear a hot song on the radio dedicated to cosmetics – beware… your portfolio may be in for turbulent times ahead.