The Next Big Consumer Trend: Psychedelics
One of the fastest growing consumer macro trends in the LikeFolio universe is driven by the perceived benefits from semi-taboo substances: psychedelics.
Behaviors once relegated to stories from hippies in the 60s and 70s are now being viewed in a new light.
And consumers are increasingly receptive. Could Psychedelics become the next Cannabis?
Here's what we're watching:
Microdosing Acceptance is Rising
Consumer discussions surrounding microdosing, or regularly taking a small amount of a psychedelic drug (one-twentieth to one-tenth of a regular dose), are rocketing in 2022: +164% higher YoY.
What's the purpose of microdosing? Microdosing provides users with perceived functional benefits without the "trip" or high induced by a full dosage.
The most commonly cited functional benefits revolve around mental enhancements such as enhanced creativity, boosted mood, increased productivity, and reduced anxiety.
While recreational microdosing is technically illegal under U.S. federal law, its popularity is booming.
Reddit subscriptions to a microdosing discussion group grew from 27,000 to 194,000 (and counting) from 2019 through April of this year.
In January, Oregon voters legalized the use of psilocybin (the psychedelic compound found in some mushrooms) under the supervision of a licensed, state-sanctioned facilitator.
More importantly for investors: many pharmaceutical companies are tapping into the power of psychedelics through the legal development of drugs to treat illnesses like depression and schizophrenia.
This has an eerily familiar feeling to the transition of cannabis from a fringe longshot to a serious industry over the last decade. Cannabis generated $27 billion in sales in 2021 (+35% vs. 2020).
LikeFolio predicted this rising tide in 2019. Our Cannabis MegaTrends report logged avg. max gains of +190%.
Could Psychedelics be the next big growth segment? Perhaps.
Three Psychedelic Stocks to Watch
While LikeFolio data doesn't lend itself to pharmaceutical development, we can identify top players in the field.
Here are three companies with a hand in psychedelic drug development LikeFolio is working through our coverage process for ongoing tracking:
Atai Life Sciences (ATAI) – Atai was founded to address unmet needs and lack of innovation in the mental health landscape. Areas of focus include depression, anxiety, schizophrenia, substance use disorder, and traumatic brain injury. Atai is developing a pipeline of treatments leveraging various psychedelics from MDMA derivatives to DMT. Cathie Wood's ARK Investment continues to add to its Atai Life Sciences position.
Mind Medicine (MNMD) – MindMed is working to develop psychedelic-inspired medicines to treat underlying causes of distress in the brain. Its basic premise: serotonergic psychedelics like LSD, psilocybin, and DMT promote connections between neurons in the brain – and increased connectivity could help reverse some degree of changes resulting from negative experiences, depression, anxiety, PTSD, and substance misuse. In May, the company announced positive topline data from its phase 2 trial evaluating LSD in anxiety disorders.
Compass Pathways (CMPS) – Compass Pathways is seeking to transform the patient experience in mental health care. Its first program is to research how psilocybin therapy could help individuals with treatment-resistant depression. Its pipeline also includes exploratory studies related to major depressive disorder in cancer patients, chronic cluster headaches, suicidal ideation, and bipolar disorder II.
Bottom line: psychedelic-focused pharmaceutical companies are well-positioned in an area that is top of mind for consumers.
Consumer conversations related to mental health concerns are at all-time highs, +72% YoY.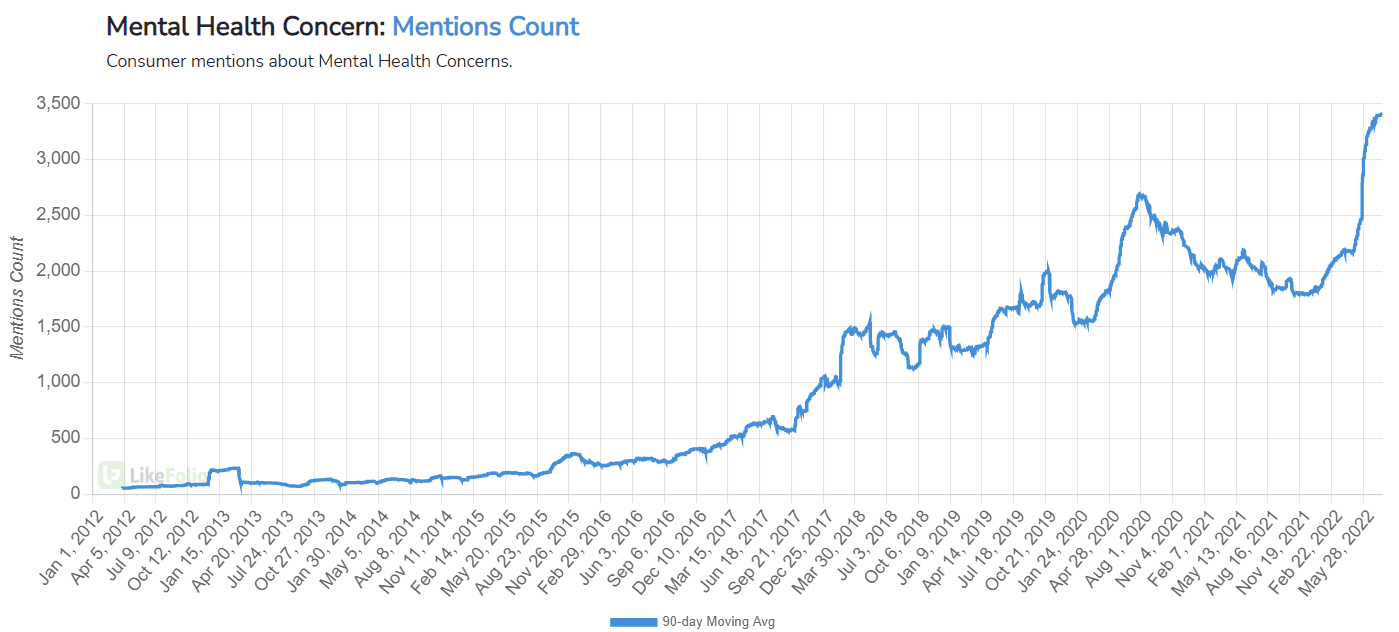 Meanwhile, recent studies have questioned the widespread use of antidepressants.
Is this creating a long-term opportunity for alternative treatments and therapies?
Growth in alternative treatments is certainly expected. The global psychedelic therapeutics market was valued at $3.61 billion in 2021, and it is expected to reach $8.31 billion by 2028.
Keep an eye on this field, including consumer acceptance, and legal hurdles. This space is still very young. We'll continue to monitor for opportunities as they develop.