The Next Topgolf
What do my best friend's mom and my teenage nephew have in common? They've both called dibs on the next open pickleball court.
Before you laugh, hear me out. Pickleball is America's fastest-growing sport for the third year in a row, with nearly 8.9 million players spanning multiple generations, genders, and levels of athleticism.

More importantly for investors: Pickleball's rapid adoption feels eerily familiar.
Can you think of another sport or activity that experienced rapid adoption among the masses thanks to its entertainment factor and wide appeal? If you said Topgolf, we like where your head's at.
Topgolf popped on the entertainment scene in 2016 and recorded rapid growth through the onset of the pandemic.
The key factors to Topgolf's success?
Topgolf's unique and innovative approach to golf appeals to a broader audience, making it more accessible and appealing to millennials and younger generations.
Topgolf's affordable and convenient model of renting bays by the hour and providing necessary equipment has made golf more accessible for people to try for the first time, and its locations in urban areas have made it more convenient to access.
Topgolf has successfully created a community around its brand through a fun and welcoming environment, attracting a loyal following of customers and promoting its brand through social media, influencer partnerships, and events.
For investors, Topgolf's popularity directly translated to Callaway success post-acquisition.
In 2022, Topgolf made up 39% ($1.5 billion) of Topgolf Callaway Brand's total revenue ($3.995 billion), with Topgolf Callaway Brands estimating that Topgolf will generate approximately 50% of the company's total adjusted EBITDA in 2023.
Today, there are a handful of "pickleball" entertainment venues that are surging in popularity.
For example, consider Chicken N Pickle, a heartland-based pickleball venue also serving up classic bar food and cold bevvies for consumers who prefer their sports activity with a side of fries.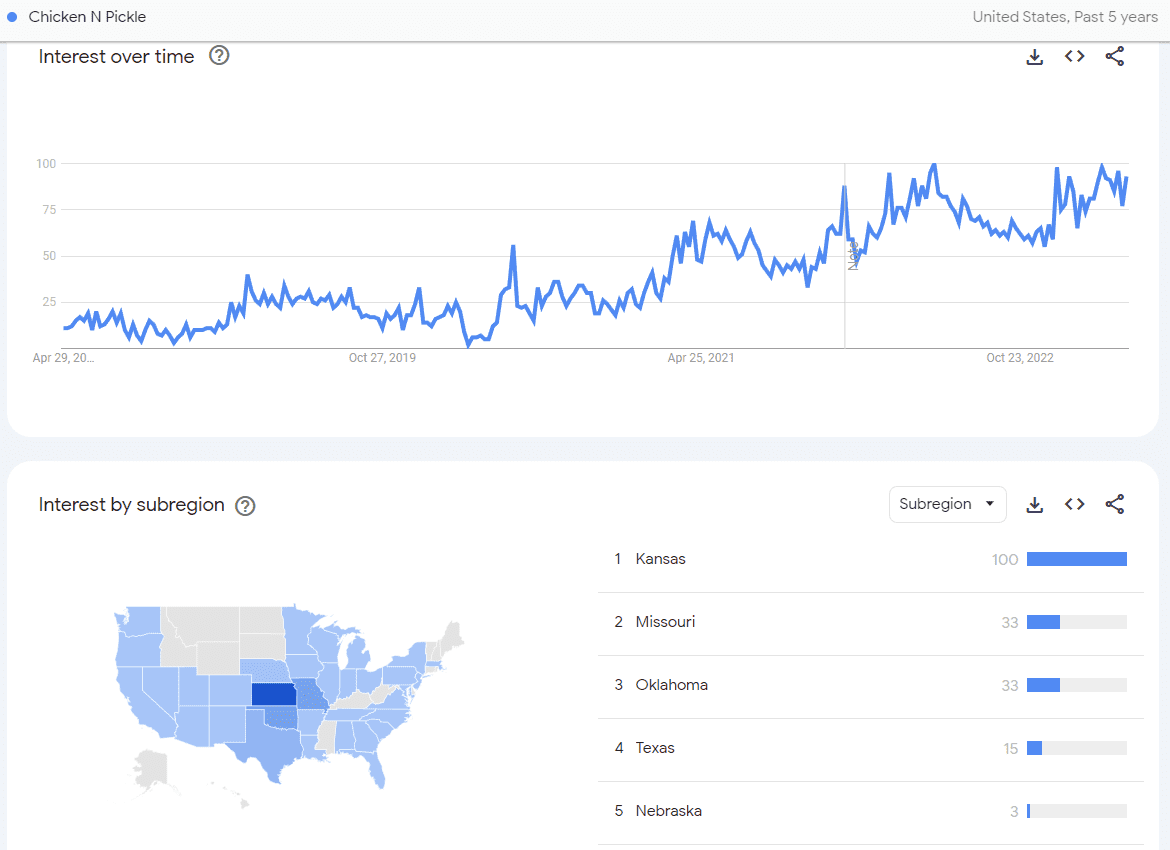 While these venues like this are privately owned (for now), other companies are taking note of the macro behavior tailwind.
We've developed a Pickleball Watch List for investors – companies with rocketing consumer demand who are effectively targeting the pickleball audience.
Check it out:
Skechers – SKX
Last year Skechers announced new multi-year partnerships with the Association of Pickleball Professionals (APP) Tour, Major League Pickleball (MLP), and USA Pickleball, making Skechers the official footwear company for each organization.
Skechers launched its first range of pickleball footwear, the Viper Court, in April 2022 at the US Open Pickleball Championships, which quickly sold out, and the sneaker received an overwhelmingly positive response.
LikeFolio data confirms that Skechers demand is building on the turnaround recorded in 2022.
On Holding – ONON
On Holding specializes in high-quality athletic footwear and is backed by tennis legend, Roger Federer. Many consumers consider pickleball to be the gateway sport into (or easier version of) tennis.
Consumers are increasingly making a connection between the company's tennis-based shoes and pickleball activities.
On Holding shoe demand is exploding higher in the second quarter, following a surge in demand in 23Q1.

Dick's Sporting Goods – DKS
Dick's Sporting Goods is leaning into the pickleball universe, with many consumers reporting the company's "tennis" section is flooded with pickleball gear and apparel.
The athletic retailer carries the top mentioned pickleball gear mentions in the LikeFolio universe – notably, Onix, Monarch, Selkirk, Franklin, and even Skechers.
DKS demand is popping in 22Q1, as many consumers prioritize exercise and recreational activities as necessity vs. discretionary.