Time to Take Profits?
Last week I made a pitstop by the mall on my way home from work.
I needed to pick up a birthday gift and I unfortunately didn't have time to wait on an online order to be delivered.
'Twist my arm, I'll stop in Lululemon', I thought to myself, grinning. This was turning out to be a nice evening indeed.
To my surprise, not only did Lululemon have the item in the size and color I was looking for, but there was no one else in the checkout line.
I breezed right through the empty queue that once required ropes to guide eager customers.
I even had ample associates on hand to help me with my selection.
This was a nice win for me…
And a prescient warning for the retail space…where did the people go?
Over the last few months LikeFolio data has helped investors rake in big wins for some of the best-of-breed players in retail.
Many of these brands cater to consumers who are willing to pay a bit more for high quality items.
Just check out the peak performance of our high-end retail MegaTrends report from October:
ONON – Max Gain: +114%
GOOS – Max Gain: +51%
RVLV – Max Gain: +48%
LULU – Max Gain: +34%
WSM – Max Gain: +22%
The problem?
Cracks are forming in this luxury-insulated hypothesis.
Data doesn't look as rosy as it did in October. Even customers who are better insulated from the impacts of inflation are reining in spending.
Bank of America's monthly consumer checkpoint for April showed the first YoY household spend since February 2021 AND revealed that higher-income spending growth on discretionary items has dropped below lower- and middle-income households.
Check out the areas most impacted: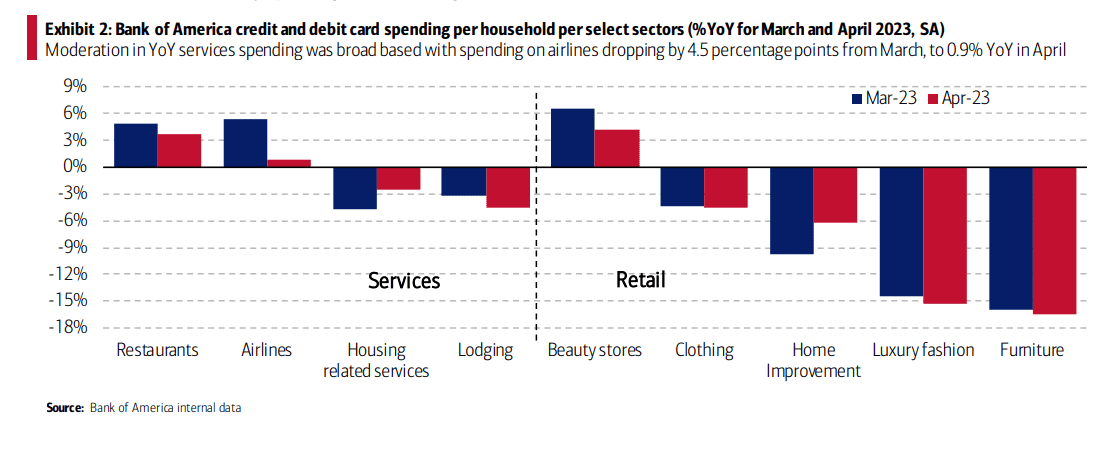 Yikes.
We compared these findings with LikeFolio real-time data and spotted some brands of concerns investors should be watching.
Here are 2 companies where LikeFolio members are holding a current gain on a Bullish position where data has since flipped bearish.
I.e. now may be a good time to consider taking profits, if you haven't already. Or be prepared to hold on to a longer-term outlook.
Lululemon (LULU)
It turns out my Lululemon experience wasn't an outlier event.
Consumer mentions of shopping with Lululemon have slipped by -12% YoY on a 90-day Moving Average and -17% YoY on a 30-day Moving Average.
What does this mean?
Demand is waning at an accelerating rate – the downhill slide is getting steeper.
Long-term, Lululemon still holds one of the highest consumer happiness ratings vs. other retailers. This is a good company.
But investors should buckle up for a bumpy ride in the second half of the year.
Crocs (CROX)
LikeFolio issued a Bullish alert for CROX at the end of August last year.
We're currently up +37% on that call (and recorded gains as high as +94%).
The problem is – demand is weakening.
In a similar theme to LULU, consumer mentions of purchasing a pair of Crocs or its owned-brand Hey Dude Shoes have slipped by -29% YoY.
And this rate of decline is even steeper over the last month: -44% YoY.
Hey Dude Shoes demand (a brand CROX acquired for just over $2 billion at the end of 2021) was once booming and a major generator of new revenue for the company.
But this machine is slowing down.
Hey Dude Shoes demand has dropped -15% on a YoY basis – faring better vs. its flagship brand, but certainly losing steam.
We don't see the company making significant strides to the upside in the near-term.
Bottom-line: now is a good time for investors to play good defense, and use LikeFolio data to spot red flags.