"Trading Down" could make this stock trade way up
As we wrap up earnings season, we're reflecting on what worked well.
One thing we noticed: LikeFolio has a significant edge with lesser-known, small-cap names who are benefitting from macro consumer trend tailwinds.
Case and point: ThredUp (TDUP).
This is a snippet of the week 8 Earnings Sheet we sent out to members ahead of TDUP's report:
In that report, the company's CEO and co-founder James Reinhart noted, "By investing in growth and rigorously managing expenses, we believe we're well positioned to capture an apparel market recovery as the consumer continues to seek value in 2023."
He's right about one thing: consumers are becoming strategic about spending, especially on apparel.
And TDUP has an advantage.
You can see the positive outlook we were talking about on the chart above, in the shaded 23Q1 bar on the far right.
Consumer mentions of purchasing items from ThredUp are currently on pace to finish the first quarter of 2023 (Jan. 1st to Mar. 31st) +51% higher vs. 22Q1.
TDUP shares surged more than 60% following the earnings report that bested market expectations on the top and bottom lines.
What is this advantage that ThredUp holds vs. other apparel retailers?
Growing exposure to the secondhand retail market.
According to thredUP's 2022 Fashion Resale Market and Trend Report, the U.S. secondhand market is expected to more than double by 2026.
And online resale marketplaces are driving that growth, on track to grow 4 times as much by 2026.
LikeFolio trend data agrees.
Consumer mentions of thrift shopping, sustainable shopping, and buying resale clothing have all increased this quarter.
Naturally, we're seeing major fast-fashion retailers begin to catch on to these trends.
Last week H&M launched its own resale site in collaboration with thredUP, once again sending shares soaring.
Qualitative analysis suggests consumers are eager to make the switch to the secondhand-focused online marketplace:
LikeFolio Global Web data further highlights the increased use of the online fashion resale site.
Visits to thredUP's website have seen an +8% improvement since last year.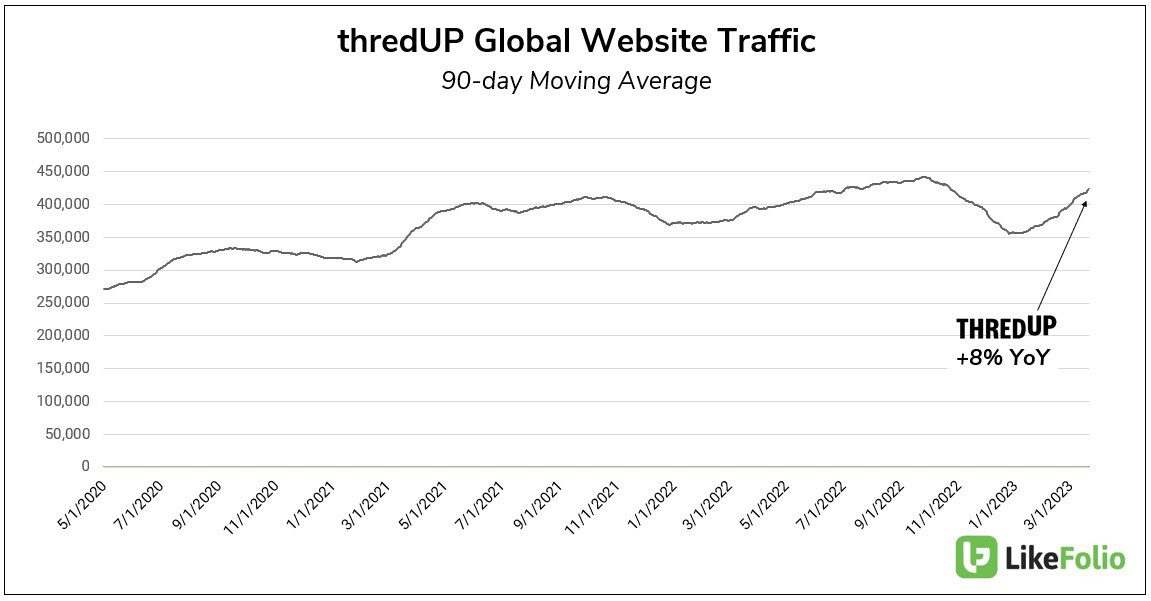 Bottom line: The secondhand retail space is growing exponentially, likely due to consumers making the conscious choice to trade-down on apparel.
TDUP is an early winner and continues to gain steam looking ahead.