TSLA has a giant target on its back
I've seen first-hand what can happen when a truly great team has a target on its back…utter domination.
This was true of my college football team. And it's increasingly true of Tesla (TSLA).
Let me explain…
The University of Alabama football team had a lot to live up to heading into the 2012 season. They were coming off of a national championship win the year before, and expectations were high for the team to repeat their success. But with success comes a target on your back, and the Crimson Tide knew that every team they faced would be gunning for them.
Coach Nick Saban had his work cut out for him in keeping his team focused and motivated. He knew that complacency was the enemy, and that the team couldn't rest on their laurels from the previous year.
The season got off to a rocky start for Alabama, with a close win over Michigan in their season opener. But they quickly found their groove and went on a tear, winning their next nine games in a row. They were dominant on both sides of the ball, with a suffocating defense.
But as the season wore on, the pressure began to mount. Every opponent (LSU, Texas A&M, Georgia) seemed to play their best game against Alabama, knowing that a win over the reigning national champions would be a huge feather in their cap.
Finally, the stage was set for the national championship game. Alabama would face off against the Notre Dame Fighting Irish, who had been a surprise contender that year. But the Crimson Tide were unfazed by the hype surrounding the game, and they came out firing on all cylinders. The defense smothered Notre Dame's offense, holding them to just 14 points, while the offense racked up 42 points of their own.
In the end, Alabama emerged victorious, winning their second consecutive national championship and cementing their place as one of the greatest college football teams of all time.
If you haven't already guessed, I was at that game.
And it has since been cemented in my brain as a prime example of the best way to respond to mounting competitive pressure:
Buckle down, refine, and expand dominance.
That's exactly what Tesla is doing as more and more auto makers throw their hat and resources into the EV game.
Tesla's recent moves tell us the company is setting up for MASSIVE gains – on the consumer and stock front.
Here are 3 reasons Tesla will dominate the EV space moving forward, even with a target on its back.
1) EVs are the Future
At LikeFolio we saw the momentum building for EVs more than 5 years ago. You can see corresponding meteoric rise in demand on the chart below:

Macro factors were aligning and serving as major tailwinds for players in the space.
Namely, rising gas prices, improved EV performance, and increasing price parity.
Increased competition, government incentives including a $7,500 tax credit, subsidies to US battery manufacturers, and falling prices of battery materials are only adding fuel to the EV fire.
General Motors' battery-powered Equinox crossover will start around $30,000 this fall, which is $3,400 more than the least expensive gasoline-fueled Equinox. Factoring in government incentives, the electric Equinox should be cheaper.
Ford cut the price of its Mustang Mach-E, the best-selling EV in the US after Tesla, to make it more competitive.
Tesla cut the prices of its Model 3 and Model Y by thousands of dollars in January 2023 (and even more since then), making both models more affordable and competitive with gasoline cars. A Model 3 now costs $300 less than the least expensive BMW 3 Series sedan, while a Model Y costs about as much as a comparable Lexus RX.
2) TSLA Owns the Space
The best news for TSLA bulls?
Tesla continues to dominate consumer mindshare.
Check out the chart below, showcasing demand mention volume for TSLA vs. peers over the last month.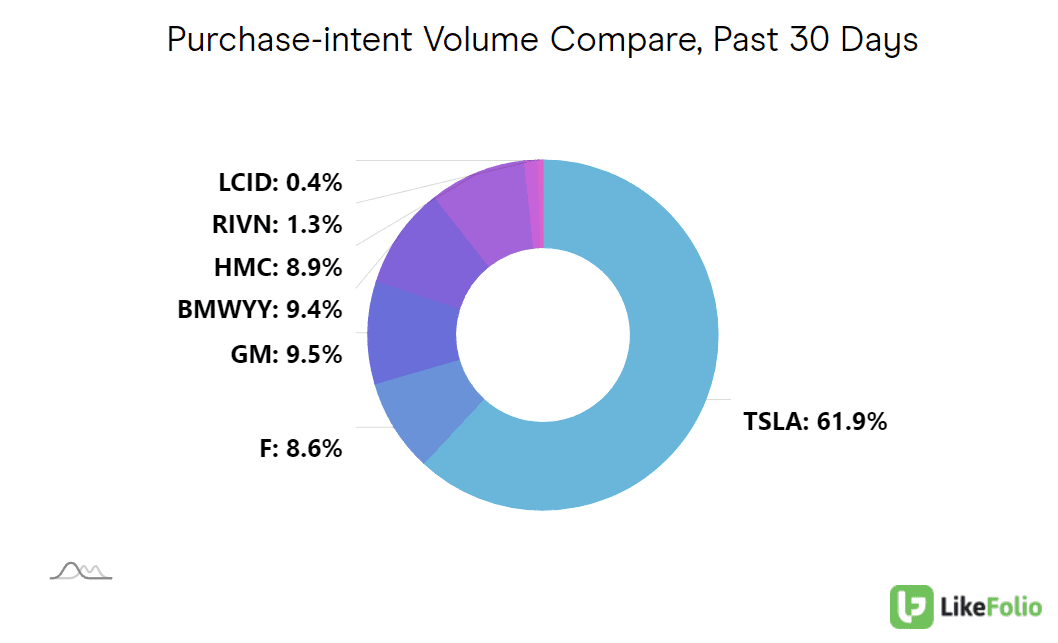 Tesla garnered more than 60% of "I just bought a car" or "I'm going to buy a car" mentions vs. peers.
The EV leader still has the "it" factor in the consumer psyche.
And it has the scale and execution to back up the hype.
Tesla produced more than 440,000 vehicles and delivered 422,000 of them in 23Q1. All while maintaining a gross margin of 19.3%.
General Motors sold "more than 20,000 EVs" in Q1 2023, with 19,700 of those being Bolt EV and Bolt EUV sales.
Cadillac delivered almost a thousand Lyriq SUVs in Q1 2023, while the GMC Hummer EV was affected by a production issue that shut down production from last October until the end of January.
Ford sold 10,866 battery EVs in Q1, with just under half of those sales being the F-150 Lightning pickup truck.
Rivian produced 9,395 vehicles (delivering 7,946) in the first quarter of 2023, and says it remains on track to hit its 50,000 production goal by the end of the year.
Tesla is well ahead of the auto-industry at large when it comes to revenue growth and margin, despite a relative cool-down.
TSLA is Expanding its Audience Base
Tesla's recent price cuts have been met with conflicting responses.
Some analysts worry the cuts are an attempt to keep up with mounting competition and eroding market share.
But Musk reiterated the company's strategy to make its vehicle more accessible to the masses, and highlighted the long-game on the company's last earnings call:
"We've taken a view that pushing for higher volumes and a larger fleet is the right choice here versus a lower volume and higher margin. However, we expect our vehicles, over time, will be able to generate significant profit through autonomy. So we do believe we're like laying the groundwork here, and that it's better to ship a large number of cars at a lower margin, and subsequently, harvest that margin in the future as we perfect autonomy.This is an extremely important point."
Key Takeaways:
Tesla is THE company to beat – Bullish
EV's aren't going anywhere – we expect continued demand growth alongside rising gas prices and price parity
Near-term volatility driven by tightening economic conditions may prove to be tantalizing entry opportunities for long-term investors