Why is NVDA up 157% this year?
Yesterday, Nvidia (NVDA) upped its quarterly guidance by a cool $4,000,000,000.
That's a more than 50% increase over what was expected.
The reason?
"The computer industry is going through two simultaneous transitions—accelerated computing and generative AI," Nvidia CEO Jensen Huang said in the press release.
"Our entire data center family of products—H100, Grace CPU, Grace Hopper Superchip, NVLink, Quantum 400 InfiniBand and BlueField-3 DPU—is in production. We are significantly increasing our supply to meet surging demand for them."
Well… who could have seen this coming?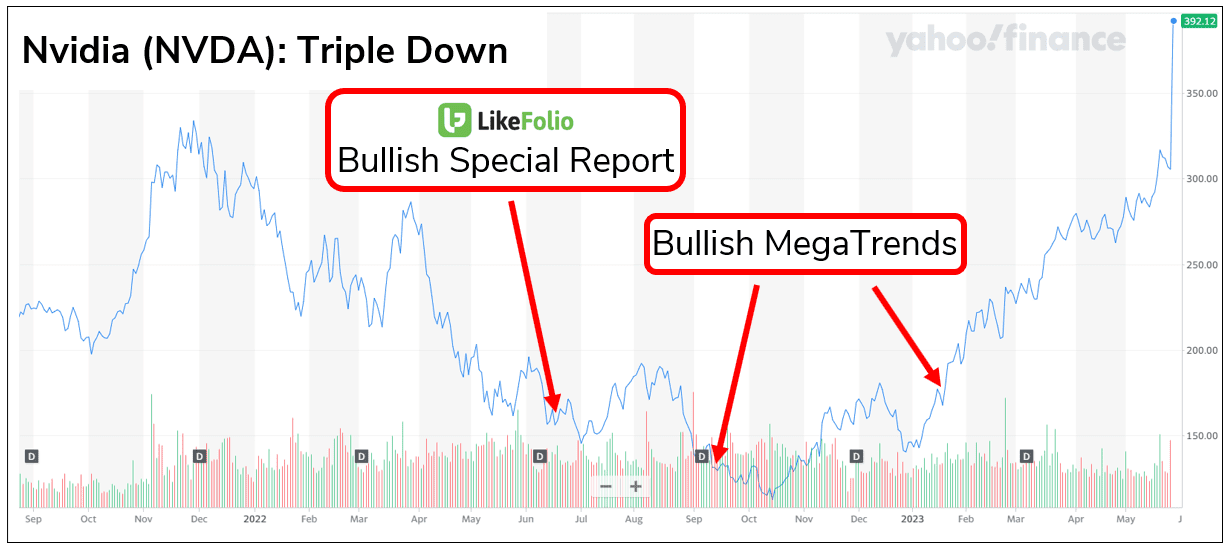 LikeFolio has been POUNDING THE TABLE on NVDA since it fell under $200 almost a year ago.
In June of 2022, we said "We're buying NVDA below $200/share" because "we believe NVDA will be a $500 stock within five years.
In September 2022, we doubled down with a buy alert of NVDA under $150/share, citing exploding incoming demand in AI, self-driving, and data-center use cases.
In January 2023, we TRIPLED DOWN on NVDA with a buy alert in the $160 range.
Why so bold?
Because we could see what Wall Street hadn't figured out yet:
Amazing.
As markets trade sideways in anticipation of the Fed's next move, I urge you to think beyond the broad market.
Instead… focus on finding those little pockets of extreme bull markets…
That's where the profits will be this year, next year… and beyond.
And with LikeFolio insights on your side… well… you're already way ahead of Wall Street.