Will Netflix's Original Content give its Earnings Report a Boost?
Earnings season is fun, especially when Netflix reports.  
Historically, Netflix is a stock that is notorious for large earnings moves. 
Like last quarter, when Netflix shares plummeted more than -20% due to slowing subscriber growth.
In its report, Netflix indicated it expected a back-end heavy content calendar featuring large March premieres.
So…how did that play out? 
Netflix Original Content Raised Viewership Mentions in March-April 
Last week we highlighted that Bridgerton's Season 2 release brought more eyeballs to Netflix's platform.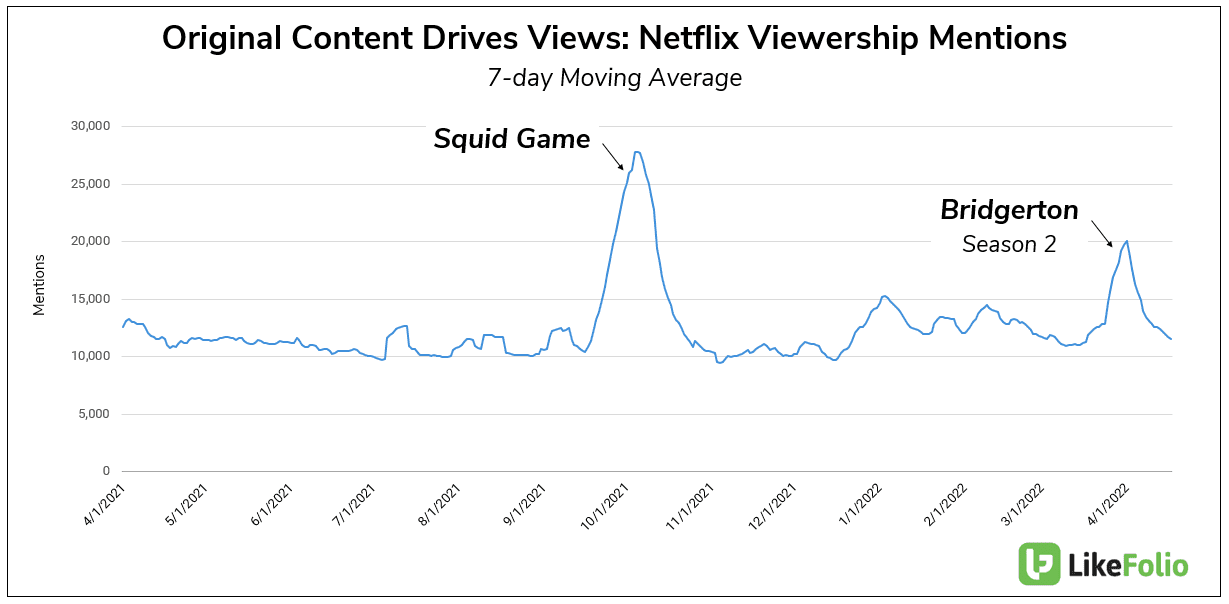 You can see the total impact on viewership mentions on the chart above, with Squid Game impact for scale.
Moral of the story: original content drives views.
But can it help turn around Netflix's slowdown in new user growth?
Netflix Purchase Intent Mentions have dropped by -12% YoY, suggesting a continued slow-down among English speakers.
But last quarter, this pace was -29% YoY. This is an improvement.
In addition, Netflix's most recent round of price increases came into effect beginning March 30.
LikeFolio data did not record significant backlash upon implementation, with sentiment remaining exactly flat on a YoY basis.
Viewership mentions are rising, and consumers are already chattering about the highly anticipated Stranger Things Season 4 launch in July.
It's also worth noting that Netflix shares have slipped more than -47% in the past 6 months, suggesting expectations may have been adjusted.
We'll be watching to see if high-quality content is enough to move the needle for Netflix when it reports on April 19 after the bell.