You down with DTC? (ya you know me!)
Nike reported an awesome quarter Tuesday evening.  The stock is up, everyone is happy.
But there was one major clue inside the report that deserves your attention as you start to think about retail names headed into the extremely important holiday shopping season.
You down with DTC?  (ya you know me!)
It means "Direct To Consumer" -- please don't look it up on Urban Dictionary.
Yep, Nike is seeing huge growth from its direct to consumer segment, most notably through digital sales, which were up by over 40%.
PIN ACTION from this trend is where the opportunities may be hidden
If Nike is getting more and more of its business from direct sales to consumers, that means its 3rd party retailers (i.e. middlemen) are starting to get left out in the cold.
Makes sense, right?
Foot Locker (FL) stores now find themselves conveniently located in shopping malls that no one goes to, selling a shoe brand that people are buying direct from the manufacturer.
And it's showing in the LikeFolio data, as purchase intent mentions are showing really scary trends of quarter over quarter drops in 2019...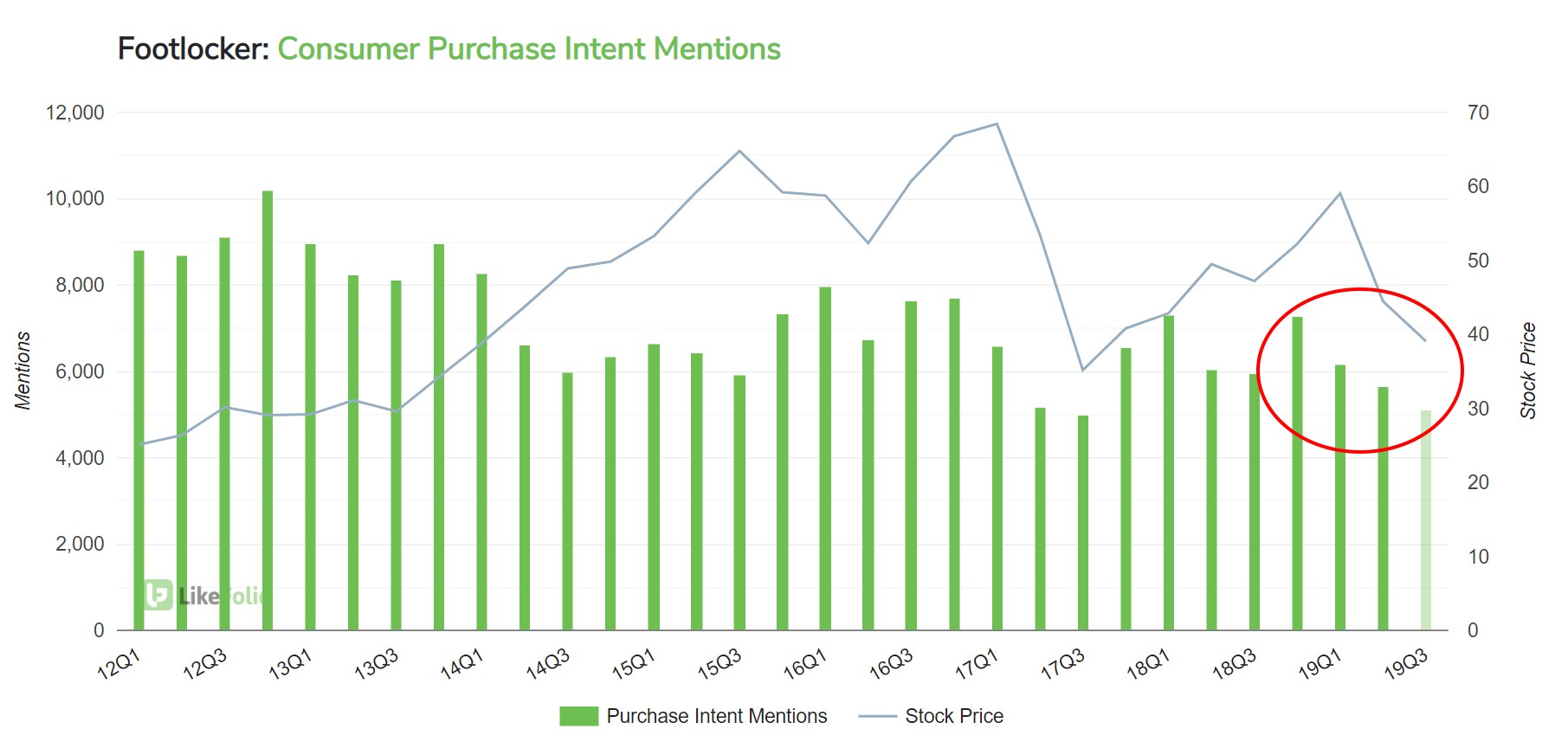 Ouch.
Others to watch here are Dicks Sporting Goods (DKS), and even Amazon (AMZN)... which is starting to see more than one headwind develop.
We aren't yet putting out an Opportunity Alert on these names -- we need to see how purchase intent data starts to roll in during the all-important holiday sales season.
But it's important to recognize the subtle trends buried in the major earnings reports so that you can be prepared when major trading opportunities arise.