You'll Never Guess Which Company Just Launched a Subscription Service…
The average person walks (or runs) through a pair of athletic shoes every 6 months.

In my personal experience, this tracks.

When it's time to upgrade, consumers have plenty of options to choose from. Nike (NKE). Adidas (ADDYY). Brooks (BRK.A, BRK.B). HOKA (DECK). The list goes on.

But one athletic shoe retailer is dinging loudly on the LikeFolio radar.

Spoiler, it's not Crocs in this instance…but you KNOW I'd be the first in line if Crocs produced tennis shoes.

ONON Consumer Demand Surges

The Swiss brand 'On' backed by Roger Federer is surging in popularity among consumers.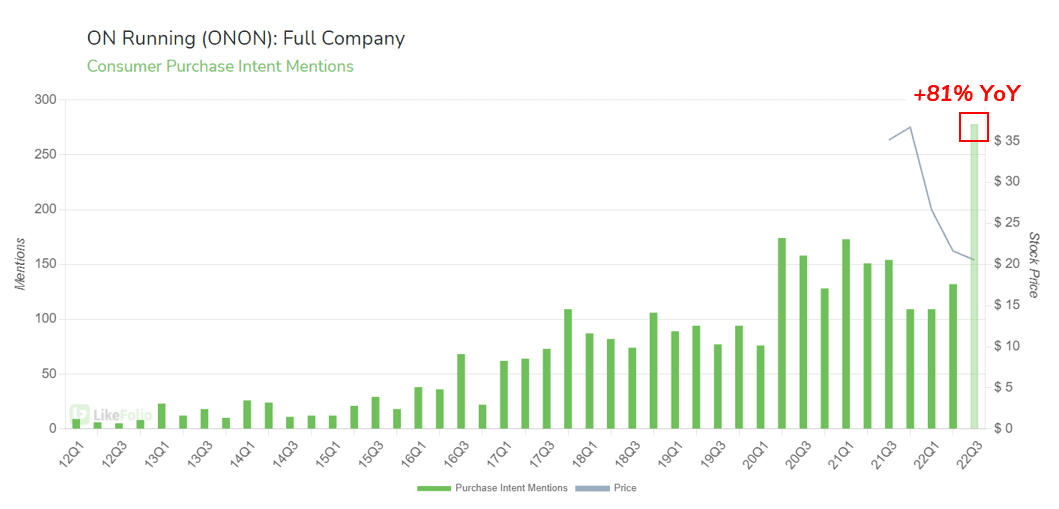 Consumer mentions of purchasing a shoe in the On Cloud suite are pacing for +81% YoY growth in 22Q3 (which ends in about 2 weeks).

ONON brand buzz is also significantly outpacing athletic shoe retail peers.
What is driving this consumer enthusiasm? 

Three things…and one might surprise you. 

1. The LULU Effect 

Lululemon's surprisingly strong earnings a few weeks ago demonstrated a divergence in the consumer landscape: "Despite the challenges around us in the macro-environment, guest traffic in our stores and on our e-commerce sites remains robust." 

Simply put, higher earners aren't feeling the same pressure that lower earners are feeling in the inflationary environment. 

ONON has positioned itself in the high-end shoe market. 

The cheapest shoe on its menu is $140. And premium models sell for $170.
As demonstrated by Purchase Intent mention growth, ONON's consumer base appears to be undeterred from macroeconomic pressure.

2. ONON is Appealing to Consumer Priorities

Consumer discussions surrounding products made from sustainable materials reached all-time highs in 2022: +53% YoY.
Other trends in this ESG (Environmental, Social, and Governance) subset are rising too. Check out the mention growth rates below…
Reducing my Carbon Footprint: +73% YoY
Carbon Emissions: +63% YoY
Recycling: +49% YoY
Upcycling: +20% YoY
On is tapping into each of these consumer value priorities.

You can read its 2021 Impact Progress Report here.

But the main idea is that On has set goals (and timelines) to reduce greenhouse gas emissions, source recycled materials, reduce chemical usage, and expand these goals in all elements of business…from packaging to its suppliers.

The company is leveraging its internal priorities to flip the switch on the concept of shoe ownership…

3. ONON Launches Running Shoe Subscription Model

Earlier this year On launched a subscription service for runners.

Pay a monthly fee ($30/mo) and ONON will send you recycled (not used) shoes twice a year. Also, ship your used shoes back to ONON for recycling.
You can see where this is going. And from a business perspective, it's brilliant.

Essentially, users will pay $180 for a pair of premium running shoes (the high end of ONON's product lineup). AND users are now hooked on this subscription model...i.e. recurring revenue.

In exchange, subscribers get to feel good about the shoes they're running in from a sustainability perspective. And a $30/mo charge feels less intrusive vs. a $180 one-time fee.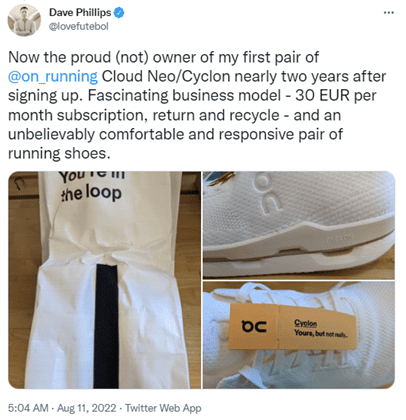 Bottom Line: ONON's premium, value-driven, and subscription-empowered strategy is generating high amounts of consumer demand.
We'll be watching through the end of the quarter to confirm growth is sustained.
But right now – especially with shares trading -50% lower YTD – our outlook is growing increasingly Bullish.