5 Stocks to Watch This Week ($ADBE, $MODG, $BJ, $TSCO, $BBW)
Here are some key stats and data points on stocks we're watching in this trading week:
Last week Adobe announced plans to acquire Figma, a web-based design platform, for $20 billion.
Figma boasts a unique collaborative functionality and an easy-to-understand user interface that is increasingly appealing to consumers. Consumer mentions of subscribing to Figma have increased more than +300% YoY.
ADBE shares have plunged more than -20% since the announcement as investors grapple with the hefty price tag, the largest amount paid for a private software company.
LikeFolio data shows that while Adobe mention growth has cooled down from its pandemic spark, levels remain stable: +5% YoY.
The natural alignment between Figma's capabilities and Adobe's positioning in the design market suggests this pullback could present an opportunity for long-term investors if the transaction closes and Adobe can leverage the brand's unique favorability among consumers.
Callaway (ELY) ➡️ Topgolf Callaway Brands Corp (MODG)
Callaway Golf is rebranding itself. The company that previously traded under the ticker symbol ELY is now officially Topgolf Callaway Brands and trades under the ticker symbol MODG.
This move highlights the rising significance of Topgolf in Callaway's universe. Last year Topgolf comprised ~35% of the company's revenue and was the main growth driver.
LikeFolio data shows that Topgolf demand growth is accelerating in 22Q3 (ends Sept. 30). Purchase Intent mentions in the quarter are on pace for +22% YoY growth, a noted improvement vs. levels recorded in 22Q2 (+5% YoY).
This strength in Callaway's experience segment is contributing to the company's current earnings score: slightly Bullish, at +31. We'll be monitoring through the end of the quarter to confirm momentum.
BJ's Wholesale Club is continuing its fight to steal market share from bulk retail peers…successfully. Consumer mentions for shopping at BJ's have increased +54% YoY while demand for larger peers Sam's Club and Costco stall (or decline).
LikeFolio first featured BJ's Wholesale as a winner in our July MegaTrends report: Retail Knockout. Shares have gained by +10% since then.
The wholesaler currently boasts one of the highest earnings scores in LikeFolio's universe, at +62. This reinforces our Bullish outlook, especially as inflation rises and consumers seek out deals.
Tractor Supply Company (TSCO)
Tractor Supply was a major beneficiary of the "Urban Exodus" – a large reshuffling of consumers from urban centers to rural America.
Early data for 22Q3 suggests the company may be in for some trouble. Consumer demand in the current quarter which ends in less than a week reveals a massive pull-back in shopping activity: -23% YoY.
The same macro trends that were previously driving growth have dried up. Mentions of moving (-6% YoY) and buying a home (-9% YoY) have dropped alongside rising interest rates. In addition, mentions from consumers moving from an urban area to a rural area have dropped -15% QoQ.
While the company won't report Q3 figures for another month, a cautious look may be warranted. 
Build-A-Bear Workshop (BBW)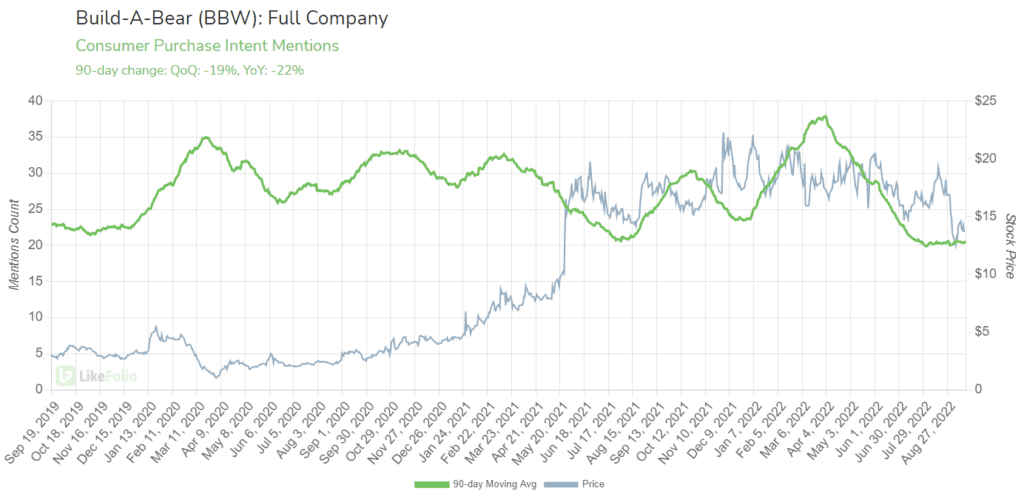 Build-A-Bear Workshop -- known for its customizable stuffed animals -- is losing steam. After generating serious consumer buzz growth since 2019, demand is showing signs of weakness. Purchase Intent mentions have dropped by -22% YoY.
The company benefitted from specialty branded plushes featuring lovable favorites like Baby Yoda and Harry Potter. But these special editions may be losing their luster. LikeFolio hasn't recorded a new-product-drop-related spike in mention volume since Pokemon-related plushes were released in 2021.
LikeFolio's current earnings score for Build-A-Bear Workshop is Bearish: -62. BBW shares are trading -32% lower YTD, and data suggests this is justified.