Can travel demand stay hot?
Did you get out of town in the last quarter?
Chances are, you did.
Consumers have been prioritizing experiences, like travel, over other types of discretionary spend (like new clothes and decorations for the living room).
But at LikeFolio, we're listening closely for inflection points – or the point in time when things change.
And it looks like we've spotted one…
LikeFolio travel trends are losing steam ahead of a typically hot summer season.
Leisure travel momentum is waning on a YoY basis after a strong rebound post-Covid. A quarter ago, leisure trends were pacing for double digit growth, with booking a hotel mentions up +21% YoY and flying for leisure mentions up +20% YoY for reference.
This change in momentum represents an inflection point in LikeFolio trend data.
High level industry reports mirror LikeFolio emerging weakness -- travel spending in March remains just above 2019 levels, but receded slightly from February. In addition, air travel and hotel room demand dropped just below 2019 levels.
Last week, Booking (BKNG) and Expedia (EXPE) reported earnings featuring robust travel demand. BKNG shares teetered near all-time highs and EXPE shares posted gains despite a larger earnings miss (and much lower bar to clear).
What does this all mean for Airbnb ahead of earnings? Perhaps a mixed bag. Here's what we know.
International and urban travel is a bright spot
Even BKNG noted strength driven by "increasing international travel, major city travel, and the reopening in Asia." LikeFolio data shows international travel leading all other travel trends. And we know major cities have historically been one of Airbnb's strongest areas of business.
Consumers are shopping around for travel deals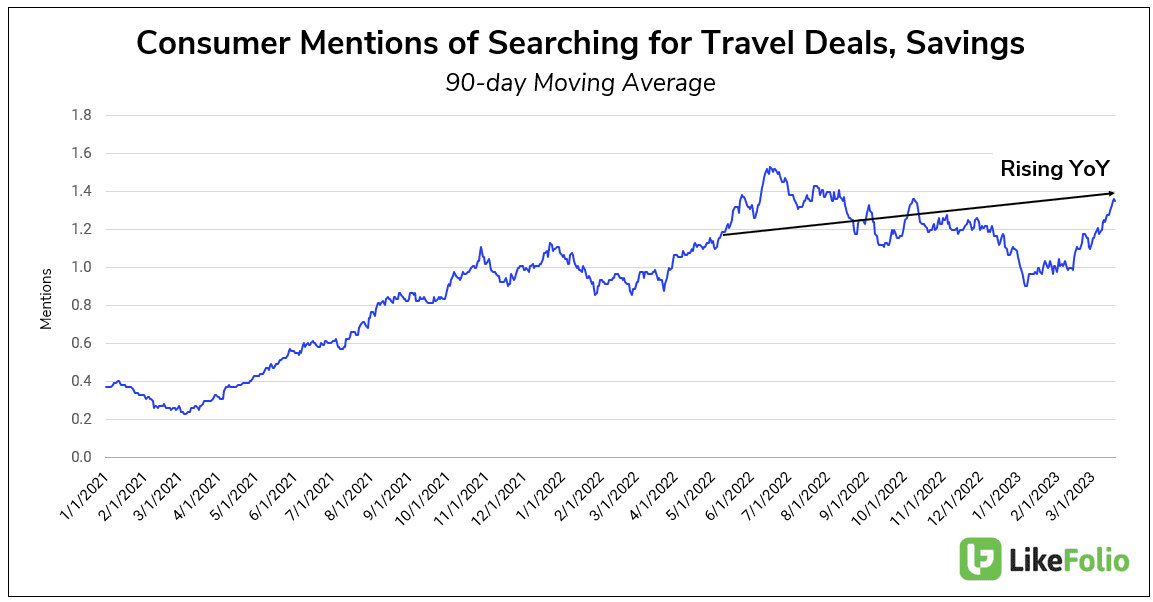 As consumers prioritize experiences, they're still looking for ways to save. Consumer mentions of searching for cheaper flights, hotels, and reservations are rising YoY.
This behavior is likely to benefit travel aggregators like Booking and Expedia, who allow consumers to compare costs for different airlines, hotels, and rental companies.
Airbnb may not be harnessing the same tailwinds as travel aggregators
This may spell trouble, especially when it comes to forward-looking guidance.
Global returning users (the most highly correlated consumer metric for ABNB) recorded nice growth in the quarter being reported: +7% YoY. However, these users have slipped by -1% YoY in April.
Similarly, LikeFolio ABNB Purchase Intent mentions are losing momentum. A 30-day Moving Average shows a decline in April, clearly visible on the green line below.
Airbnb continues to trail traditional lodging options (hotels) in happiness
ABNB sentiment has dropped by -3% YoY, currently 62% positive. This is significantly lower vs. major hotel chains including Hyatt, Hilton, and Marriott. Booking mentions also.
Last quarter ABNB posted solid Q4 results sending shares higher -- and raising the bar for investors. Data suggests the company will post solid results for Q1, driven by a resurgence in urban travel.
However, guidance may prove to be a headwind for bullish investors – especially considering elevated expectations. ABNB leads all other travel competitors in gains over the last month, with a ~16% run in its stock price.
We're officially sidelined for this event and note Airbnb's signal continues to weaken.
This could be a sign of larger concern for the state of the consumer (and travel) ahead. We'll continue to monitor this inflection point moving forward.