Crocs (CROX) Fans are...Weird
Crocs (CROX) Fans are...Weird
An 'ironically' ugly design, combined with undeniable comfortability and a high potential for customization has made Crocs (CROX) a favorite of young people online, catapulting the brand to "meme status". LikeFolio's social data allowed us to pick up on this shift in consumer perception ahead of the market, setting us up for several entries below $20. Crocs are as popular as ever, and Larger fashion houses are attempting to capitalize on the brands' success: Balenciaga just launched a second collaboration with CROX. However, Mentions show that items from such high-profile partnerships aren't what Crocs' core fans covet the most...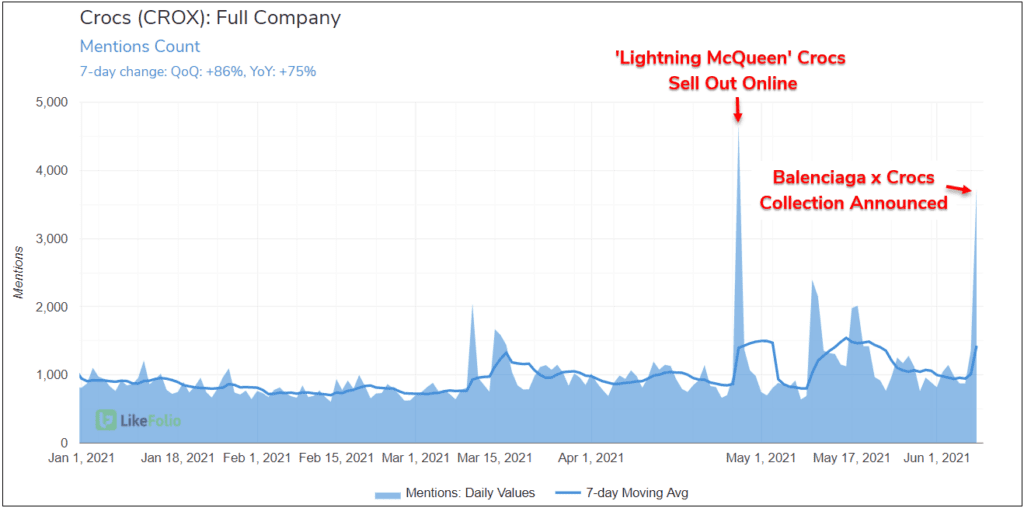 Several days before the Balenciaga announcement, Crocs fashioned in the likeness of Pixar's 'Lightning McQueen' sold out in minutes following a limited online release – Those shoes are fetching $250 and higher on secondary markets. While the "Balenciaga Stiletto Crocs" headline certainly drew the attention of the wider internet – Crocs fans themselves are far more interested in shoes that look like a fictional talking car. CROX Going Forward:
Underlying Consumer Demand has steadily risen on YoY basis, mirroring the company's consistently impressive revenue growth.
Purchase Intent Mentions are still showing strength as we approach the peak Summer season.
Shares of CROX have experienced monumental gains in the past year, but we're maintaining our Bullish outlook.