PayPal, Square cashing in on crypto interest
PayPal (PYPL), Square (SQ)
Consumer mentions of investing in cryptocurrency continue to rise (more on that later), and digital wallet providers PayPal and Square are getting a piece of the pie.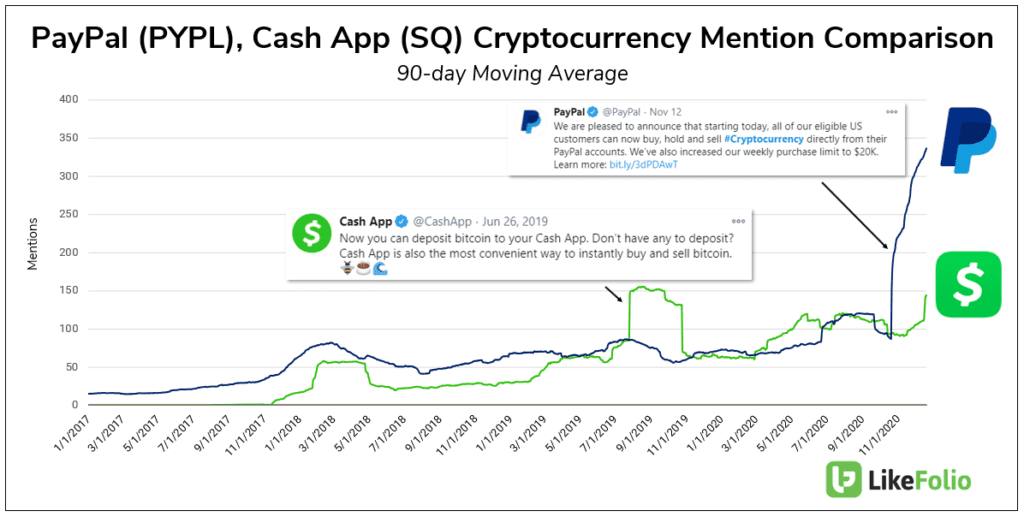 While PayPal is playing catch up to Square's already robust crypto platform inside Cash App (Bitcoin rev was 11x YoY last quarter), early data displayed on the chart above demonstrates vigorous adoption from PayPal's userbase. SQ allows users to buy, sell, and hold Bitcoin while PYPL supports Bitcoin, Ethereum, Litecoin, and Bitcoin Cash. In addition, PayPal wants to make crypto a valid payment option for consumers and its 26 million merchants. We've got a close eye on this name through the new year to see if the company can leverage newly piqued crypto interest to drive engagement across the board.
Trend Watch: Crypto Investing
Over the past week, the price of Bitcoin (BTC) has continued to push toward new highs, attracting a growing amount of interest from the public. The number of consumers talking about "investing in cryptocurrency" has...