We've got a Runner! $SOFI
SoFi shares are off to the races.
The stock has traded more than 11% higher today on the back of a debt ceiling deal that would end the freeze on student loan payments.
This freeze -- in place for more than 3 years -- crushed SoFi's student-loan business. Last quarter the segment counted $525 million in revenue, more than 75% below the $2.4 billion recorded pre-pandemic.
This spark may be just what the doctor ordered.
But we saw a resurgence in SoFi coming well before debt-ceiling discussions.
In fact, LikeFolio data supported a double down on a Bullish SOFI position earlier this month. You can see the trajectory since then…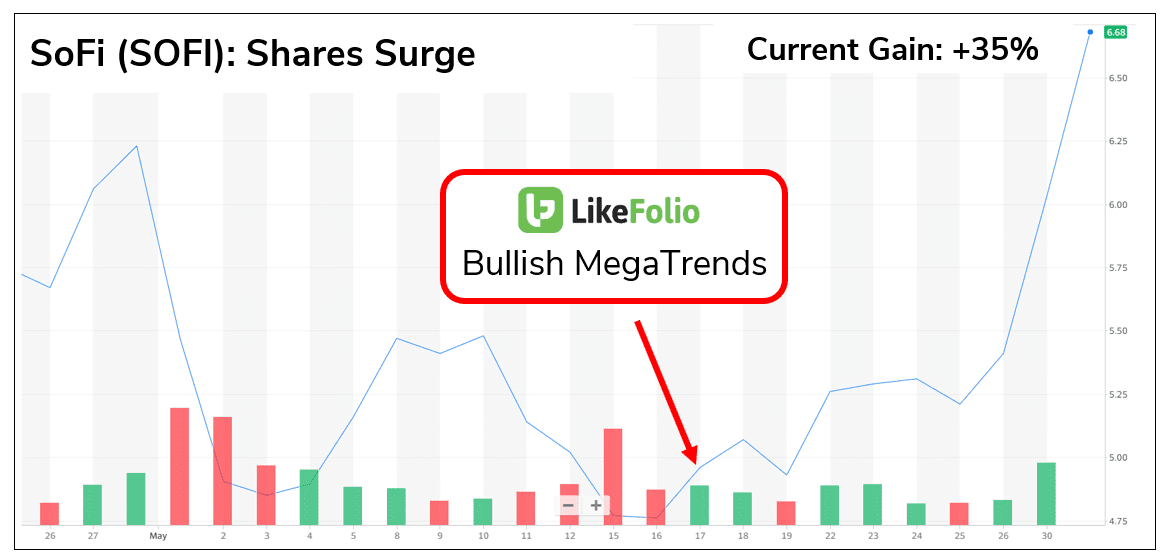 What were we watching?
1. SoFi was benefitting from several powerful consumer macro trends.
One major tailwind is increased consumer adoption of and preference for digital wallets. Mentions of using a digital wallet have increased by 9% year-over-year. SoFi allows users to add cards to its digital wallet and allows its virtual debit card to be uploaded to third-party wallets, including Apple Wallet, Samsung Wallet, and Google Pay.
Another major tailwind is rising interest in trading crypto. SoFi's app allows traders to trade Bitcoin, Ethereum, and Litecoin alongside stocks and ETFs on the same platform.
2. SoFi mention volume revealed growing divergence between consumer adoption and the company's stock price.
Not only was mention buzz growing on a QoQ basis, but web visits were accelerating, pacing +59% higher YoY.
This gives us confidence that SoFi is improving user engagement, service adoption, and audience expansion.
Looking ahead, SoFi's product buzz continues to improve on a QoQ basis:

News aside, the opportunity continues to build for long-term investors.