3 Reasons We're Long Costco (COST) 
Costco is consistent.
Not only does its membership model ensure a recurring stream of revenue, the company regularly posts monthly sales results.
And the January report was telling.
Pandemic-onboarded consumers really are sticking around
The January sales report confirmed that Costco sales are continuing to grow at an elevated rate. Comps for the month were +14% higher YoY. This is on top of January 2021, where comps were +18% higher YoY. To give scale, prior to the pandemic, sales typically increased by around +8%.
This level of retention is impressive. Why are consumers sticking around?
Costco provides a superior retail experience
When we check consumer happiness levels for physical retail peers including Walmart, Sam's Club, and Target, Costco clearly leads the pack with happiness levels 71% positive.
Perhaps even more impressive is how much consumers love Costco's private-label Kirkland Signature brand. Consumer happiness levels are 80% positive, driven by the brand's perceived high quality.
By the end of 2021, Kirkland brand sales reached $59 billion.
In addition, Costco's in-store Costco's in-store experience also leverages product discovery and bulk savings.
These in-store mentions have increased by +15% YoY as consumers return to normal, pre-pandemic behavior.
But trend analysis suggests there may be more to it in the near term…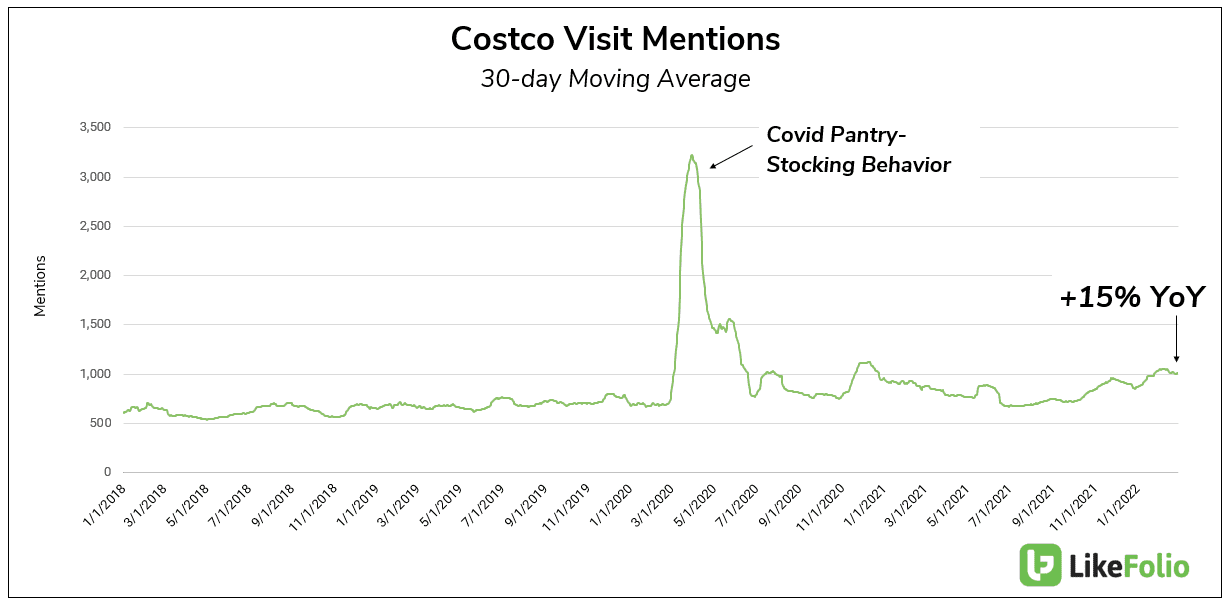 Consumer Macro Trends Are Likely to Bolster Costco Demand
Consumers seeking low prices and savings may turn to Costco in the current inflationary environment.
The Consumer Price Index (CPI) reported year-over-year inflation rose to 7.5% in January 2022, the highest rate in 40 years.
And the consumer reaction is palpable.