Bank Watch: SIVB, SBNY, FRC, KEY, BTC, COIN
Stock chatter levels predicted which banks would fail… so far.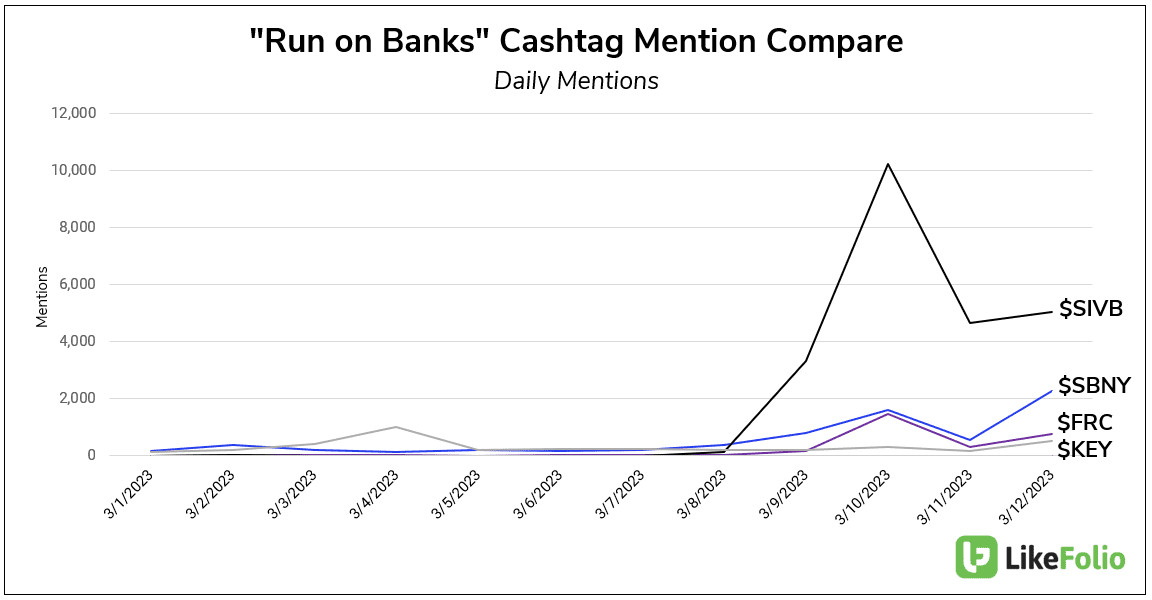 The first bank we saw to get unusual stock chatter was SVB Financial Group (SIVB) early last week… before the stock dropped hundreds of dollars to zero.
The second that got a spike in mentions was Signature Bank (SBNY)… before it dropped to zero and entered FDIC receivership.
The next two showing the most unusual chatter are First Republic (FRC) and KeyCorp (KEY), which have each seen their stock prices fall dramatically today on investor concerns about their viability.
Will they join SIVB and SBNY in the bank graveyard? If stock chatter mentions continue to be a leading indicator, we wouldn't be surprised to see those two go under as well.
Consumers are looking to withdraw their money
Consumer mentions of withdrawing their money from banks have exploded higher over the past week…
Cryptocurrencies are benefiting from the Fiat Failure
Interest in decentralized finance, like Bitcoin (BTC) has boomed as banks go bust.

Coinbase (COIN) could turn out to be a long-term winner from this shock to the system.

We'll continue to monitor both consumer and investor reactions to the banking sector in real time.

For now, here's my segment on the TD Ameritrade Network discussing the banking turmoil.