I can't believe this company just passed Google
When I saw this Tweet it stopped me in my tracks.
Research confirms it's legitimate.
Now let that sink in.

TikTok is the world's most popular domain.

More popular than Google. More popular than Apple. And more popular than every other social media site that you can think of.
LikeFolio data confirms this dominance. Just check out the chart below: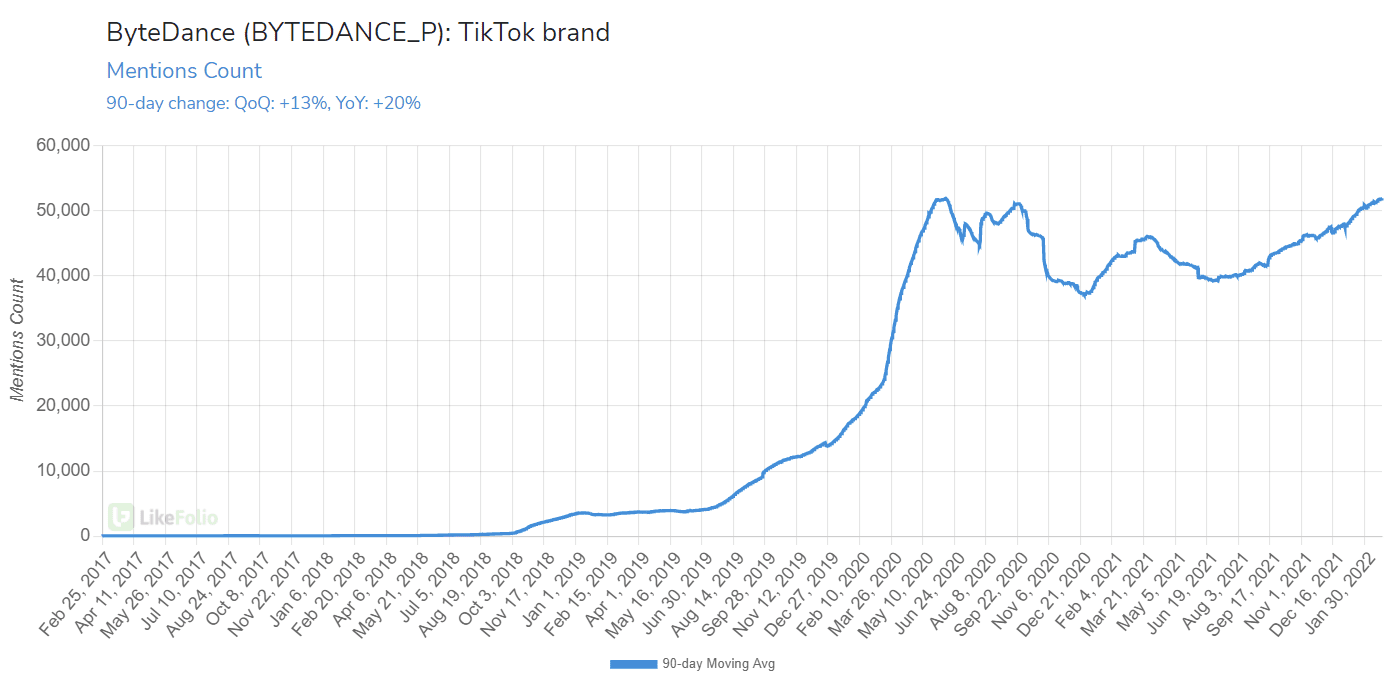 TikTok is raking in, on average, more than 50,000 mentions a day.
That's one of many reasons why, we've been tracking at LikeFolio for years now, even though it is owned by ByteDance, a private company.
Because TikTok is an enormous disruptor.

Using Real-Time Consumer Insights to Spot Industry Disruptors
We know disruptors like TikTok can trigger major waves in their respective industries.
Think about it. It's already happening.
It didn't take long for Facebook to unroll its own TikTok clone in "Reels."
And although it seems juvenile to talk about Facebook's move to copy-cat short videos of silly dances, pranks, and thirst traps (among other things), the social media giant had no choice.
Because Facebook is losing influence among consumers.

Meta (FB) shares fell by more than -20% earlier this month after the company confirmed that its global daily active users declined from the prior quarter for the first time EVER.

This is a critical piece of information to know as an investor.
Because investors know that the more users that are spending time scrolling through junk (ahem, I mean news feeds), the more money advertisers are likely to shell out.
And declining revenue is no laughing matter.
While Apple's privacy updates dealt Facebook a double blow, LikeFolio members could already see the writing on the wall.
That's because LikeFolio tracks real-time consumer mentions on social media to understand how different platforms stack up.
We listen for signs of usage like "saw on Facebook" and "downloaded Facebook" as well as sentiment indicators, like "love the new shopping update on Instagram."
And we also listen for signs of consumer happiness.
Luckily, our team figured out a beautiful way to see all of these factors in action: Likefolio's proprietary Outlier Grid.

By plotting the growth in demand alongside the percentage of happy consumers for multiple companies in an industry, we can comparatively gauge performance in the eyes of the consumers.

It sounds complicated but it's really simple. The top right is where you want to be.
We often use this view to spot major winners in the market. The disruptors, if you will.
But you can use this same view to spot companies ripe for disruption...like Facebook.
Just check out the outlier grid below, featuring key social players vying for user screentime.
Very telling right?
TikTok is shaking up the whole field.
And we're not just using this proprietary technology to spot winners and losers in social media.
We're examining dozens of industries, from auto manufacturing to fast-fashion retailers.
When we spot major disruptions, LikeFolio members are the first to know.