Spotify's Huge Bet
Teaser: After dominating the Podcast arena, Spotify is shifting its sights to another audio segment…
Spotify stock is getting hammered.
After a massive period of growth through the pandemic, the audio streaming platform lost momentum. User growth slowed down.
You can see how LikeFolio data predicted this in real-time on the chart below.

The green line represents consumer demand, which peaked several months before the stock reversed into a massive downtrend.
The downtrend in consumer demand since those pandemic peaks has been consistent… but after a major post-pandemic cool-down, the rate of demand decline is leveling out.
Which makes us wonder: Is now the time get Bullish on Spotify?
One recent move by the company gives us hope. Here's what we're watching…
Spotify Launches Enormous Audiobooks Library
Earlier this week, Spotify opened a massive digital library of audiobooks on its platform – 300,000 titles to be exact.
And its approach is different than many competitors. It is bucking the all-too-loved subscription model "buffet" style for an a la cart menu. Essentially, pay as you go…on top of any membership you already have.
Spotify dabbled in the audiobooks arena in early 2021, launching 9 classic titles like Frankenstein and Great Expectations.
Since then (and to be fair, even BEFORE then) Spotify consumers have voiced the desire to consume audiobooks on the platform.
So it's no surprise that initial consumer response to its audiobook library was explosive.
Mentions have rocketed in the days following Spotify's announcement with consumers expressing excitement about added functionality on the platform.
This move poses a serious threat to the largest player in the audiobooks segment: Amazon's Audible.
Audible currently commands more than +60% of mentions from consumers talking about purchasing or listening to audiobooks.
And we know Audible's own expansion into podcast content is part of the reason the brand is growing – consumers like to have audio content in one place.
You can read more about that in our prophetic take from August.
So -- Are Audiobooks the next Podcast?
Not only does Spotify's move into audiobooks add one more audio format to its arsenal, but the format is a pretty significant weapon to have.
Audiobooks are the fastest growing format in publishing – because the way consumers "read" is shifting.
About a decade ago, 11% of adults who consumed a book actually listened to an audiobook instead of reading it.

By 2021, this figure more than doubled: 23% of adults who "read a book" listened to an audiobook instead.
LikeFolio data shows that consumer demand for audiobooks is growing quickly: +39% YoY.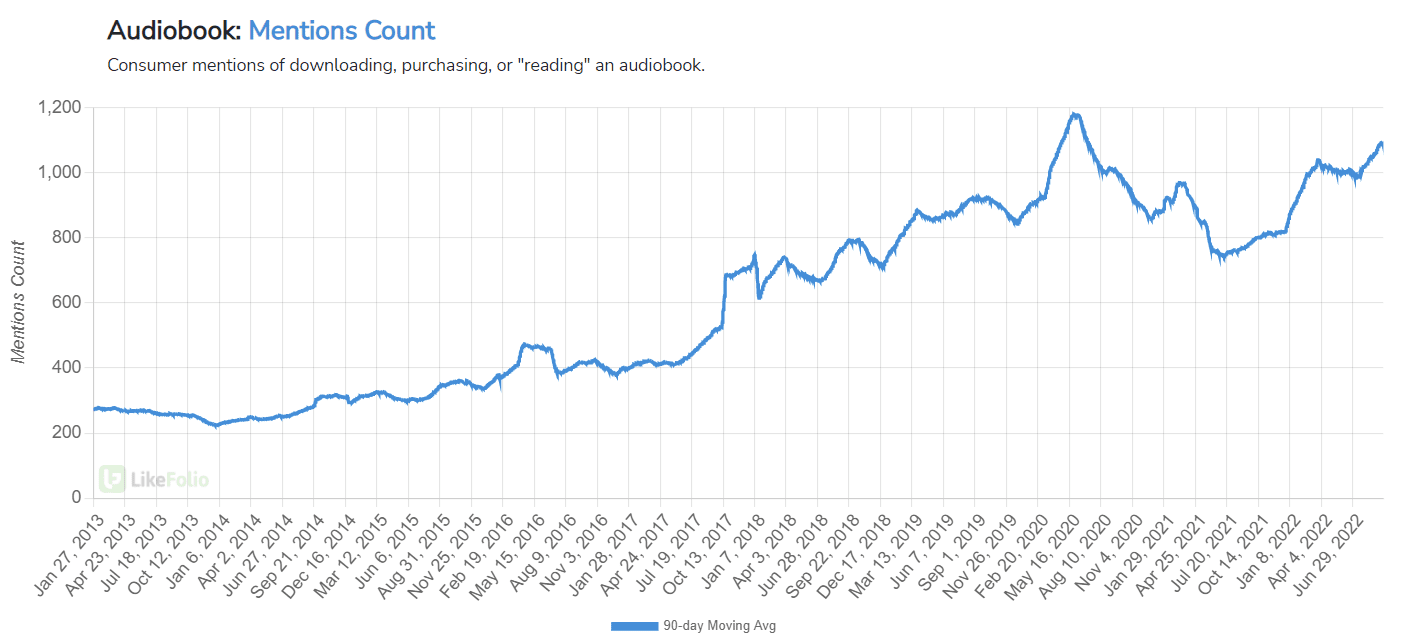 We'll be paying close attention to see how this moves the needle for Spotify's demand…and its bottom line.
The company is expected to report earnings on October 26th, and audiobooks will almost certainly be a major topic of their forward outlook.
Right now, we like what we see. As always, LikeFolio members will be the first to know exactly when we see a major opportunity for quick profits in Spotify and other audio-first companies.