Better shape up!
With another hot inflation reading in the books, Americans continue to face tough decisions about what stays in the budget and what gets cut.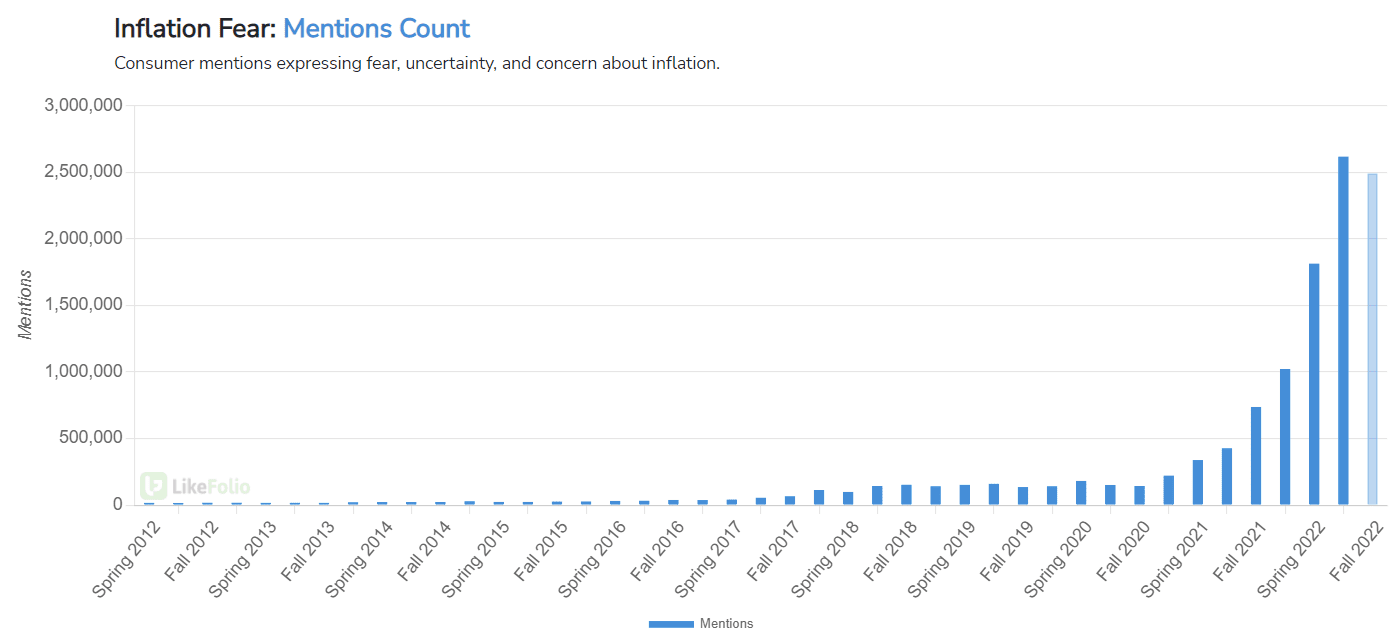 Inflation fear mentions topped out at all-time highs this summer, and remain +239% higher than they were a year ago.

August's higher than anticipated 8.3% CPI jump, proved that despite cooling gas prices, the U.S. consumer remains in a pressure cooker. Wages simply aren't keeping pace with prices so families across the nation are trading down and, in some categories, trading out.

With food, clothing, housing, and healthcare costs in crazy-ville, this means the discretionary slice of the pie is shrinking. Purchases of big-ticket items like new cars, trips, and appliances are being put on the back burner.

One area where people aren't cutting back? Fitness.
In fact, demand for several fitness-related products and services is running at an all-time high. And it's not just gym memberships.

Once an easy call during tough economic times, wiping fitness classes, equipment, and sweat-wicking gear from the budget has become a big no-no in the post-Covid world.

Whether motivated by a desire to build immunity, improve mental health, or simply pent-up exercise demand, one thing is clear—we want to get in shape!

The 2022 Mindbody Fitness Report revealed that more than 3 in 4 Americans think wellness is more important than ever and that being physically active has a positive impact on mental health. Why we exercise has changed dramatically since Covid.

Weight control and longevity used to be the main reasons. Today, it's all about stress reduction and feeling better.

LikeFolio data reinforces these findings at a much more granular scale. Even with consumers spread thin, there are countless examples of elevated buzz around all fitness activities and products.

This tells us that health & wellness trends are alive and well—and far from pandemic fads.

The 3 essential purchases for modern daily living: Food, Fuel, and Fitness.Let's jump into which companies are capturing healthy demand from fitness-minded consumers:

1. The Gyms: Planet Fitness (PLNT) & Xponential Fitness (XPOF)

Lately, 'Gymtimidation' appears to be scaring fewer prospective exercisers. Interest in hitting the gym is clearly trending higher.

On a 90-day average, consumer mentions of:
Hiring a fitness trainer: + 21% YoY
Attending a group fitness class: + 17% YoY
Lifting weights: + 16% YoY
Tracking fitness activity: + 16% YoY
This is all great news when you're a national big box gym operator/franchisor like Planet Fitness. Here, consumer mentions of new memberships are up and cancellations are down.

At a time when price matters, the dirt-cheap promos offered by Planet Fitness are music to gym goers' ears. $1 down and 10 bucks a month gets me into the judgment-free zone? And I can cancel anytime? Ehh, sure, why not?!

Planet Fitness purchase intent (PI) mentions rose to their highest post-Covid level yet in 2Q22.

And demand is still strong, up 66% YoY on a 30-day average. Being in tune with the mental health trends has helped too.

Earlier this summer Planet Fitness offered free passes to teens to help address mental health concerns. Social media buzzed. Three months later, 3.5 million students enrolled in the 'High School Summer Pass' initiative.

The next key season for Planet Fitness will be January when New Year's resolutions get made (to varying degrees of success). With the wind at its back, expect Planet Fitness to capitalize on the usual spike in gym memberships.
But it's not just the gyms that depend on high volume (and shoddy attendance) that are doing well.

Opposite the value end of the spectrum is Xponential Fitness. PI mentions are up 40% YoY there.

Catering to a more affluent and loyal fitness crowd, XPOF is the boutique of fitness brands. It offers a range of popular classes like indoor cycling, Pilates, barre, and boxing. There are now more than 2,000 Xponential Fitness studios open in the U.S., almost twice that of its nearest competitor Orange Theory.

XPOF customers are getting hooked on the small class sizes and club-like feel. So much so that they can't do without it even when they travel.

Last week Xponential Fitness inked a 5-year deal to come aboard Princess Cruises' 15-ship fleet. Yeah, I'll meet you at the bar, just gotta hop into this spin class.

Granted, this is a rather inflation-insensitive clientele we're talking about here, but XPOF's growing 530K membership base, confirms that fitness is in demand from big box warehouses to small studios.

2. The Gear: Lululemon (LULU)

Speaking of higher-end, yoga-inspired athletic apparel maker Lululemon is experiencing increasing demand of its own. Comprehensive LULU demand is up 39% YoY, a divergence we picked up on this Spring as the stock slumped.

As we had a strong sense would happen based on our data, Lululemon crushed Q2 earnings. Yet it is where it has come since 2019 that was most impressive. Net revenue of $1.9 billion was more than twice what it was in 2Q19!

Management's "Power of Three x2" strategy really seems to be on the fast track. The plan is to double the men's and direct-to-consumer (DTC) businesses and quadruple the international business by 2026.

Lululemon continues to expand its lineup of men's athletic shorts, jackets, and hoodies focused on working out, golfing, and running.

What about players like Under Armour and Nike? Well, demand is flat to down, respectively, YoY.

This likely speaks to a trade-down effect that is hurting these athletic apparel makers, and not Lululemon. While there are plenty of cheap Nike and Under Armour dry-fit knockoffs these days, it would appear harder to replicate LULU's uniqueness and quality.

And as we've touched on before, the affluent consumer is faring much better in the inflationary environment.

3. The Fuel: Celsius (CELH) & BellRing Brands (BRBR)

No, not the fuel at the gas pump. I'm talking about the fuel workout buffs use to pump themselves up!

As the fitness craze grows legs, so does the demand for healthier nutrition for before, during, and after exercise.

Celsius is dominating the better-for-you energy drink space. Up 41% YoY on a 30-day average, PI mentions continue to climb to new heights. In Q2, consumer demand for the upstart beverage maker's sugar-free Red Bull alternatives rose to a record high for the second straight quarter.

And after joining forces with Pepsi, brand awareness and sales should only get better from here.

Expansion and localization in overseas markets also bodes well for future growth. Celsius recently rolled out region-specific flavors in parts of Asia and Europe like Hallon Acai in Scandinavia.
And no gym sesh is complete without some post-workout protein. Enter BellRing brands.

The lesser-known sports nutrition specialist is well known among weight training enthusiasts. Look no further than the 26% YoY uptick in BellRing demand.

Why? In the increasingly crowded RTD shakes and powders market, consumers want a trustworthy protein source at a good price.

Premier Protein shakes and Dymatize powders fit the bill. Both recorded higher sales in Q2, albeit volumes were down and prices up.

Still, social media is digging the stuff because it tastes good, is accessible, and can be incorporated into healthy meal creations. A lineup of Premier Protein Oats shakes is on trend with consumer mentions of oats (+14% YoY) and dietary fiber (+95% YoY).

Bottom line: Recent fitness trends are outmuscling inflation.

And because Americans are more obsessed than ever with getting in shape, a bunch of fitness-related companies are in great shape too.