The Most Successful Airdrop Ever? ($ENS)
If you're on Twitter.com, then you might have noticed a recent uptick in usernames with ".eth" included at the end – This is a Web 3.0 domain name, powered by Ethereum Name Service ($ENS).
ENS is a public identity protocol on the Ethereum blockchain, which allows users to register .eth domain names (native to ENS) or import their pre-owned DNS domain names to the blockchain.
An Ethereum Name domain functions as a cross-platform username, profile, and crypto address book — fully compatible with Web 3.0
The protocol's governance token, $ENS, launched in November and since then the popularity of both ENS and the token has surged…Underlying Mentions are trending +880% QoQ (7d MA).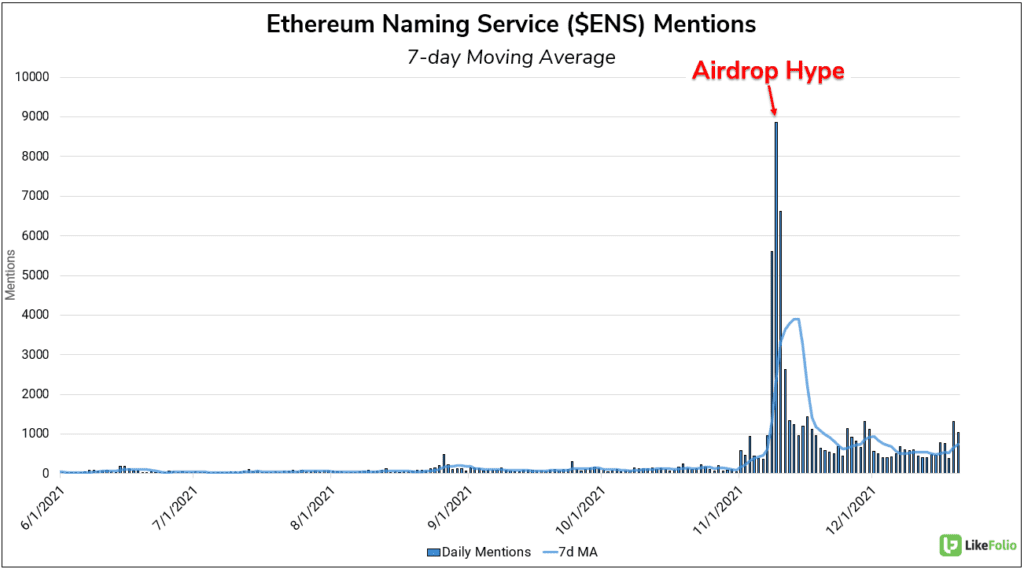 Ethereum Naming Service ($ENS) took the world by storm last month, with an incredibly successful airdrop – Users who had already registered an address using the ENS protocol received free governance tokens by virtue of being early backers of the project.
Up-and-coming projects commonly use airdrops to incentivize new users to join the project and to stimulate engagement
"Airdropping" tokens has become an increasingly common practice in the cryptocurrency space.
Mentions of cryptocurrency airdrops are up +92% QoQ and +1725% YTD on a 30-day moving average.
Thanks in part to large amounts of hype within the community, the price of ENS tokens surged by nearly 3x in the days following its initial airdrop.
However, the success of any token remains dependent on its underlying utility at the end of the day.
With growing publicity and awareness, Ethereum Name Service stands a good chance of becoming a standard for Web 3.0 going forward.
Although the governance token itself has fluctuated in value, there's potentially money to be made in the practice of speculating on domain names themselves.
Keep in mind that DNS domains have sold for as much as $40M in the past…