Used-Vehicle Demand is Surging
Used-Vehicle Demand is Surging
A worsening chip shortage and corresponding production drop are expected to result in ~4 million fewer vehicles available for purchase (5% of estimated sales). And new vehicles are increasingly less affordable for consumers. The New-vehicle affordability declined in April after 5 months of improvement (Cox Automotive Vehicle Affordability Index) -- affordability is worse now vs. pre-pandemic. LikeFolio data reveals an interesting shift in Used vs. New Vehicle purchases. Used Vehicle demand has increased +24% YoY.


In the same time frame, New Car Purchases have decreased more than -20%. Consumers talking about recently purchasing a used vehicle most often talked about visiting a dealership, and a large number discussed the rising price of a vehicle. We took a look at the used vehicle market to see how major players are performing...and we were surprised.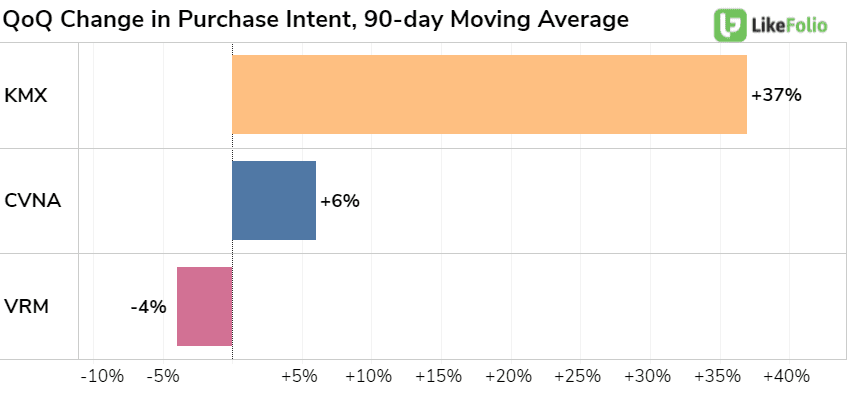 Previously, we've touted Carvana's explosive growth, and even noted a significant take of KMX market share.  Now, we're watching near-term strength from CarMax as its hybrid vehicle sales model gains traction with consumers.  CarMax's 22Q1 ends in a few days (May 31), and the quarter is setting up strong. Purchase Intent mentions are currently pacing +41% YoY, and sentiment has increased by 3 points in the same time frame.  We'll continue watching demand through Summer to see how rising vehicle prices impact purchases completed, but it's clear CarMax is gaining momentum.