+1900% on CELH – sell or hold?
"The best way to predict the future is to invent it," said Alan Kay, a pioneer in computer science. This quote perfectly encapsulates the journey of Celsius Holdings (CELH), a company that didn't just predict the future of the energy drink sector but actively shaped it.
Celsius is in a special camp at LikeFolio.
It's an up-and-coming name we saw coming from a mile away, thanks to our proprietary outlier grid that reveals outperformance and our deep understanding of powerful consumer trends.
It's akin to online-furniture retailer Wayfair during the pandemic and On Cloud running shoes over the last year.
CELH shares have gained exponentially since our first official Bullish position when the stock was trading in the single digits.
We've more than tripled down on our call over the years since then.
Now, the question on every investor's mind is: does this stock STILL have the power to outperform, or is it due for a bit of a pullback?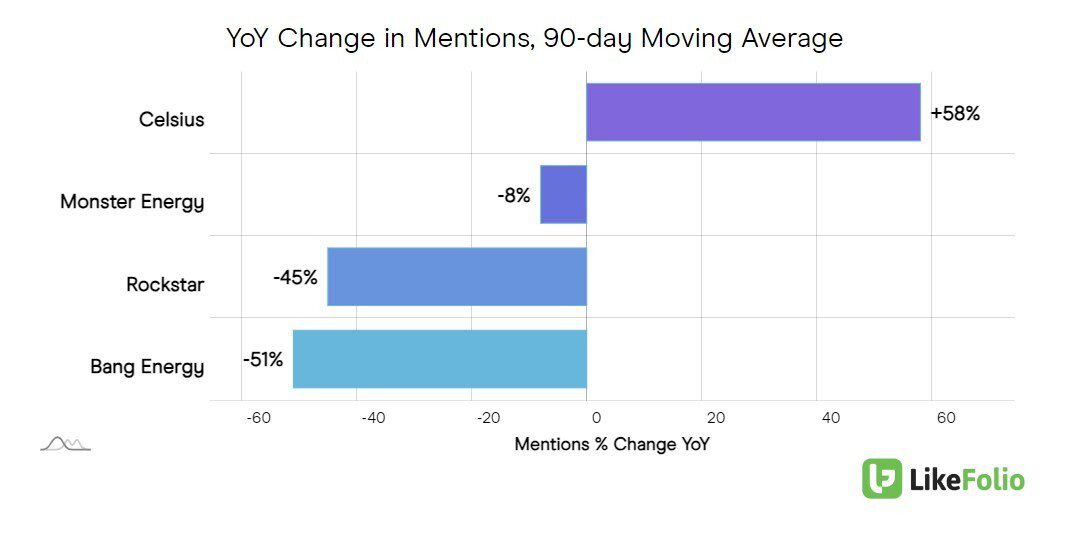 From a consumer perspective, CELH is still leading the pack when it comes to growth… and it's not even close.
Mentions have doubled year-over-year, while growth stagnates for its larger peers.
Celsius currently comprises 11% of total mention volume versus peers, with Monster claiming the lion's share at 80%, thanks in part to its recent BANG energy acquisition.
Just two years ago, Celsius barely claimed 2%.
That's some serious market share stealing, and it's likely understated.
The Trifecta of Success
So, how did Celsius pull this off? It nailed the trifecta:
High levels of consumer happiness: 71% positive, a point above Monster.
Strategic partnerships: Hello, PepsiCo distribution partner.
Harnessing consumer trends: Celsius saw a niche opportunity to position itself as the healthy drink for wellness and health-focused consumers, contrasting its brand with Monster's reputation as the high-octane caffeine hit used by gamers.
Proceed with Caution?
What are the reasons for potential caution?
It's really a question of IF Celsius can continue to maintain this level of growth and profits. While Celsius is still the clear growth leader, its growth is slowing a bit as it saturates markets.
Brand mentions have grown by more than 50%, but a quarter ago, this pace was over 100%.
Bottom Line
Investors and especially LikeFolio members should be pleased (and not surprised!) with CELH gains.
Consumer data does support a continued bullish position, but it would be wise to remain risk-defined.
We wouldn't be surprised to see some temporary pullbacks if Celsius reports a slowdown in growth, or if a new entrant to the energy drink field spooks the growing market.
Bonus Macro Insight
The global revenue in the energy & sports drinks segment of the non-alcoholic drinks market is forecast to continuously increase between 2023 and 2027 by 47 billion U.S. dollars (+24.32 percent).
In the world of investing, data is king, and the data on Celsius is overwhelmingly positive. But as always, stay vigilant and keep your risks defined.
After all, the best way to predict the future is to invent it, and Celsius seems to be doing just that.