You down with T-T-D? Ya you know me
The Trade Desk: Streaming Its Way to Advertising Supremacy
"In streaming, advertising is not a disruption; it's an experience," said an industry expert, capturing the essence of the seismic shift in the advertising landscape.
This sentiment perfectly aligns with the trajectory of The Trade Desk (TTD), a company that is not just participating in the streaming ad revolution but leading it.
We've been bullish on The Trade Desk for a while now. Just three weeks ago, we highlighted how The Trade Desk is poised to dominate the streaming space for years to come.
Today, we're back to not only reiterate that point but to show you why TTD's future is brighter than ever.
Streaming is the New Normal, and TTD is Ahead of the Curve
Remember 2015? When only 9% of viewers were streaming content?
Those days are long gone. In 2023, over a quarter of viewers have ditched traditional TV, opting for the freedom of streaming.
This paradigm shift is a boon for The Trade Desk. Its shares have soared nearly 50% Year-To-Date.
And if you're a LikeFolio member who took our advice, you're probably grinning from ear to ear right now.
Despite this, the buzz among analysts suggests that TTD is still undervalued, trading below its late 2021 and early 2022 highs.
The AI Revolution in Advertising
We've said it before, and we'll say it again: TTD's Koa AI platform is a game-changer. It processes a staggering 600 billion end-user interactions daily.
The company's mantra is clear: "AI is only as intelligent as the data it's built on." And TTD's data is nothing short of brilliant.
The Data Speaks Volumes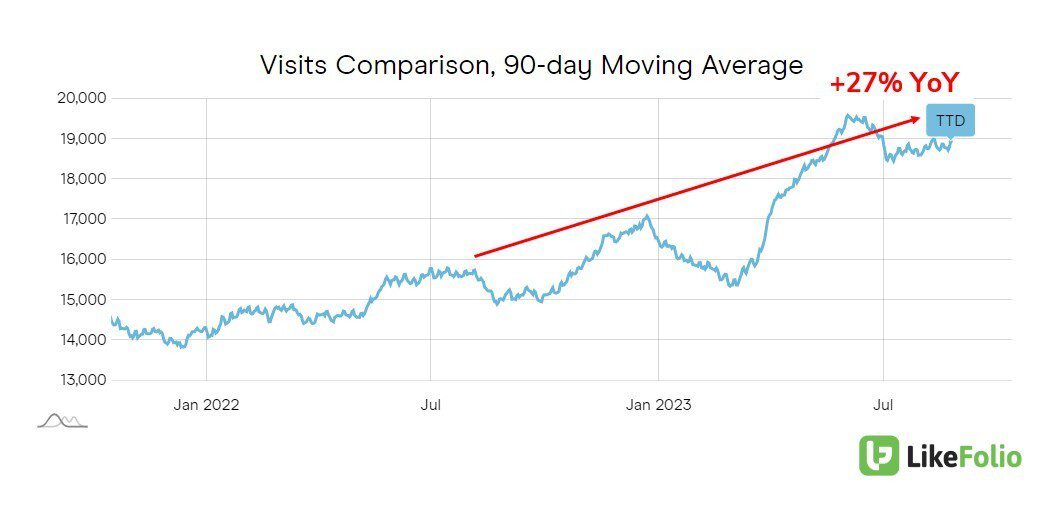 Our own LikeFolio data echoes this sentiment.
Web visits to The Trade Desk have surged by +27% Year-Over-Year, up from +20% just three weeks ago.
Moreover, consumer happiness levels have climbed by +5% Year-Over-Year, reaching a sky-high 82% positive rating.
The Final Word
We're long-term believers in TTD. The company is perfectly poised to capture the flood of ad dollars moving Over-The-Top (OTT).
In 2023 alone, digital advertising is expected to make up over two-thirds of all advertising spend in the U.S.
Last quarter, TTD shares dipped despite a robust earnings report, thanks to weaker-than-expected guidance.
But remember, in the world of investing, such dips are nothing but golden opportunities for the savvy investor.
The future of advertising is streaming, and The Trade Desk is steering the ship.