Best Buy (BBY) may not be a best buy… yet
"The best time to buy a computer is now. The worst time to use it is immediately after you buy it." - Hal Abelson, Computer Science Professor at MIT.
As students and parents gear up for the back-to-school season, the demand for electronics is skyrocketing. Tablets, smart pencils, and laptops are flying off the shelves.
But for Best Buy (BBY), this surge in demand for small electronics may not be enough to offset a looming weakness in big-ticket items. Here's why.
The Earnings Paradox
Last quarter, BBY shares popped by +3% after the company posted an earnings beat. However, the company missed sales expectations and noted that consumers were exhibiting recessionary behaviors.
In an attempt to offset this, Best Buy is doubling down on its subscription-based membership program, offering perks like tech support and early access to new products. Additionally, the company is striking deals with healthcare leaders like Atrium Health to sell and install home health devices.
The Online Sales Conundrum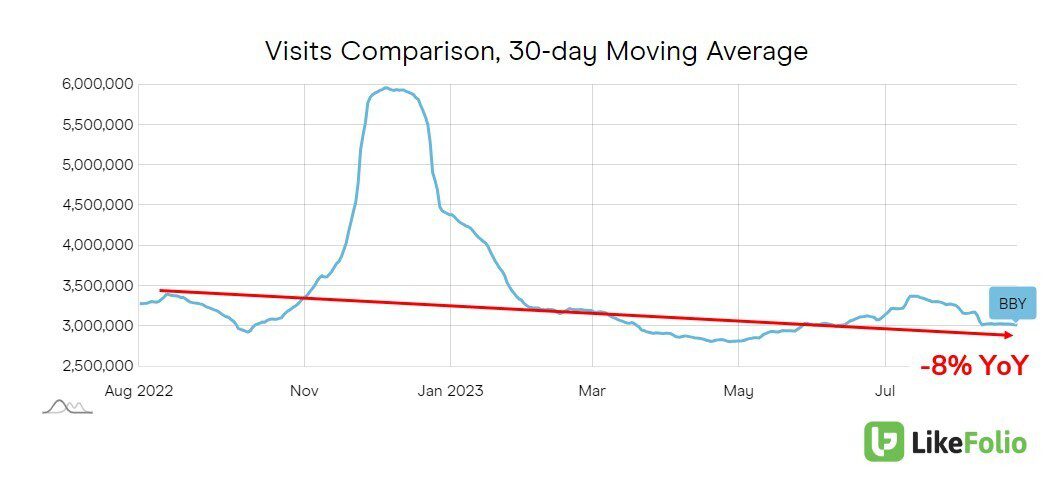 Online sales now make up about a third of Best Buy's total sales, twice as high as pre-pandemic levels. While there was a noticeable jump in web visits coinciding with July's Prime Day sales by Amazon (AMZN), August tells a different story. Web visits have slipped by -8% YoY, indicating a potential slowdown in consumer interest.
The Silver Lining
The bright spot in all of this?
Best Buy mentions are tracking higher YoY compared to its peers. Part of this is due to favorable comparisons, but some of it may be driven by the shift in consumer demand for electronics to kick off the school year.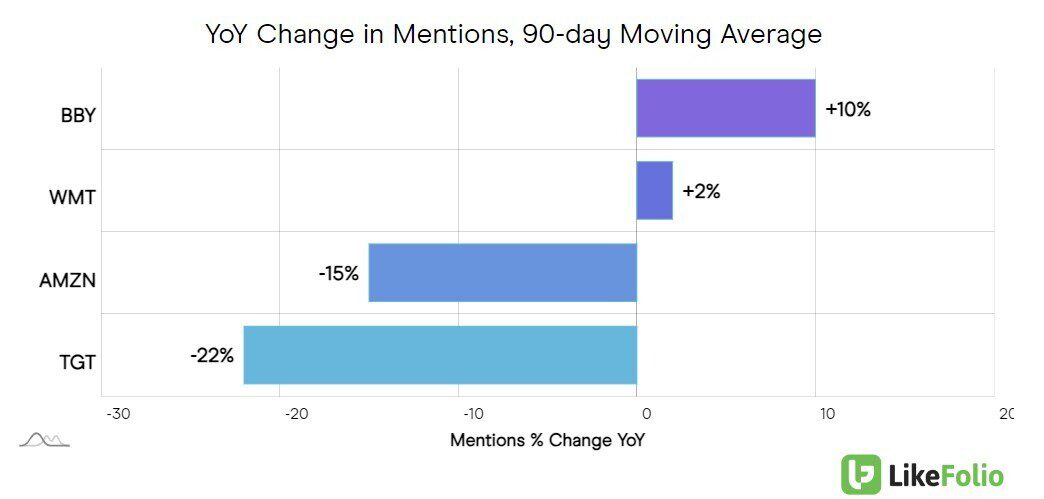 According to the National Retail Federation, electronics and computer-related equipment will make up the largest chunk of back-to-school spending in 2023, averaging nearly $326 per shopper. The total spending on electronics is projected to reach a staggering $15.2 billion.
The Bottom Line
Best Buy may get a back-to-school boost, but the large-scale electronics weakness may prove too great to overcome.
Expectations are low, but the data doesn't support a bet to the upside on this report. We're still waiting for that consumer replacement cycle to kick in.
LikeFolio is officially neutral on the report but will consider entering a long-term position if the stockpulls back significantly.
BBY earnings are due prior to the bell this Tuesday.