3 reasons Visa (V) could move higher tomorrow
Visa reports earnings tonight after the closing bell as one of 30 companies with actionable trade alerts on the LikeFolio earnings scorecard this week.
While not our most exciting or highest conviction trade, we do see three key reasons that Visa could see a nice move higher once earnings are released:
Rising Consumer Demand Fueled by Crypto: The increasing consumer demand for Visa, up 20% year over year, is a strong indicator of potential growth.
A key driver of this surge is the popularity of the Crypto.com Visa card, which is rapidly becoming a favorite among crypto enthusiasts. This integration of traditional finance and the burgeoning crypto market could be a game-changer for Visa.
The Travel Industry Bounce-Back: The rebound in global travel has led to higher cross-border volumes for Visa. As travel restrictions continue to ease and tourism picks up, this trend is expected to persist, potentially giving Visa's earnings a significant boost.
A Track Record of Positive Results: Visa has a strong history of positive earnings report reactions, with only one negative instance in the past year. The expected move this week is +/- 3.3%.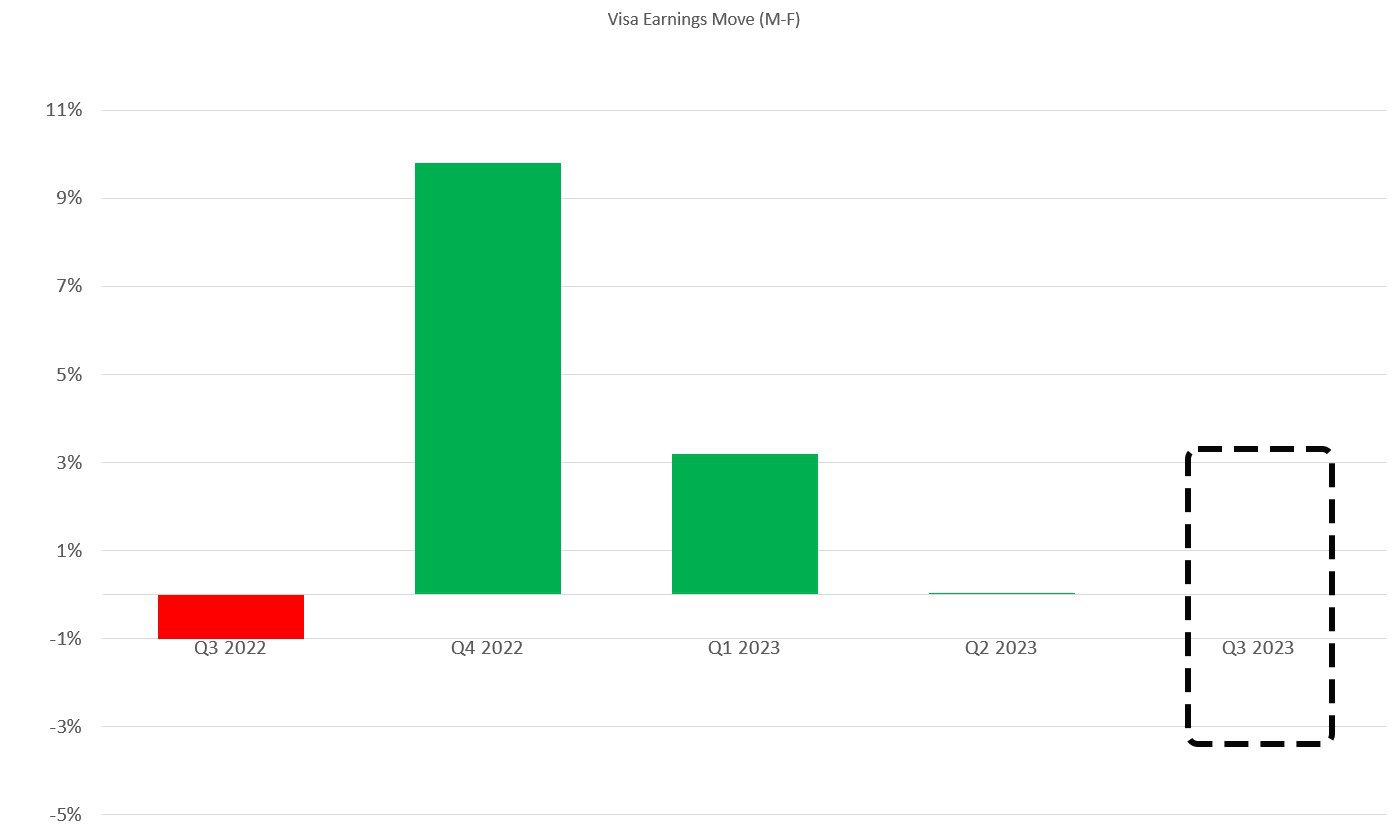 This consistent performance, even amidst the economic challenges posed by the pandemic, speaks volumes about Visa's resilience and potential for growth.

Overall, we're slightly bullish on Visa heading into tonight's report, and expect a move of 3-5% higher from the stock the remainder of the week.

Just as importantly, we see the risk of a major down move to be very limited, making Visa a solid earnings-style trade.
LikeFolio members have received a trade recommendation that keeps maximum risk on Visa at under $500 for the week while still delivering upside profit potential of slightly over 100%.