Can Autoship Sales Lift Chewy (CHWY)?
We're in the midst of an earnings lull, relatively speaking. 21Q4 reports are winding down and we're getting ready for 22Q1 results to begin rolling in.
However, 2 of the most well-loved companies in the LikeFolio universe DO report earnings this week: Chewy and Lululemon.
Let's look at Chewy first.
Chewy demand growth is experiencing a bit of a post-pandemic slowdown as more folks are shopping again in retail stores -- but how much will that affect the company?
The stock is already down nearly 40% in the last six months. So this earnings event could be a major tell for investors on what to expect in the post-pandemic era.
Here's what we know:
It's clear Chewy users are extremely happy.
Happiness Mentions are +81% positive, +2% on a YoY basis and much higher vs. peers.
Happiness Mentions are a good way to measure customer loyalty.
And Chewy's mentions have constantly stayed positive throughout the pandemic. So, even with a slow-down in new member growth vs. pandemic levels, retention looks strong.
In addition, it looks like Chewy capped off a nice holiday season.
Purchase Intent Mentions are currently pacing +11% YoY on a 90-day moving average after peaking near Christmas.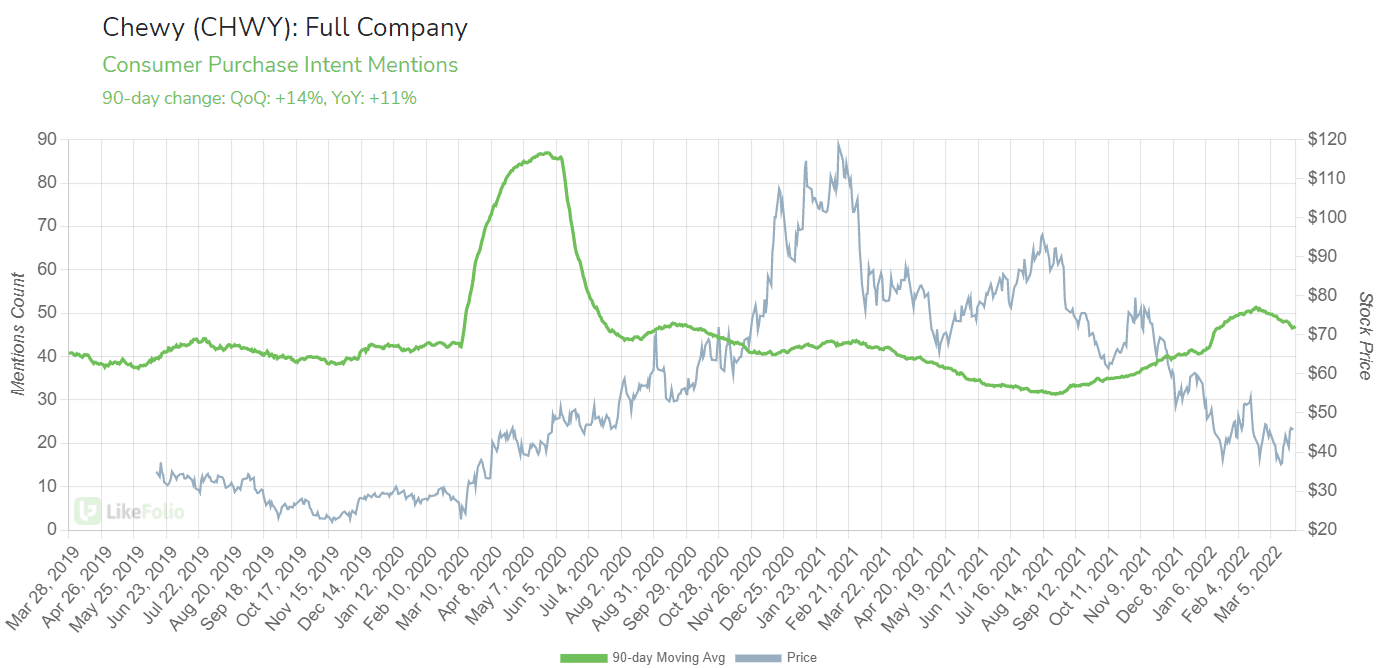 Part of this strength was driven by Autoship mentions. Many current customers are staunch advocates for the service.
But there are some factors LikeFolio data may not capture:
Did global supply chain issues impact inventory and product availability in the last quarter?
Will increased freight costs and rising gas prices weigh on margins?
Long-term, we like this name. Chewy is generating some of the highest happiness scores in the LikeFolio universe, and its recurring revenue mechanism is solid.
But short-term, we are neutral for Chewy's next report. Demand is tempering a bit in the last month. We expect a solid report but acknowledge comps are high.
While data is relatively neutral for Chewy, Lululemon's signal is coming in a bit stronger.
It's Workout SZN and Lululemon (LULU) is Ready
Lululemon is another example of a company that benefitted from pandemic behaviors. In this instance, consumers trading in work clothes for work-from-home clothes.
But luckily for Lululemon, it is also benefitting from a return to normalcy. That normally means group fitness classes and gyms...
Attending group fitness class: +27% YoY
New Gym Memberships: +4% YoY
Working out at home: -25% YoY
It turns out that consumers need new gym clothes to wear in public.
In addition, Lululemon is expanding its product line-up.
For starters they're venturing into the footwear market with their first ever shoe collection for Women (mens to launch in 2023) called Blissfeel. They'll be launching the following soon:
Chargefeel - late Summer
Restfeel - late Summer
Strongfeel - Fall launch
"We intentionally started with women first because we saw an opportunity to solve for the fact that, more often than not, performance shoes are designed for men and then adapted for women," said Sun Choe, lululemon's Chief Product Officer
This is a big move from the athletic brand and it's already shaking up things and we're seeing it in the data.
This successful new product launch alongside building consumer trends are helping to propel consumer purchase intent mentions: +29% QoQ and +10% YoY on a 90-day moving average.
How does this demand surge compare to the likes of Nike who just reported their 22Q3 earnings on March 21 with a beat on revenue and earnings?
Pretty well.
Last quarter, Lululemon saw revenues and earnings beat but cited weaker-than-expected Q4 outlook, mainly citing supply chain issues and product shortages.
LikeFolio data suggests if Lululemon is able to rectify these problems, consumer demand is there.