Is DKNG ready to Rally after one of the biggest sports betting events in U.S. History?
In the LikeFolio office, we take March Madness very seriously.
Earlier this month, we kicked off our ANNUAL OFFICE DRAFT.
Hypothetically speaking, a prize may be involved. I'm not saying it involves Bourbon…but I'm not saying it doesn't, either.
As a completely unbiased person (tied for first at the moment), I think we should really take a closer look at the prize this year…
But one thing I've noticed is that our office isn't the only group interested in "playing" alongside March Madness.
In fact, wagers on March Madness are projected to hit a record $3 billion.
DraftKings is an Underdog to Bet On 
As a leading U.S. sportsbook, DraftKings could soon ascend to the throne as a beneficiary of this insane activity.
Sports betting is now legal in 30 states and all but one (Oregon) allow wagers on college games.
This is poised to make the 2022 NCAA basketball tournament one of the biggest sports betting events in U.S. history.
Even bigger than the Super Bowl?
Seriously… by a nice clip.
The Rams-Bengals nailbiter brought in a little less than $1 billion.
So where does the industry go from here, especially as the market continues to stall out on sports betting names?
Here's what we know:

1. Sports Betting is Heating Up 
Sports betting took off during the pandemic. Like day trading, throwing money at anything from Korean baseball to table tennis suddenly became trendy.
With stadiums and arenas now filling back up (and other social activities resuming), we wondered if interest in sports betting would start to fade.
But it has not.
It has accelerated…rapidly!
LikeFolio has been tracking consumer mentions of placing bets on sporting events for the past decade. Based on a 90-day moving average Sports Betting mentions are near an all-time high—and well ahead of pandemic levels.
You can see this in the pacing projection for Spring 2022: on par to hold the highest sports betting activity in a quarter, to date.
The fact that people are increasingly discussing sports betting on social media is likely a reflection of three things: 1) more states have legalized it, 2) casinos have reopened, and 3) familiarity and comfort levels with sport betting apps like Draft Kings are up. 
2. DraftKings Shares are Majorly Discounted 
So, with sports betting chatter at a crescendo, surely Draft Kings stock must be on fire.
Nope.
DNKG is shifting through the ashes of a major meltdown. Earlier this month the stock fell to its lowest level since April 2020 when it de-SPAC'd to list on the Nasdaq.
At less than $20 a share, it is trading more than 70% lower from its peak just 12 months ago.
Enact the mercy rule already!
Some of the sell-off relates to the general SPAC attack and the recent bullseye placed on high growth, unprofitable names. Concerns about emerging competition from the likes of MGM and Wynn have also been weighed. These are valid concerns.
But it makes us ask – are consumers exploring these new offerings at the expense of the incumbent that is DraftKings? 
Not the case. 
3. DraftKings is Beating its Competitors 
In fact, as seen in the above chart, DraftKings Purchase Intent Mentions are at their highest level ever. LikeFolio data shows that chatter around signing up and placing bets on DraftKings is up +65% YoY.
Since this seems to coincide with the general trend in Sports Betting mentions, other U.S. sportsbooks must be experiencing the same thing, right?
Surprisingly not.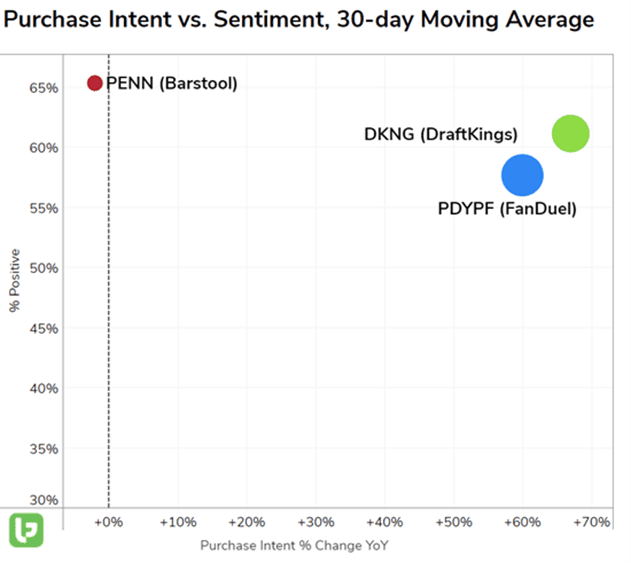 Summary: DKNG Could be an Epic Comeback in the Making 
The disconnect between what consumers are saying about DraftKings and the company's stock price is pure March madness.
We are seeing a clear pick-up in social media chatter about DraftKings platform, promos, and winning (never losing) bets. The talk is consistent with a surge in broad-based sports betting interest.
Industry trends are clearly in DraftKings favor with more states expected to legalize sports betting over the next 12-24 months...