The Market Still Doesn't Understand Roblox
Macro-level gaming activities were cooling from pandemic highs.
Roblox shares were trading accordingly, shedding nearly half of their value year-to-date.
BUT – Roblox was outperforming on the consumer front.
Our real-time earnings score for Roblox was bullish and had risen for 5 consecutive weeks. 

The scenario unfolding was ripe for a market surprise…and was the exact kind of scenario LikeFolio is built for: When the Street is pricing in one thing, but consumers are behaving in an unexpected way. 

On Monday, Roblox reported key metrics for September ahead of its November earnings report. 

Daily active users exceeded 57 million, +23% YoY and hours engaged were up +16% YoY…or FOUR BILLION HOURS exploring Roblox's digital worlds. 

RBLX shares surged more than +20%, the largest one-day move since last November. 

Well. They really let the cat out of the bag there. 

But LikeFolio members were ready. 

So – now the question remains: What's next for Roblox? 

Based on brand buzz, the outlook remains positive. 

Consumer mentions of the Roblox are flirting with all-time highs, up +10% YoY and +14% QoQ.

Gameplay mentions exceeded 143,000 in the third quarter – the highest level LikeFolio has ever recorded. 

We're expecting a stellar report in November and will monitor Mentions and Gameplay metrics (Purchase Intent) in real-time to better understand guidance. 

Long-term, we believe Roblox could be setting up for major growth. 

Especially when it comes to gross bookings. 

Based on user demographics and sentiment mentions, we know parents are still letting their kids run wild on Roblox and begrudgingly spend real dollars on Robux in-game currency)…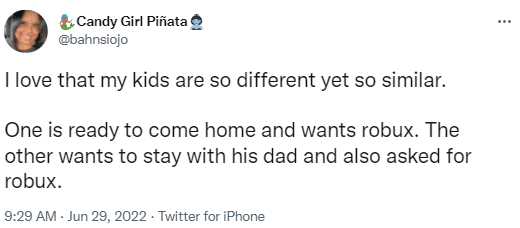 Perhaps even more importantly, this consort is getting older. 

In the second quarter, 53% of Roblox players were over the age of 13. Just two years ago, this demographic comprised less than 45% of game players. 

As the audience base ages, it also gains spending power. 

Keep an eye on Robux mentions – we'll be providing updates regularly.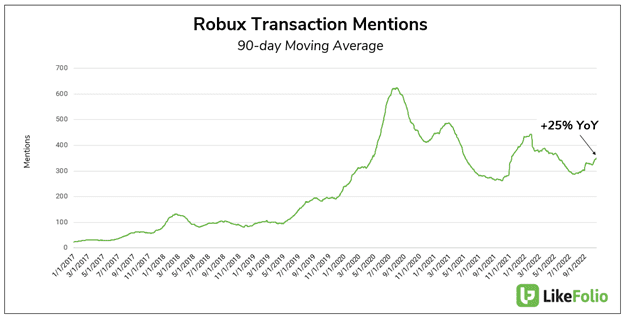 Right now, it looks like Robux spend is gaining momentum (+25% YoY), though not yet to pandemic highs.