We love this company... but trouble is looming ($HEAR)
We love this company... but trouble is looming ($HEAR)
LikeFolio released a bullish opportunity alert for Turtle Beach ($HEAR) in December 2020, citing strong consumer demand for gaming headsets, PC gaming accessories (sold through the ROCCAT brand), and robust growth in underlying gaming trends.
Shares have since gained by as much as +86% from our long entry, but we're starting to see a slowdown in Purchase Intent Mentions for both the Turtle Beach and ROCCAT brands, trending -36% QoQ and -46% YoY (90-day moving average).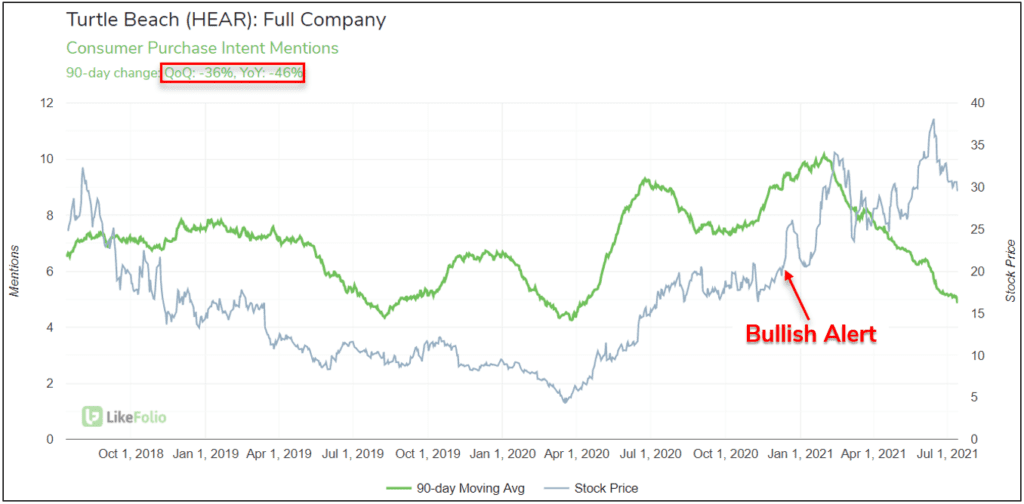 Gaming-related macro trends have cooled significantly in the same timeframe.
We're still seeing relative strength from the ROCCAT brand. This strength mirrors the company's 21Q1 earnings results, with PC accessory sales up +90%.
Overall, we still like this stock as a long-term hold but we're expecting more downward pressure in the near-term. Consider selling front month puts beneath the current price if you're interested in establishing a position.