Why We Are Hoping ULTA Falls After Earnings
In the golden era of Hollywood, stars like Marilyn Monroe and Audrey Hepburn turned to cosmetics to create their iconic looks.
Today, the beauty industry is a thriving global market, and Ulta Beauty (ULTA) stands as a shining example of success.
But what if the stock falls after tonight's earnings report?
As LikeFolio founder Landon Swan said on the Schwab network today, long-term investors, a post-earnings pullback could be an opportunity in disguise.
Positive Momentum with Consumers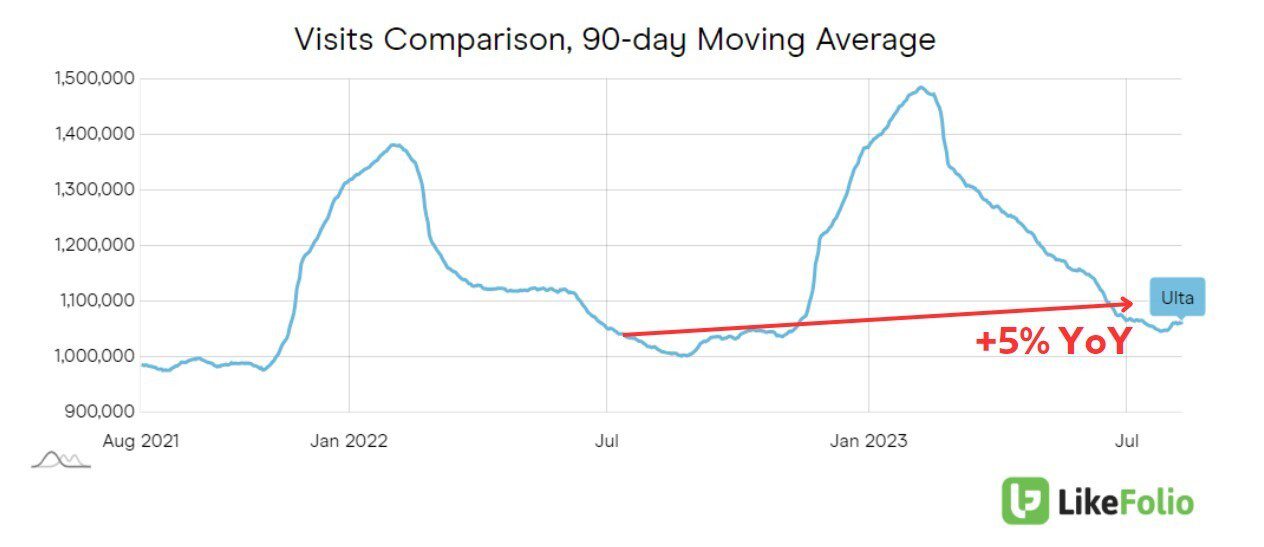 Ulta's is a company well-positioned to benefit from consumers trading down to its generic and mass-market brands.
With Purchase Intent mentions growing by +40% YoY and web visits up by +5%, the LikeFokio data suggests a strong consumer momentum.
ULTA Social Mentions Up 28% YoY

The 28% increase in social mentions of Ulta reflects a growing interest and positive sentiment towards the brand.
This social buzz, especially among younger consumers, is a testament to Ulta's ability to connect with its audience.
Loyalty Programs and Market Share
ULTA's value proposition, including loyalty programs like the Ultamate Rewards program, accounts for ~95% of total sales. This gives ULTA a competitive advantage and a wealth of consumer insights.
According to Piper Sandler's Teen Survey in 2023, Ulta remains the Number 1 preferred beauty destination at 41% share, further solidifying its market dominance.
Cosmetic Industry Growth
The global cosmetics industry is on track to grow by +24% from 2023 to 2028, exceeding $128 billion. This growth trajectory aligns perfectly with Ulta's positioning in the market, offering a promising outlook for the company's long-term growth.
Short-Term Challenges: Expense and Theft
ULTA has faced challenges with inventory shrink, theft, and organized retail crime (ORC). These short-term issues have impacted the company's margins and could potentially lead to a fall in the stock after earnings.
Why a Fall Could Be an Opportunity
If ULTA's stock falls on news of these short-term challenges, it could present a golden opportunity for long-term investors.
The positive momentum with consumers, as revealed by LikeFolio data, indicates that these challenges are temporary roadblocks rather than fundamental flaws in the company's business model.
A dip in the stock price would allow investors to buy shares at a discount, capitalizing on ULTA's long-term growth potential.
The company's strong position in the teen market, innovative loyalty programs, and alignment with industry growth trends make it a compelling investment for the future.
Conclusion: Bullish Long-Term Outlook on ULTA
While the possibility of ULTA's stock falling after earnings might seem concerning at first glance, a deeper analysis reveals a silver lining.
The company's positive momentum with consumers, robust market share, and alignment with industry growth trends paint a bullish long-term outlook.
We are hoping for a fall in ULTA's stock price after earnings, not out of skepticism but out of optimism for the future.
This potential dip would provide a strategic entry point to invest in a company that continues to dazzle in the ever-evolving world of cosmetics.
In the words of the legendary Coco Chanel, "Beauty begins the moment you decide to be yourself." For investors looking to embrace the beauty of long-term growth, ULTA may just be the opportunity to do so.

For more detail, watch Landon Swan's Schwab Network appearance.