Will "shrink" sink DLTR next?
The recent "shrink" problem that hit Dick's Sporting Goods (DKS) had a devastating impact on the company's stock. Shares of Dick's plunged nearly 24% on Tuesday following the revelation of the issue.
The company blamed "shrink," an industry term for theft and damaged inventory, for the significant drop in stock value.
This issue led to the company lowering its profit forecast for the year, and Dick's CFO Navdeep Gupta specifically cited "shrink" as the biggest impact in terms of the surprise for Q2.
The shares slumped as much as 24.5% on Tuesday, and the company's stock shed $3 billion in value as the problem of elevated inventory shrink became an increasingly serious issue.
Will "Shrink" sink DLTR next?
Discount stores began to emerge as a haven for budget-conscious shoppers in the 1970's.
The concept was simple: offer everyday items at a fraction of the price, and consumers will flock to your doors. Fast forward to today, and the discount retail industry has become a global phenomenon, with Dollar Tree (DLTR) ranking fifth in sales worldwide among general merchandise/discount stores.
But as we've seen with Dick's Sporting Goods earlier this week, the dreaded "shrink" problem can cast a shadow over even the most successful retail giants.
Could DLTR be next?
The Rise of Discount Retailers
Discount retailers like DLTR have thrived in recent years, especially during peak inflation.
Cash-strapped consumers looking for deals have found solace in dollar stores, and high-income shoppers have maintained their habit of shopping at these establishments even as inflation eases.
The popularity of discount stores has even reached social media platforms like TikTok, where videos with the hashtag #dollartree have accumulated a staggering 7.6 billion views.
Influencers are showcasing knockoffs of high-end products found at these stores, further boosting their appeal.
The Warning Signs
Despite the positive trends, DLTR is showing signs of potential trouble.
LikeFolio data records a slowdown in mention volume for some discounters, including DLTR, suggesting expectations may be too high.
Mentions of Dollar Tree remain fairly flat on a year over year basis, putting the company in line with Walmart but way ahead of Target and Dollar General in terms of consumer buzz.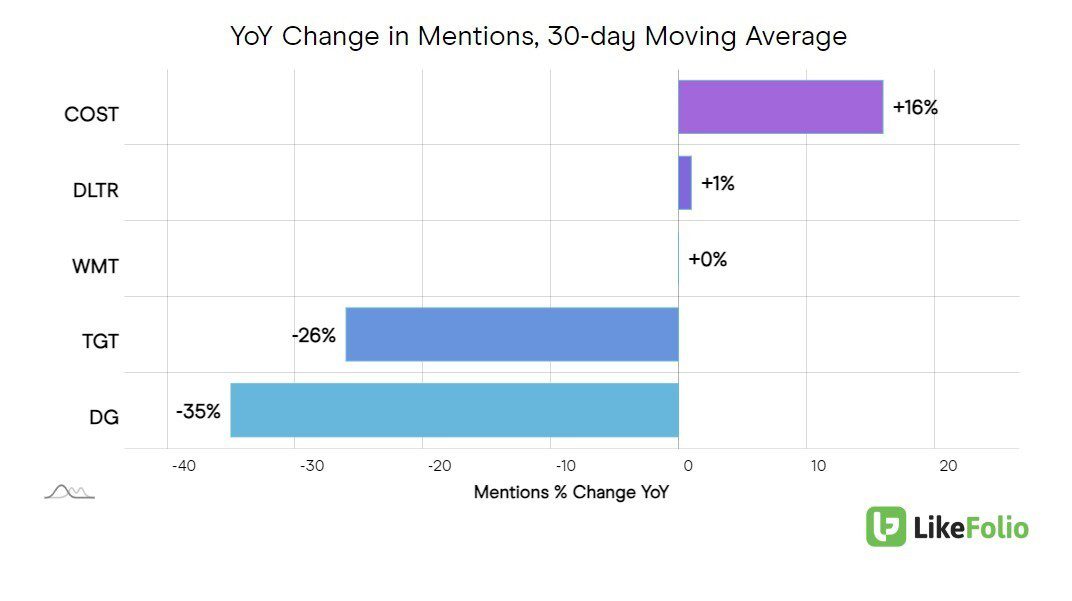 Moreover, DLTR has tipped its hand that "shrink" may be a persistent issue in prior earnings calls.
The Data Speaks
Statistics on wealthy shoppers reveal a 15% increase in their likelihood to shop at dollar stores compared to the previous June. Recent comments from McDonald's leadership also support the trend of consumers "trading down" in their choices, finding better deals at Dollar General and Dollar Tree.
Former Dollar General CEO, Todd Vasos, noted robust business growth even coming from those in the $75,000 to $100,000 annual income group.
The Bottom Line
The market knows consumers still have spending power and are trading down to stretch it out.
However, DLTR stock continues to trade lower following a disappointing earnings report last quarter.
Profits fell short, and guidance was lackluster as leadership cited anticipation of increased shrink and unfavorable sales mix throughout the year.
Will "shrink" sink DLTR next?
We think the risk to DLTR shareholders outweighs the potential reward going into this earnings report.